They Shoot Buses, Don't They?
Chicago: If you're ever tempted to sneak onto Marty Stuart's bus, don't. Before you hit the top step, you'll run into Ken "Ponch" Lyons, and he will be exceedingly stern about the whole deal. Ponch stands 6-foot-plus. Has arms like hydraulic rams. You can measure his body fat in a thimble. His hobby -- I am not making this up -- is lifting cars. Band members tell of the time they came out of the show and found a car blocking the exit. Ponch debarked, and proceeded to shift the car, end-for-end, until the bus could pass.
This morning, Ponch was a lumberjack. An irate lumberjack, to be precise. After driving all night, delivering us safely from a restaurant parking lot in Nashville to the Taste of Chicago street festival, he found himself asked by organizers to hop the curb and back the bus down about 200 yards of narrow tree-lined sidewalk. The backing was no problem -- both Ponch and Ty, the crew bus driver, could back through a square dance without disturbing the do-si-do. But those trees, they were a problem.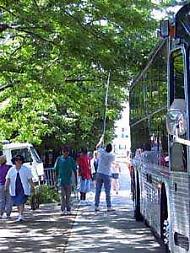 Ponch clears a path.
It was bad enough when the branches began scraping the paint, but when a particularly hefty limb whacked the satellite dish folded atop Marty's bus, Ponch popped the air brake, bailed out, snapped open one of the stowage bays beneath the bus, reached in, and drew out a long, collapsible pole attached to a saw. Shortly thereafter, the City of Chicago street crew had some greenery to clean up, and the buses were back where they belonged.
The trip is almost over for me, and I feel as if I've only shared a sliver of what I've seen. So for the rest of this dispatch, I'm just going to sling a mismatched mish-mash of tidbits at you -- little things that are worth sharing. Graze at will.
"HOW DO I GET A JOB LIKE THAT?"
The crew hears this every day. The answer? Karma, good luck, connections, and more years of hard work than most people can tolerate. First, you must be good. Mess-ups on the road frequently result in instantaneous firings. Sometimes these are reversed the morning after, but many times they are not. Second, connections are a reality, but they rarely fall from the sky. They are earned through years spent hanging around the business, taking work here and there, and doing it well. Five years ago, Marty Stuart's guitar tech had a nervous breakdown on the road. Randy Childers is Marty's guitar tech today because he was home that night when the phone rang, and he was able to get on a Greyhound at midnight and be in Charlotte, N.C., for the gig at 1 p.m. the next day.
RANDY CHILDERS
I haven't mentioned Randy much, and that's a mistake. As both a crew member and Marty's guitar tech, he plays a key role in each performance, hustling Marty's platoon of guitars on and off stage, tuning them between songs at his rolling workstation just at the edge of the spotlight. When Marty juggles the set list, Randy must be ready to switch instruments immediately.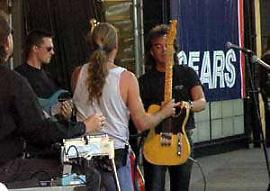 Randy (in white T-shirt) at work.
The 11 guitars and one mandolin on this tour are his babies, and at the end of the night, he lugs each and every one out to the bus, up the steps, and stows them in the back. And every night when the work is done, he pops the top on a long-neck beer, sits at the front of the bus, stares out at the road, and rouses only to say something hilariously grumpy.
IS COUNTRY MUSIC WHITE MUSIC?
"I owe Muddy Waters a debt of gratitude every time I strap on a guitar," says Marty, who has attempted to have Waters inducted into the Country Music Hall of Fame. Indeed, much of the character of country music can be traced directly to African-American influences, and country music has a rich heritage of black artists. But without a little digging, you'd never know it. Last week in Nashville, a number of artists gathered for the second Black Country Music Showcase, and the movement is beginning to attract some attention. Marty is pleased about this: "Anybody that really lives in this world and says race relations have improved is a fool.....But one of the calming factors in race relations is music -- it's always been a place where you can tamp the fire a bit."
THEY SHOOT BUSES, DON'T THEY?
When Marty's previous bus broke down for the last time, he got rid of it -- after shooting it twice in the floor with his .44.
BUS DRIVER QUOTES:
Unidentified driver (not one of Marty's drivers) on his regard for speed limits: "Lemme put it this way: I drove 550 miles last night. We left at 1:15 a.m. and I was here at 10 a.m., and I stopped twice. You do the math."
Regarding life on the road: "We've seen it all ... and most of it twice."
Marty Stuart's favorite bus driver quotes: "This is where it was last year. ... They must have moved it." And, "They were supposed to have fixed that."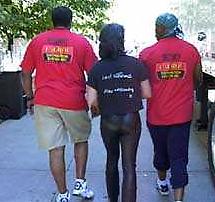 Marty gets escorted to the
Taste of Chicago stage.
A driver on how he trained for the job. "I hauled cattle all my life ... I figured, y'git with these, it's just the same thing, just two-legged livestock."
A driver, ruefully, on what driving has done for his personal life: "My God."
A driver on dealing with the police: "I've only been stopped four or five times. And two of the times were to see if Garth Brooks was on the bus."
WHY DO BIRDS SUDDENLY APPEAR?
During sound check back in Pleasanton, Calif., a ruby-throated songbird appeared in the lights above the stage. The whole band stopped to watch it, and Gary Hogue mimicked its song with his steel guitar. Marty suggested that sound man Spike mike the birds and put them in the mix. All the makings of a precious moment were in place, until a local stagehand said, "Had one up there last night, too. Lights came on and fried it."
COMMUNICATION
Each of the crew carries radios. As I write in the bus, I can tell how the day is progressing by what I hear. Just now I hear Mike Copelin: "Has anybody seen Marty? I need to find Marty." Silence. Apparently nobody has.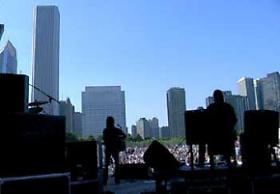 Taste of Chicago
AND FINALLY...
Today's was an early show. We were at the hotel by 8 p.m. Through some personal connection, Mike Copelin got the band and crew into an opera box at the House of Blues. I was invited along. The headlining act was Dread Zeppelin, a band known for performing reggae versions of Led Zeppelin songs. The lead singer is an Elvis impersonator. As I sat in the balcony watching this man singing "Black Dog" in a purple velvet suit and a sneer on his lips, I thought back over the past two weeks, about the man who lights himself on fire and jumps into a tub of water; I thought about roadies, bus drivers, and T-shirt vendors; I thought about Marty, and finally, about me, and I came to the following conclusion: There are some strange ways to make a living in this world.
And now, I'm going to sit down and attack my e-mail, which has been stacking up like Marge Simpson's blue beehive.
Monday: The end of the road ...