A Man and His Boots
Nashville -- This has to be said: Marty Stuart has the pointiest cowboy boots in the cosmos. I mean, you could start an IV with the toes of those boots. When I get a chance I'll ask him where he has them sharpened. But if yesterday was any indication, it'll be a while before we sit down for a heart-to-heart on the issue of country music footwear.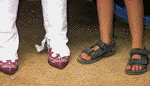 Marty meets his fans.
By the time I hit town just after 11, Marty had done two interviews, appeared at a brunch for record label executives, picked up his mom and headed 30 miles out of town to a private party with 850 members of his fan club. I was running behind. And so Bonnie Garner, Marty's personal manager, loaded me up in her Cowboy Custom king-cab pickup truck and we hit the road in hot pursuit. Garner described her job as "mother, baby sitter, shrink, friend," then, "some refer to me as a 'hillbilly wrangler.' " As the truck rumbles along, we are interrupted by Garner's cellular phone. It's a publicist from L.A. A telephone interview with a Chicago newspaper needs to be rescheduled. Garner pulls out a schedule, wonders aloud about time zone differentials, sets a new time and we roll on.
The fan club party feels like a family reunion. Everyone sits at long wooden tables, eating barbecue while the cousin they've come to see plays the songs they've come to hear. "Shake it, Marty!" screams a woman. "You shake it," he yells back. When he finishes playing, Stuart takes up position by a bright blue buggy and, for the next four hours, shakes hands, hugs and poses for pictures with every single member of the family. The family, for their part, file through in an orderly line, getting autographs and occasionally presenting Stuart with gifts or unusual compliments. "You're the reason I got skinny!" says one woman.
Six hours after he arrived, Marty signs the last T-shirt, smiles for the final picture, rounds up his mom and drives himself home. In the near silence that remains, a woman says to her friend, "Well, now we can go to the mall."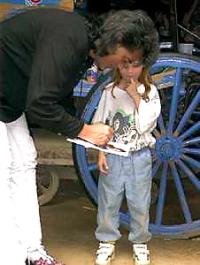 A day of shaking hands and seeing
yourself in other people's T-shirts
Back at her office an hour later, Bonnie Garner is on the phone again. I'm in the next room sitting at a table next to a pair of Patsy Cline's boots -- Stuart is a big collector of country memorabilia. I hear Garner say, "You're on in one hour." She hangs up, having just reminded Marty that he's due at the Nashville Speedway to perform as part of a showcase for execs from MCA, his record label. He will drive himself and us to the show. Twenty minutes later he's at the door.
Marty drives a 1987 Cadillac. Bought it used and it shows a little wear around the spoked rims, but inside it's a clean, smooth ride. As we roll up 17th Avenue, one street over from the legendary Music Row, Marty reflects on the fan club party, which included hay rides, swings and scads of antique farm equipment. "I saw a lot of dirty little kids so that meant they were havin' fun." His voice has a faint charcoal rasp; the words unroll with an easy Mississippi drawl.
At the Speedway, we are stopped at a series of security checks, then quickly waved through when the startled gatekeepers realize who's driving. Marty parks his car and walks to the dressing room -- a portable trailer. Just inside the door, a sign reads, "Congratulations! You are leasing a mobile office from the largest and most prestigious company in the field of mobile and modular facilities." The decor consists of three folding tables and a handful of plastic chairs. A tinfoil pan of dried bread slices (white or wheat, you choose) rests on one table beside a stack of paper plates.
When it's time, I follow Marty, Bonnie and two sheriff's deputies through a crush of fans to the stage. The showcase is running two stages simultaneously; as one artist finishes, the other begins. Just offstage we watch the helter-skelter changeover, with roadies and musicians scurrying about in the half-light. As he is being introduced Marty grins at me. "It's chaos, then a little channel opens through it all, and that's where you go." And away he went into the spotlight, into full view of a thundering grandstand of fans.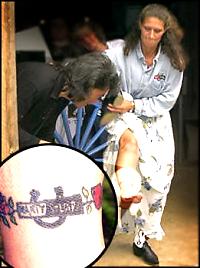 For this fan, Marty adulation
ran more than skin deep.
After finishing his set Marty did a newspaper interview, then sat for another with a German television crew. When that was finished he was whisked away by golf cart to his final assignment of the day: a reception for MCA executives and VIPs. As someone puts it, "These aren't bigwigs. They're megawigs!"
I skipped the megawigs. And so, here I am, all alone, on the infield of the Nashville Speedway, sitting in the back seat of Marty Stuart's black Cadillac. It's nearing midnight and fireworks are splitting the sky overhead. Now they fall silent, and the giant grandstand begins to empty. I muse on the full spectrum in which Stuart operated today: On one end, the fans who build an artist's career one album at a time; at the other, power brokers who can build a career in an afternoon. And in the middle, a performer, constantly tending to a shifting equation of business, art and worship.
COMING UP: Tomorrow we'll follow Marty and his pointy boots to his booth at Fan Fair. Expect to feel the love and see some strange T-shirts. And then get your twang in tune because after that we hit the road.