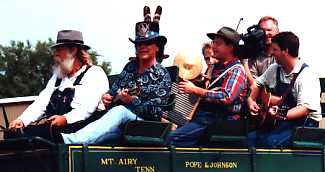 Uncle Dave Macon Days is an annual three-day event held in Murfreesboro, Tennessee which brings together old and young alike to enjoy old-time music and dancing. Individual competitions are held for guitar, mandolin, banjo, fiddle, harmonica, dulcimer, and dobro playing as well as various dance styles. Each year, they present the Heritage Award to an individual who has dedicated their professional career to the preservation and promotion of old-time music and dance. This year's winner was Marty.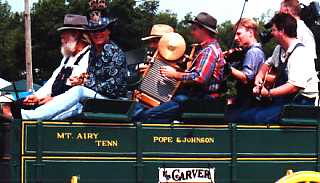 Arriving at Cannonburgh Village, the first two people Mario and I spotted were Shelby Jean Gootee and Cindy Allred. None of us had been there before, so first we wanted to find a spot to enjoy the motorless parade. Judy Trickett arrived. The volunteers working were very helpful, and we didn't have far to walk to just sit and wait.
Lo and behold, one of the first cars that came by us was a black Cadillac. Shelby Jean spotted Marty and his mom. "Waiting" is the name of the game here. We watched Kent Blanton (Superman--who did, indeed, have a Superman t-shirt on) unload his upright bass. People watching is fun, too.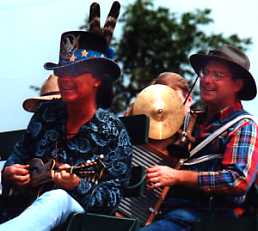 I don't know what possessed me to look behind me, but spotted an SUV and Marty's mom was in the front seat. So, we're all waving, trying to catch her attention. Finally, I walked toward the vehicle, still waving. The back door opened (the windows were tinted) and Marty is in the back seat. He said "hi" and waved. I was stunned and said, "Marty......I had no idea you were back there. I was waving at your mom." They were taking Marty to the start of the parade route. Ironically, when the vehicle came back, Marty's mom made sure she waved as they went by. We also saw the Jug Band being transported in the back of a pickup truck.
The waiting game continued as the sun beat down on us. Where was all that "shade" they had been advertising on the radio??? All we saw were little trees and the shade was going in the wrong direction. Umbrellas served as parasols. We could see the police at the intersection and we waited for them to close down the traffic. And we waited.....and waited. Finally, here comes the parade! Motorless? Not with police vehicles leading the way.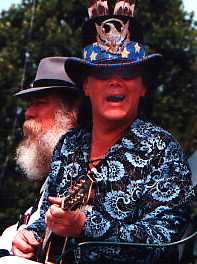 Marty and the Jug Band led the parade. The guys all had their instruments and were singing "Take Me Back To Tulsa." Marty was wearing his funky hat. We stayed and watched most of the parade, admiring the beautiful horses. Felt sorry for them. If WE were hot, THEY had to be hot. And, maybe Marty and the Jug Band felt a breeze as they rode along. Marty also does a good job of spotting Mario in a crowd and he knows that Mario will have the camera. You can tell this picture was for Mario only!
Next we walked over to the WSM-AM booth. Again....false advertisement? I kept hearing on the radio how we could "cool off" at their booth. They were just as hot as we were. They had some shade as they were inside, but they didn't have a breeze! Is that NOT an air conditioner perched atop the trailer? Picked up a copy of the new "Inside WSM" newsletter, which featured two wonderful articles on Marty. They informed us that Marty was signing autographs at 11:00 a.m. and not 1:30 p.m. Since it was SO hot, Marty wanted to get it over with so he could find some place cool until showtime.

About 11, we went back over there and we were informed that the time had been changed BACK to 1:30 since Marty had found some place air conditioned. There were lots of motorhomes and trailers there and, if I had one there, you can be sure Marty and his Jug Band would have been more than welcome to come inside and cool off.
Mario and I set up our lawn chairs in Row 4 in front of the stage, had something to eat, watched some of the competition and tried to stay cool! The sun was just beating down on everyone. Any time a cloud covered the sun, everyone breathed a sign of relief. Our umbrellas did help.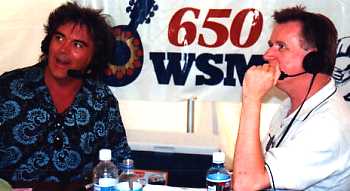 About 1:00 p.m., we went back to the WSM-AM trailer. A line had formed (Judy Trickett sat in her chair at the beginning of the line the entire time). I got in line. They were selling Marty's book as well as other merchandise. They brought Marty over and took him to the back of the trailer where he did a live on-the-air interview with DJ Keith Bilbrey. (Mario went around to the back of the trailer to get this photo of Marty and Keith.) I spotted Marty's mom, so went over and said "hello." Other fans went over and talked to her as well.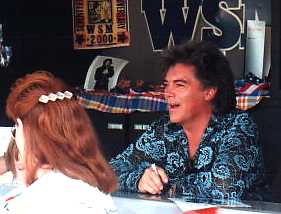 Marty looked HOT in more ways than one. First, his hat had given him "hat hair" and he really looked warm. I asked him "Is it HOT enough for you?" I had him sign his page in the program, wished him and Connie a Happy 3rd Wedding Anniversary and asked him if he'd run into The Derailers (my favorite group) Thursday night at the radio station. Marty told me he's known them for years and thinks they are "great." (I agree, Marty.) He wasn't specifically posing for pictures unless you asked him to.
I noticed his mom was still standing out in the sun talking to people, so I told her she needed to get in some shade. She was wearing a long-sleeved blouse. She did move over a little bit, but I really felt that if I was dying in the heat, she had to be as well. Mario and I went back to the van to restock our water supply and, coming back, found a vendor selling ice cream. Just what we needed to cool off!!! As we got back to the WSM trailer, Marty's mom was STILL out in that heat talking to folks. I told her if we'd known they'd still be there, we would have brought them back some ice cream or water.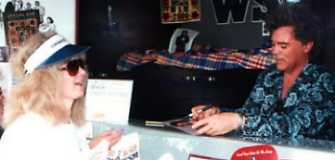 As we were walking back around the trailer, we spot Marty coming toward us, fresh from his autograph session. He waved and said "Mario........" Mario had his hands full with the ice cream, but Marty went over to him and gave him a pat on the arm and Mario said, "Want some?" Marty said, "It sure looks good."
It was only 2:00. The waiting game continues. I really felt sorry for the dancers (cloggers) who had their competition that afternoon. They had to get out in the sunny part of the stage and clog for the judges. Even if it was only a minute or two of dancing--they were definitely heated by the time they were finished. Our umbrella served us well until people complained that they couldn't see the stage over all the umbrellas, so everyone was asked to put their umbrella down. THAT's when the sunburn started! The make-up had long melted off, the t-shirt was dripping wet, and I longed for a nap!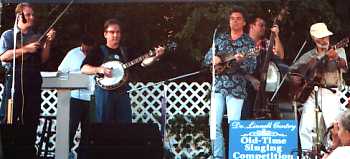 Finally........5:00 p.m. rolled around! The moment we had all been waiting for. The announcer says, "Is everybody ready to hear a little bit of a Marty Party this evening? Would you like to have a little bit of a Marty Party this evening? Let me hear it again. It's my pride and privilege to introduce to you, Mr. Marty Stuart."
Marty came out on stage and said, "Somebody say 'howdy'." (Crowd yells "howdy.") Marty continued, "We're glad to be here. We're on the radio, we're on the TV so you all smile, smile, smile. We got a fiddle tune out of brother Matt. You all give him a hand as we get into a little tune called 'Katie Hill'." Marty was really whooping it up. Onstage with Marty were Matt Combs on fiddle, Charlie Cushman on the banjo, Kent (Superman) Blanton on the upright bass and Roland White on acoustic guitar. Marty played mandolin.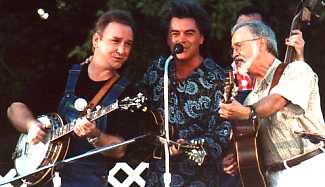 Next they performed "Rock About My Saro Jane." During this song, some of the microphones went out and part of the music was missing. Marty says, "Did we lose some power? Too much talent!" And he laughed. "Before we go any further, I wanna say I'm honored to be back home in Murfreesboro, Tennessee. I love Middle Tennessee." Marty then introduced the band: "How about a hand for Mr. Matt Combs over here on the good fiddle. In my opinion, the nation's finest right there, Mr. Charlie Cushman. Back here on the bass is no stranger to Uncle Dave Days. How about a hand for Kent (Superman) Blanton on the bass fiddle."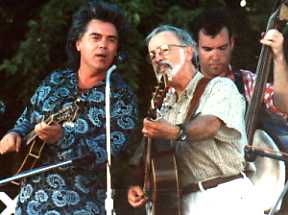 "I got kicked out of high school in 1972. I called a fellow who gave me his phone number. He worked for Lester Flatt and he said, 'If you ever want to just go on the road on a weekend, give me a call. I'll see if it's all right with Lester.' So I gave him a call and his name is Roland White and he got me a job with Lester Flatt and I wanted him to come see us today and sing. How about a hand for Mr. Roland White. Me and Chi Chi wanna sing a song called 'The Nine Pound Hammer'. Go boys." Roland sang with Marty. At the end of the song, Marty says, "That's Roland." Click here to listen to some of the song. Marty also acknowledged Dr. Charles Wolfe who has done research on Uncle Dave Macon and his music.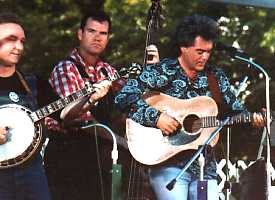 "I would formally like to enter Charlie Cushman in the banjo contest right now." Charlie would have none of it, shaking his head "no." "You do it like I told you to do it, Hoss. Yea buddy, play the right song, play it just right and you'll win this thing and take a chicken home tonight. How 'bout a hand for Charlie Cushman as he steps forward to play a Mr. Scruggs competition called 'The Randy Lynn Rag'." Charlie picks a mean banjo (and is an accomplished guitarist as well). After the song, Marty says, "What did he win, Doc? A chicken?" Charlie said, "I'll take it." Marty countered with, He'll take it."
"When me and Roland first started singing with Lester Flatt, Lester would always fill out his radio shows by using us to sing a song or two. We wanna sing you a song that goes back to....actually, I learned this off a Kentucky Colonels record that Roland and Clarence did a long time ago. It's called 'You Won't Be Satisfied That Way."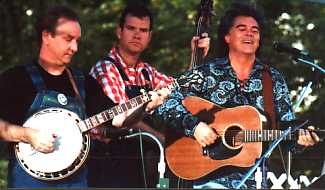 Roland gave Marty his guitar and picked up a mandolin. Marty says "Fan me. Come on." It had to have been extremely warm up there on stage. "I'll play Clarence White's guitar here. When I first moved in with Roland, he'd sit around and noodle on the guitar some. And I thought, 'That boy can really play a guitar when he makes a living playing the mandolin.' I got to talking to him about it. He said, 'Well I just gotta play some of the stuff that my brother played.' His brother Clarence turned out to be my guitar hero. We'd like to try and do a little tune now that Roland and Clarence came up with. The way I learned it off the Kentucky Colonels' record called 'A Soldiers Joy.' It goes like this."