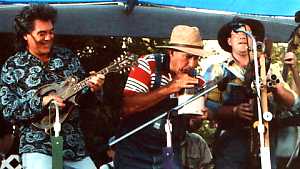 One of the greatest things that I've done this year is hooked up with the Tennessee Mafia Jug Band. Are they available? Where is Lester Armistead and LeRoy Troy and Mike Arnistead. Lester, where's your jug? Hey, where's your jug?" Lester says, "Right here." Marty says, Whatcha got in it?" Lester says, "We got it half full--about half." Marty asks, "Where's my mandolin?" A siren blares in the distance. Marty says, "I hear a siren. Is that LeRoy Troy. Did somebody arrest him? He's in that jug somewhere. We got LeRoy Troy coming up. In the meantime, where's Jacob? Here's LeRoy. Ladies and gentlemen, how about a hand for the King of Country Music, Mr. LeRoy Troy."

LeRoy comes out wearing his "contraption" (see the photo on Page 1). LeRoy says, "I'm ready to do it. Hit me an A-chord." The band is tuning up, getting ready. Finally LeRoy says, "Ready? Hit it." Marty says, "Hit the duck call first." LeRoy says, "I took it off." Marty squeezed something on the contraption. They sang "She'll Be Comin' Round The Mountain." Now these guys are not your ordinary musicians. They are truly having the time of their lives up there on stage. Perfection is not the name of the game here--they are just up there having fun. Watching LeRoy play the washboard and everything else he has on that home-made contraption is really a lot of fun!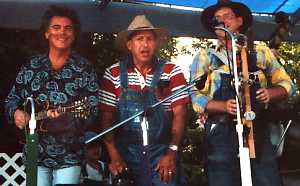 Membership in the Tennessee Mafia Jug Band changes like the wind. This time around, Charlie Cushman was a member too. There may be no special requirements to be a member--just the desire to play old-time music. I also don't know that they even brought a set list with them. You could hear them discussing song titles, tuning up their instruments. At one point, Marty said, "We're rehearsing."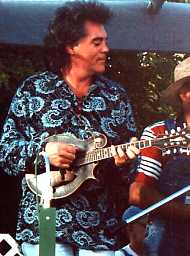 Marty and LeRoy sang "Roll On Buddy Roll On." LeRoy said, "Now then Lester is gonna step back up here and we are gonna do one called 'To Old To Cut The Mustard Anymore'. You boys ready to sing?" There's some other conversation and finally Marty says, "Lester's jug is full of something that came out of Woodbury. Cannon County stuff." Finally Lester was ready. During the song, Lester messed up the song. He was laughing so hard he missed singing a line. When the song was over, Marty said, "Hand me your jug. I told you if you messed up, you couldn't have it back."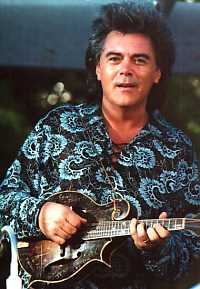 Marty asks, "LeRoy, did you bring your twirling banjo? Who's got LeRoy's banjo?" Somebody said, "Here it is." Marty says,"Here it is. Eddie Stubbs, if you're listening, get your fiddle and bring it toward us. Ya'll ever hear Eddie Stubbs play the fiddle?" The crowd yells "yeah," Marty adds, " They don't wanna hear you, Eddie. He's comin'."
"Well I know we couldn't do Uncle Dave Days without having LeRoy do a little twirlin'. Seein' as Murfreesboro is the twirlin' capital of the world." LeRoy says, "I know one thing, we're gonna have to get tuned up." Marty says, "You want me to tune you up?" Charlie Cushman came over to help LeRoy tune. Marty was standing with his arms crossed.....waiting. Marty jokes, "You can't drive just anywhere in the world and hear people sit around on stage and tune up so we want to invite you to come back next year to Uncle Dave Macon Days where professionalism is at the height of our list." Marty could hardly get out the last part of that sentence, he was laughing so hard. (See for yourself in the following pictures.)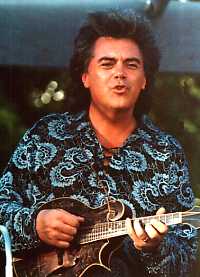 LeRoy continued to tune and Marty says, "Can you get it any better? Well, you can't." LeRoy says, "At least we ain't on the radio." Marty says, "Yes we are." The audience laughs. Marty continues, "There ain't nothing like good dead air on the radio. Well we WAS live on WSM but they cut to a commercial." LeRoy's still tuning. Marty says, "Give him room. He's gonna throw." LeRoy says, Give me room. Lord I was waitin' to do this."
Marty still referred to LeRoy as the King of Country Music. "We kid about the King of Country Music. Well, not really, but I tell you, the former King of Country Music when he was here was our own Tennessee Boy Mr. Roy Acuff. I love Roy Acuff and the Smoky Mountain Boys. How 'bout you. Was he the first Grand Marshal of Uncle Dave Macon Days? That's great. Well, we're gonna bring the Armistead boys up here--Lonesome Lester and Cousin Mike to sing you a little tune that Roy and the Boys did called 'No Letter In The Mail.' Kick it off Charlie."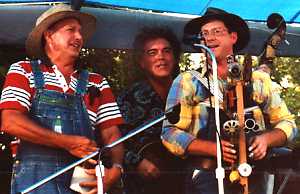 Also on stage during this song was a little boy, about the age of 5, who played the mandolin which was about the same size he was. He wore overalls and a baseball cap and he was strumming along to the song.
"LeRoy kept telling me about a fellow named Cordell Kemp and taught him how to play the banjo. And one day he said, 'Take a trip with me.' We got in LeRoy Troy's pickup truck and rode for a long time. I knew kinda where we was headed but all of a sudden we stopped and he said, 'Look a there, the skyline of Defeated Creek, Tennessee." And there she was. And we spent the afternoon talking to Cordell Kemp, taking his picture and stuff and LeRoy brought along a buddy of his, Mr. Mark Lawrence. I ran into Mark Lawrence in Cordell's living room. And him and LeRoy was singing a tune called 'Old Rattler' and I thought you all needed to see it today. How about a hand for LeRoy Troy and Mr. Mark Lawrence."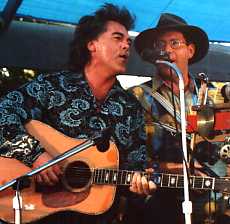 LeRoy was playing a woodblock and he came out to the front of the stage and was dancing (clogging). Marty couldn't stand back and watch, so he came out there and joined him. LeRoy also got into the mood to turn around to the crowd and give himself one of those hugs. The crowd, of course, just loved it!
Marty, being the joking person that he is said, "Mark and Lawrence Welk, thank you very much. How about a hand for our mandolin player, Mr. Jacob over here. He won the contest yesterday. Won $25,000 for playing the mandolin. I wanna give you a little piece of advice. I started out playing when I was your age. If you want Learjets and big mansions, get you a pop song like that little 12-year old boy. But if you wanna hang out with cool people and play the Uncle Dave Macon Days, keep that mandolin in your hand, all right? You gonna play 'Liberty'? Well, come here."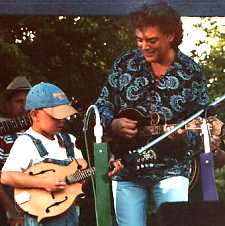 Marty and Jacob played mandolin. That kid can really pick. Marty says, "Get 'em Jacob." Roland came over and said, "Someday one Sunday he'll be callin' us and hiring us. What goes around comes around." Marty tells Jacob, "Stick around and play with us, you're good for the show. That's how I got a gig. Hey, is Eddie Stubbs here? Here's what happens when they grow up. They become great radio announcers and fiddle players. Ladies and gentlemen, my favorite in the world is Mr. Eddie Stubbs."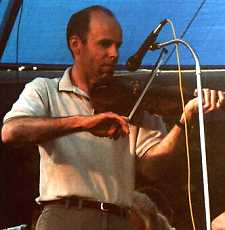 Eddie says, "Marty, thanks so much for inviting me to be here today. This is a wonderful, wonderful event. Good to have you back home in Rutherford County." "It's good to be back home," Marty said. "You've worked hard to put this thing on WSM has done a great job and we thank WSM for putting this on the air." Eddie said, "They've done a great job and we're proud to be part of Uncle Dave Macon Days. We're proud that you're here as the award recipient this year. We'll be talking a little more about that later on." Marty says, "Okay, how 'bout we play some fiddle music right here. You got a pretty rough act to follow." Eddie comments, "Boy, I tell you what...." Eddie says, "Let's do an old-timer called 'Pretty Polly Ann'. If anybody wants to dance, this is a good one to dance to." Marty says, "Where are our dancers. We need somebody to come up and dance. Can we have somebody dance?" Eddie said, "I don't care." Marty says, "Come on, there she is. Get up there." A stream of the cloggers came up on stage and danced. Marty even felt like dancing a little.
"Hey now. We've been talking about the future of country music. I've been walking around here today. I heard the Old Crow Medicine Show, I heard LeRoy Troy, I saw Jacob. I think country music's in good shape myself, what do you think?" The crowd applauded. "I wish Mama Maybelle was here to do this." They performed "It Takes A Worried Man." Click here to listen to some of the song. The band performed a mandolin solo and then it was Marty saying, "Thank you very much. How about a hand for all this Tennessee bunch up here. Thank you to Uncle Dave Days. God bless you. Thank you."