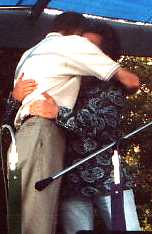 Marty left the stage, only to be called back again by John Malone, program director at WSM-AM Radio. John said, "I want to personally thank all of you for being here today. This is a very special moment because we are broadcasting not only on 650 WSM to the nation, but on wsmonline.com to the world. We are all over the world right now for the first time ever for Uncle Dave Macon Days, so I want a big Uncle Dave Macon Days Rutherford County "hello" to the world. That is great.
"This is also a very special moment because we are about to present the Uncle Dave Macon Days Heritage Award. And I'd like to introduce to you and you just saw him here a few minutes ago, so reintroduce to you, WSM announcer and Grand Ole Opry announcer, Eddie Stubbs."
Eddie, who absolutely adores Marty, gave the following speech:
---
Thank you very much, John. This award is a very special award as many of you know who have been a part of Uncle Dave Macon Days in the past. And it goes to somebody who commits themselves wholly to the promotion and preservation of old-time music. I met Marty Stuart when I was 15 years old and he was 18 at the time. He was really commited to the music. He struck me as somebody that I really wanted to get to know because he had a great passion and love for everything that he was involved in.

And over the years, I've watched him grow musically into nothing short of a genius -- as a composer, a singer, a songwriter, the heights that he's achieved in country music but not just country music. He can do rock and roll. His band was the Rock and Roll Cowboys and he can pull that off with the best of them. He can do blues. He can do hard-core honky tonk, He can do hillbilly. As you've seen up here today, he can do bluegrass. And I've seen him work in churches doing complete shows of nothing but gospel music that he's written. It's unbelievable what this guy has done and what he's commited to do.

He's expanded his talents into working with movie scripts. He's composing soundtracks for movies. He's been awarded and nominated for Grammys many, many times. Some of you may be aware of this; some of you may not. A few years ago, one of the great treasures of our Grand Ole Opry family, Bashful Brother Oswald, after having been a part of the show since 1939 became a member of our Opry family in 1995. The person directly responsible for that was the man we are honoring here today, Marty Stuart. If that's not commitment to old-time music, I don't know what is.

He just got done producing some of the finest gospel music you'll ever hear with a group called Jerry and Tammy Sullivan. This is their third album and I think it's their best one to date, yet. Also he just got done producing and partly performing on and composing some of the songs for an album that's due out by LeRoy Troy later this year on Rounder Records.

You know when you have a commitment and a passion for old-time music and its preservation, it's a fighting battle and this guy fights every day for our cause for the promotion and preservation of traditional music. He's been for several years now the president of the Country Music Foundation. As I said earlier, he is nothing short of a genius. He's one of the greatest treasures that we have, not only in country music, but in American music as well. And we are indeed proud today to present the 2000 Heritage Award of Uncle Dave Macon Days to Marty Stuart.
---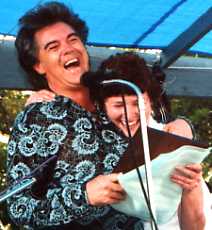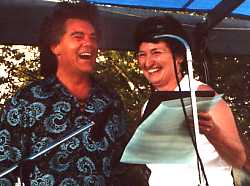 Marty was deeply moved. "Wow. Thank you so much. Thank you, Gloria. Gimme a hug!" (Gloria Christy is the festival organizer.) Gloria presented Marty with a plaque. She'd done so much talking at the festival that she'd lost her voice, but she invited Marty to come back. Marty said, "I'll be back, thank you so much. I'll be back because I gotta come pick up my plaque because you spelled my name wrong." Gloria was horrified and could not believe the mistake had been made. Marty said, "I'm that other bunch of Stuarts." You could tell Gloria was embarrassed. Marty said, "I don't care." She asked Marty to read the inscription. Marty says, "Well, it says, 'Marty S-T-E-W-A-R-T, combining rockabilly'-- we're in the phone book you know--'combining rockabilly and traditional music with the heart of a historian to pass on the sound of old-time music to another generation.' I love old-time music and I love country music. I love American music and what we have to offer to the world. And to be any part of that is fine with me as long as it's pure. And to come to from this part of the country, you don't get away with it if it ain't pure. And I appreciate it. I love you and I thank God for this award."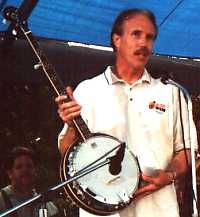 John Malone came back to the microphone and announced there was one more presentation to make. He introduced Nick Green to make the presentation. "Welcome everybody. You may not all know this but the committee that puts this on is all volunteer. Tennessee is true to volunteers and I'd like you to give them a round of applause. Last year we joined forces with Uncle Dave Macon Days. We wanted to commemoriate that joining and we also wanted to thank the committee and the groups that work on this so we created a special award. This is an Epiphone banjo that was donated by Epiphone of Nashville and we want to pass it on each year. The tradition was started last year. LeRoy Troy was presented with the banjo to play with his band. Marty, you can play this if you like or you can pass it to somebody in your group to play. But what we are going to do (Marty is fumbling with the banjo). You can play with your left hand. You don't like to play? You prefer someone else to play it? We are hoping that the circle will remain unbroken. This is our 75th anniversary. We hope it continues and this particular presentation lasts for another 75 years."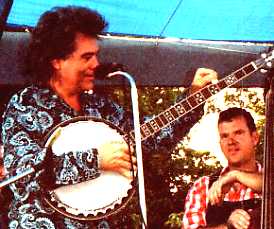 Click here to listen to Marty playing the banjo. Marty then asks Charlie Cushman and LeRoy Troy to come on play the banjo. Marty called it "the best of both worlds." It was hysterical. LeRoy wanted to know what side he was supposed to be on. They decided on the song "Cripple Creek." They started playing and it was totally wrong. LeRoy said, "Are we starting on the chorus or verse?" Marty got up and danced then joined in and sang a chorus. Click here to hear some of the song.
Marty said, "I wanna thank....who's this go to? It's kept by the committee? Thank you. Thank you committee. We'll see ya tonight on the Grand Ole Opry at 8:30. Thank you very much for everything. I love you."
As we left the area, we saw the police escorting Marty out. As we passed by the WSM trailer, they were getting ready for Marty to sign more autographs and the line was long. Just another day in he life of Marty Stuart. Enjoy these other photos that closed out the show.

Right and below: Marty is trying out clogging.
He's watching his feet and trying to count.
Do you think he's been taking lessons?

One final chorus and then we're
outta here.
Review by Sherry Mattioli
Photos by Mario Mattioli