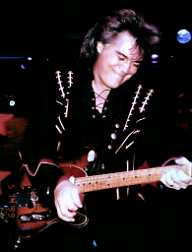 I left for Jamie's at 3. Had uneventful trip until Toledo. Down to one lane, traffic backed up for miles. Dark clouds, rain and spectacular lightning. When a gal is stuck in traffic not on the move what can she do but put on a CD of Marty's and let the party start early!! Two hours later... Great to see her, lots of huggin', jumpin', and big ole grins all around. We spent the evening watchin tapes of old Marty stuff. Some I don't have (how can this be?) Had I have known everything this week would bring, I would have slept better that night. We sure didn't get much from that point on. Had to leave for the airport at 5:45 am (is that on the clock twice?)
Thursday, May 13, 1999 - Day 1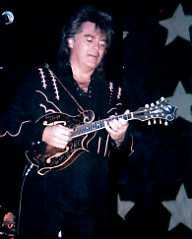 Flight was on time....Let the adventure begin.........Guy next to Jamie asked where we were going and we were more then happy to tell him. He said he liked country music and Marty was "all right ". He was on his way to Vegas for a blackjack tournament. Said he won $180,000 since January proceeded to show us a wad of money that would choke a Clydesdale....wonder how he did?
As we got off the plane and walked down the terminal, what is staring down at us but a huge picture of the man himself. It's the new one that is in this year's renewal packet. So Fine.... On to the hotel check in get settled. Phone rings... Heather, Dee and Leah are on the cell phone in the parking lot...more screamin' and laughin'.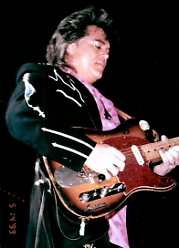 We arranged to meet down at the showroom. Had a little time so down to the slots we go. Jamie has never done this so I decide to give her a lesson in Marty Money 101....10 bucks in... bells ring, 60 bucks out. She likes this class. I on the other hand...what is that saying.......Those who can do those who can't teach....that's okay nothing can spoil my good time.
Off to the show...The gals are there....more screamin', laughin', huggin', jumpin', hoppin'. (Got the picture?) Everybody looks good feels great and we are in rare form for the show. Maggie the maitre'd is still there and it's good to know that grease is still greasy! Our very table #61 is waiting on us. The time is almost here and we are jumpin' and jivin', many days and lots of miles, what's a couple elephants? You will be glad to know Bertha and Angel are alive and well and still slingin' goobers.
Instead of a magician this time we get a comedian/impressionist Tony D'Andrea. This guy was FUNNY!! Told great jokes and did unbelievable impressions of James Cagney, Walter Brennan, George Burns, Walter Matthau, Jack Nicholson, and the Caucasian rapper. You had to be there. He kept askin' us if we wanted Marty, we screamed and he said "no." This happened a couple times. He said, "Enjoy the show. Marty is a great guy."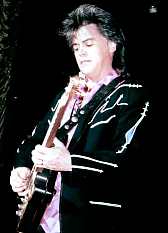 The lights go low and the sound we love comes through the speakers ....... "Marty Stuart Visits The Moon".... The curtain goes up and there they are FINALLY! The guys are dressed pretty much like always and Marty is in black shirt, black pants with sparkle designs up the legs and black coat with white applique and blue inlays. More Fine.
They open with "High On A Mountain Top." He says, "Howdy, we're glad to be back in Sparks. Always enjoy it. Hope you do too. Now give me a WELLLLLLLLLLL......" Goes into "Whiskey." "You know I've worked with some cool cats but the coolest cat I know is my ex father-in-law Johnny Cash." Goes into "Blue Train." The crowd is older but is having as much fun as table 61. He does "Tempted," "Now That's Country," and "Burn Me Down."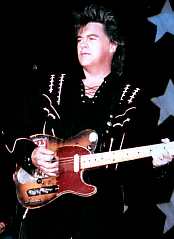 He says "How 'bout these Rock and Roll Cowboys? I got the best band in the whole wide world, On bass from Memphis -- Steve Arnold," who waves, bows and exits stage right. " Every band needs a great drummer and I got the best I stole him from Lorrie Morgan. That's the only thing I ever wanted from her...Mr. Gregg..that's G-R-E-G-G Stocki." He stands, waves, leaves, stage right. "Now I have the best steel guitar player...at Indian Ranch.... (remember the house of ill repute?) Mr. Gary Hogue!" Gary grins, shakes his head, waves, and leaves stage left. " Now this guy has been with me 10 years. (Brad walks over holds up 10 fingers.) I love this guy......Mr. Brad Davis." They hug and Brad leaves stage left. Marty sweeps his arm around and looks back, wrinkles his brow and says, "They just quit!"
Lights go low and Marty begins to tell the story of cross-eyed Norman and Rita. Now I don't know about you, but I could listen to him tell stories till the end of time. The crowd is quiet and listening. His finger goes to his head like a gun and he tells us Norman blows his brains out in front of Rita and the "pilgrim" There are intakes of breath, a few "Oh no's" and some sighs." Pretty good country song ain't it. That's what our new album is about and if you give me 3 minutes and 40 seconds, I'll come back and sing some new songs for you. While I'm gone the R/R cowboys will play you a song from the soundtrack of "Daddy and Them" we just recorded called 'Jailhouse Blues Part One'."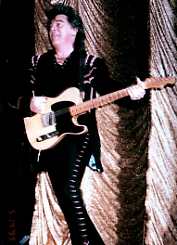 He leaves stage left. Lights come up and there are the guys in their new outfits, purple, pink and I really think Gregg's tie glowed in the dark. A sort of 70's look. There are lava lamps and the backdrop has florescent stars on it. As that song ends, Emmylou Harris comes over the speaker and sings "I am a lonesome Pilgrim." Lights go low and Marty is center stage in black pants/shirt and coat with pink applique. Even finer yet. He goes into "Sometimes The Pleasure's Worth The Pain," "Harlan County/Reasons," "Red, Red Wine and Cheatin' Songs" and "Hobo's Prayer" and then the sound we dread -- "Hillbilly Rock."
He's says "goodnight." Everybody walks to the end of the runway. He shakes hands, waves walks past me, bends over and shakes my hand, says "See ya tomorrow night" and is gone. Well I'm on my feet and tellin' all around me to get up and here he comes and does "Rocket Ship," waves, grins, and our first night is history or is it......People are leaving and we are just sittin' there soaking up the memories.
As the band finished, I asked Steve if I could have the set list. He just grinned and the curtain came down. Now as we are sittin' there trying to get the energy to move, a hand comes out from under the curtain and waves a paper at me and says "$5." I say "I'll pay ya later!" I am a very happy girl.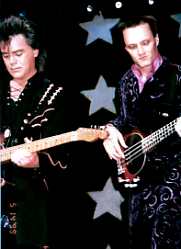 Mike comes out and tells us he'll have him out in a few minutes. There are about 12 people so we waited. Good things come to those who wait. Marty comes out. What a great guy. You, for those few seconds, are his focus. My turn!! He said "Hey how long ya stayin' " and I said "Through Sunday night" and he said, "Well we got some new stuff for ya." I said "great." He signed the set list for me I told him "You bring me such joy. I love ya." He gave me the hug only Marty can give and said "I love you too."
What he said to those behind me, I don't have a clue. We walked over to get something for dinner and, while waitin' in line,S I decide to go to the restroom. While takin' care of business, I hear this women yell "Sue are you still in here? Hurry up Marty Stuart is goin' in the restaurant!" Sue proceeds to fly past me like I'm standin' still and I'm thinkin' "geezz buy a ticket and let the man eat!" I go back out and they are seating Marty, Brad and Mike.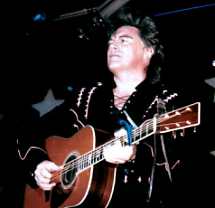 Sure enough, Sue and her friend go up to him and have him sign something, then they come out and run into someone else they know and tell her so she goes in. We are all thinkin' RUDE!!!!!! Let him eat! They come out and we are seated. From my seat I can see Marty and he is interrupted several times. Steve comes by and we talk and he has us in stitches with funny faces and voices. He does a great impression of Stan Laurel. Gregg comes by and asks if we had a good time. We say "of course!" Our food comes and you can begin to see jet lag makin' a move. Marty walks by, stops and holds his eyes open with his fingers and "Goodnight!"
We say "night" and that sounds pretty good to us also. We make plans to go to the mall in the a.m. and head back to the room. As we pass the slots, Jamie's eyes go wide and I realize I might have a problem! 10 bucks in and 200 Marty Bucks out...now I know I have a problem! Me nothing....if this keeps up I may have to do hotel laundry. We go to our room and talk, laugh and wind down. I get my notes together and think of Scarlett O'Hara....Tomorrow is another day........