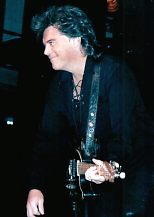 Ok, here we go----
Well, first let me start by saying that if any of you ever get the chance to see the guys at the Nugget, GO!!! It is a wonderful venue and the staff there is very helpful. The host and hostess remembered us from the January run and made sure we got "our" table EVERY night. (Right up front of course!) They even let me have it on Tuesday and Wednesday when I was by myself!! Now, on to the shows...
Thursday started the week off right. They were all in goofy moods. They were laughing and joking with everyone and Marty was full of the devil. The set was pretty much the same as it has been this year. Starting off with "Country Girls" and ending with "Hillbilly Rock." The only new ones they did this night was "Red, Red Wine" and one that I hadn't heard before but is now my new favorite, "I Can't Help It." What a rockin' song!! This was the only night they did it and I was pouting the whole rest of the time. It was only Deana and I this night, but he made a point of winking and saying "Hey Girls" to us.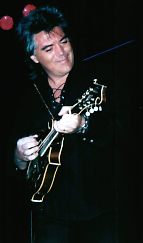 We got a meet and greet after the show, and boy was he feisty!!! We were going to wait and go back on Saturday night when I had more people coming to the show but, as we were standing there waiting to talk to Mike, the 10-15 people in line just went on through. Next thing we knew we heard this, "HELLLLOOO, What are you doing way over there, GET OVER HERE!!" We would know that voice anywhere so we knew we were in trouble.
We turned around and there was Marty crooking his finger at us. So we went over and got HUGE hugs and kisses. We got to talk for a little bit, he asked where the rest of the "girls" were and how everyone was doing. He asked if we were there for the whole week again, so then he got the whole who-was-going-to-be-there-when speech. (I was the only one who was there the whole time). He then proceeded to tell me I looked tired and to go to bed!!! (Needless to say I listened. Yeah, right!!) We didn't go to bed that late though, maybe 1 a.m. or so.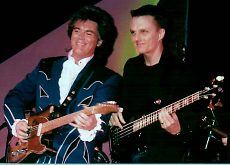 Friday started off with a 8:30 a.m. wake-up call from my work to find out how it was going. Needless to say they didn't call again THAT early. I am a grouch in the morning!!! Deana and I went to Wal-Mart to develop the rolls from the night before and got a couple of GREAT shots. So of course we had to blow them up for Marty to sign. We made it back over to get primped for the show, and had 5 messages!! Gee do you think everyone was sorry they hadn't come with us?
So we made ourselves gorgeous and head over to the showroom. We made a point of hanging around the area right around the entrance to play slots at so we could see when the line started forming. We got seated and I went to go wait for my sister and her friend who were driving up for Friday and Saturday's shows. They almost didn't make it!! Our butts hit the chairs as the curtain went up.......The only difference in the set was they did "Reasons," and didn't do "I Can't Help It." It was my sister's turn to get the winks and smiles, since they hadn't seen her yet. And her friend (another DeAnna) is now a convert. She had never seen Marty and the guys, and is now hooked!! Can we blame her? There was no meet & greet tonight but we ended up seeing everyone but Marty out and about later on. We stayed out till about 3 a.m. and didn't mind one bit.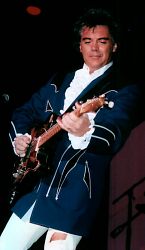 Saturday, we drove around Sparks--that didn't take long and then went back and played slots for awhile. None of us were winning so we decided to go get ready for the show. We got dolled up and got our place in line. I noticed a lady standing about 3 people back in line. She fit the description that Miss Sherry had given me of a friend of hers that was going to the shows. I had been looking the last couple nights, but no one fit. Even this one, the hair was shorter than the picture on the website. But you know me, I just walked up and asked if she was Sheila, and she goes,"Oh, My God, You're Heather!!!!" We hugged like old friends and proceeded to have a blast for 3 days!!! What a sweet lady you are Sheila. You are now an official member of the "Western Girls". Anyone who can hold their own with me for 3 days has got to have earned their place. Anyway, back to the show.....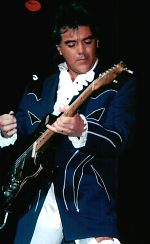 Marty wore a particularly fetching outfit this night--something we don't see all the time. Black frilly shirt TUCKED in, SHORT black rose vest and those damn Leather pants. Are we all getting the picture here?? (If not I have one that tells the whole thing.) Sorry, Marty but we have told you before, if you wear it ,we will take pics of it!! And with that runway out front, you had your back to us for all of "Oh, What A Silent Night." What's a girl to do?? Come on now, don't tell me you all have never done it!! You're talkin' about our boy now, remember.......
They set was the same except they did "Now That's Country," and "Hobo's Prayer." Boy, do I love that song! And they did an encore this night of all instrumentals since his voice was starting to go. After the show we went to eat and ran into a certain bass player. Gee I wonder how that happened? Sheila was fading fast. Her jet lag was hitting so we let her go to bed after dinner. We ended up stayed up entirely too late and having too much fun.