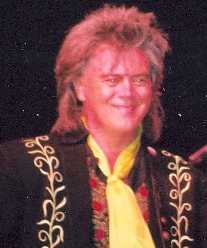 The show started at 7:00 p.m. There wasn't a very big crowd. I don't think the place was half full. The Governor came out a played his usual games. Then he asked if anyone could name Connie's band. He gave them a prize. Then he asked what the name of Marty's band was. I sat for a moment to give someone else a chance. But nobody said anything. So I yelled out "The Fabulous Superlatives" and I won a boot-shaped can coozie. Serena yelled too, but I must have been a little louder. Jim made everyone look at my shirt and told them they could get one like it at the merchandise table. But they couldn't get one exactly like it. I had mine autographed by Marty and the Superlatives at the show in Broken Bow and went over the signatures with silver glitter paint. Finally, it was time for the show.
Connie Smith opened the show and sang a little over an hour.
Then it was time for Marty. He and the guys were dressed in their black, trimmed with green. And they were awesome. They started the show with "Back to the Country" and "Too Much Month at the End of the Money." Next came "The Whiskey Ain't Workin'." When it came to the part where he gets everyone to sing along, well, Serena and I and with our daughters were the only ones singing. He said we sucked. This was an older crowd that came out to see Connie. So they weren't very good at singing along. After that, the show went on. He sang "Mirrors Don't Lie." Next he sang a song I had never heard. But I must tell you that it is a good one. I love it and I hope he records it. He didn't say anything about it. He just sang it. It was called "Cry Lonesome Heart, Just Don't Cry to Me". I think I got that title right. It is a beautiful song.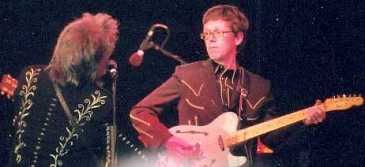 He then introduced the band. Then he did a little campaigning for Kenny Vaughan. He told that Kenny wanted to be the next Governor of Oklahoma. He has my vote. Marty had him play a few guitar licks if we would vote for him. It was really funny and the crowd began to wake up. They sang "Luther/Kenny Played the Boogie Woogie". After that came "Tempted" and Kenny sang "Country Music's Got a Hold on Me". The crowd really liked this. Marty then paid tribute to Waylon by singing, "Tow the Mark and Walk the Line." He then went into "Farmer's Blues." Up next came Brian singing "Everybody's Tryin' to be My Baby."

Marty then picked up his mandolin -- my favorite part of the show -- and just started picking. Parts of the song I recognized. "Oklahoma Hills" was one that I recognized. He picked for a long time. It was absolutely beautiful. The crowd seemed to really enjoy it. Next Harry came out from behind the drums and sang "Slow Train." Then he, Marty, and Brian did a really funny rendition of "This Little Light of Mine."Then we heard the familiar "Hillbilly Rock." That means it's almost the end. They did come back out and encore with "Draggin the Line."
We then headed back to the merchandise table to stand in line. We were towards the front. We talked with Jim. He said they almost didn't make it. Their bus' water pump went out. But the people at the Civic Center got them there on time.
I drew portraits of Marty and each member of the Superlatives. I had Marty autograph the one that I did of him. He said it was "exquisite" (in his funny little voice). He also said to charge Connie $5.00 to see it. I then showed him the portraits that I did of the guys. He loved them. They all loved them. Marty told Kenny he could use his for his passport photo. They thanked me several times after I gave them to them. They are really nice guys. And talented too.
Then it was time to leave. That's all I have. Until the next show. See ya.
Review and photos by Beverly Kerr, Rush Springs, OK
Click here to see Bev's fabulous drawings of Brian, Harry and Kenny.