From Krysten's Journal: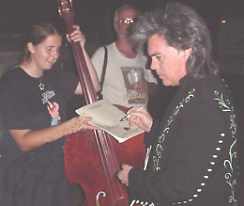 While we were walking around one time (we 4 kids) a guy with a camera came up to us and introduced himself as Marty Stuart's TOUR MANAGER! He said that he had been looking all over for us so he could video us!! We ran back to get our instruments, and he had us say our names and ages on camera then we played two songs!! The tour manager dude told us to come by Marty's bus around 9 pm and he'd let us in to get autographs.
So we played some more and waited until 9 then went with our instruments to his bus. Mr. Tour Manager came out and told us that Marty was finishing eating and then gonna get dressed and he was gonna let us in the backstage area with Marty so we wouldn't cause a mob. We waited about a half an hour longer then we got taken inside the backstage fence and we started playing while we were waiting. In the middle of the first song there was a commotion as Marty made his way around the bus and listened to us finish the song ("I Saw The Light") then signed autographs for us. We did "Little Maggie" for him after that! Woooohooo! It was so fun!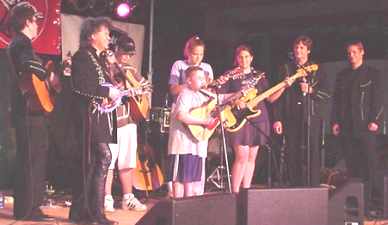 Then I took my bass back to the van and went with Lauren, Rock and Brandon and sat on the floor in front of the front row to watch the show. Booya! The other kids still kept their instruments with them. When Marty came back onstage for the encore he asked for requests and we yelled - "RAWHIDE"! and he said "I wonder if there's an guitar player who can play Rawhide out there?" Lauren and I made Rock and Brandon go up. After Marty took the first solo, Rock got a standing ovation from the crowd on his solo! When he finished Marty said "for his next selection . . ." he said he'd do "I Saw The Light". Marty Stuart motioned for Lauren and I to come up on stage.
When I walked up, I went to Marty's bass player and asked to borrow his bass - he took it off and did a half bow and handed it to me!! :-) We did AWESOME! The whole audience was on their feet clapping for us! We had a blast! The next day we had so many people compliment us on our playing and asking us to play again, so we did.