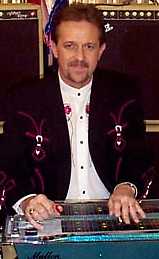 A memorial service for Gary Hogue was held at the Ernest Tubb Texas Troubadour Theater in Nashville, Tennessee on June 1, 2000.
Pictures of Gary adorned the stage -- Gary with Marty Stuart, Gary with the Rock and Roll Cowboy Band, and just Gary, smiling that wonderful smile. A white cross sat on the stage with a wreath of flowers draped over it. Three steel guitars sat on stage. One appeared to be draped in black. Gary's steel guitar playing was played over the sound system. Gary's mom, Vena, and his sister, Linda, and her husband were also at the service. The Rock and Roll Cowboy band and their wives attended (Steve and Debbie Arnold, Brad and Rashelle Davis, Gregg and Jodee Stocki) as well as Ken Lyon (Marty's former bus driver), Randy Childers (guitar tech) and Les Banks and Spike Spicher (sound engineers). Marty's mom and sister and WSM-AM disc jockey and Grand Ole Opry announcer, Eddie Stubbs, also attended.
Marty, dressed in a gray suit, invited everyone to sit down and he spoke a few words about Gary. He said it was fitting that the service was held at the Texas Troubadour Theater since Gary was from Texas. He introduced Charlie Shearer who gave the opening prayer. Marty took the stage again and talked about the first time Gary Hogue played music with him. Gary was actually just a fill-in for a show. Marty said the second he heard Gary play, he knew that THAT was the kind of steel guitar playing he needed for his band.
Marty also talked about the great steel player, Ralph Mooney, who is now a deacon in a church. Marty said he couldn't believe it and had to see it for himself. He said the music played in that church had a lot of steel guitar in it. It was a "steel guitar oriented church." He said steel guitar players are one big family. They even have their own convention where they exchange stories and steel guitar licks.
Marty described the events leading up to Gary's death. Gary was retrieving a ball from a tree. He'd been playing out in the yard with his son, Elliott. Marty said, "Gary should have been working, but that was Gary." He labeled Elliott a "hero," saying "he did all the right things." Elliott, only 9 years old, witnessed his father's passing.
Marty said he had the honor of inducting Gary into the Texas Steel Guitar Hall of Fame last March. Along with Gary, Junior Knight was also inducted. Junior and Gary were life-long friends and Junior had sent along a special message:
---
"Gary and I were best friends. We were like a pair of boots. I don't have a pair now, without the two of us. Imagine walking in your boots. One is ahead of the other. Gary and I were that way. One always ahead and behind each other. Sometimes just standing together in the same place.
Once we were new, shiny, and eager to see where our paths would lead us. After a while, though, our boots were showing some wear and tear from the paths we had both traveled.
I know that I'll never find another boot that will fit me like Gary did. So now as I go through the rest of my life, I'll never have the stride in me that I used to have.
Gary and I have been through every imaginable life crisis together. When one of us fell down, the other one was there to pick us up. We've been on the road, off the road and a lot of time without a pot or a window!
Gary had such a talent and soul to his playing. His potential was just beginning to come through in his engineering and producing ability. We'll never know what he would've accomplished here on earth.
But, I rest in knowing that, while he was my friend here for 30 years, he'll be my friend in heaven for the rest of our eternal lives."
---
Marty introduced steel guitar player, Lloyd Green, who came up on stage and performed "Precious Memories." There is nothing like having just the steel guitar play an entire song -- it sends chills through your bones.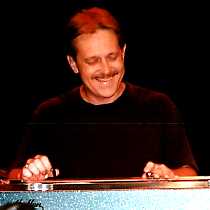 Gary loved Andy Griffith, according to Marty. Marty said that you could pull the curtain back on Gary's bunk on the bus and he'd be laying in there watching Andy Griffith on the TV. Marty wondered what Andy would have to say about Gary, so he asked Andy if he would send something to be read at the service. Andy sent a scripture from the Bible. Marty said it's one that he, himself, keeps going back to over and over again. Marty read the scripture to Nikki, saying if he could give her one thing, this would be it: "But seek ye first the kingdom of God, and his righteousness; and all these things shall be added unto you." Marty continued reading scripture, while fighting back his tears.
Marty then asked Connie Smith to come up and perform "In The Garden." Marty accompanied Connie on guitar. Connie performed the song beautifully.
Marty read a poem that he had written for all the steel guitar players, called Steel Men
---
Steel Men
Pushing pedals, wires and tin, steel men, steel men
Bending notes from end to end, steel men, steel men
Notes that find their perfect mark, in the hidden corners of your heart
Then hurt and tear your soul apart, steel men, steel men
A classic country song's best friend, steel men, steel men
A true country singer's next of kin, steel men, steel men
Interpreters of lonesome tones, majestic as old Hank's songs
When the steel is dead, country's gone, steel men, steel men
Whispered echoes in the wind, steel men, steel men
Memories that bring tears and grins, steel men, steel men
An eccentric lot, a dying breed
God have mercy, oh how we need, heaven's touch on steel men, steel men
I dreamed I stood face to face with the father of time
You were there to get yours, I was there to get mine
The halls of justice were in session
I stood there begging, bowing, confessing
There was one question granted me
Concerning this 10-stringed mystery
So I said, "God, who is your cat among cats?
The one that's loaded with technique and feel."
He said, "Go tell Buddy Emmons
That Hogue and me consider
Don Helms, The King of the Steel."
Steel men, steel men, I thank God for steel men
---
The legendary John Hughey came on stage and played "What A Friend We Have In Jesus." Marty then played a mandolin solo.
Marty introduced Pastor Durham from the Radnor Baptist Church. He had been asked by Nikki to speak at the service. Nikki once answered the phone at the church and he said that when off the road, Gary used to stop by and play the steel guitar. He mentioned Nikki and Elliott throughout the service. He also mentioned Marty and Connie. He confessed to being a country music fan as well. But his message was that Gary will come back again.
His words were meant to console Nikki, Elliott, Gary's mom, sister, Gary's two grown sons as well as Gary's friends. We were all questioning why God took Gary at such a young age. At this moment, we don't know why......but someday we will.
Pastor Durham said that in all of his years of preaching, he had never seen an event like this in which a father and son, husband and father-in-law, father and grandfather had been taken together. Up until that moment, it hadn't been mentioned that Gary's father, Grady, passed away two hours after Gary. Pastor Durham offered a prayer and Marty closed out the service asking everyone hang around and hug on Nikki, Elliott, Mama Hogue and Linda.
The service was absolutely beautiful and a loving tribute to Gary. This world will not be the same without him or his magnificent steel guitar playing. He will never be forgotten.