Tuesday, June 17 started out rainy (as the previous twenty-some-odd days had been). However, traveling north of Nashville to Smiley Hollow, the weather started to clear up. The temperatures remained cool, which helped immensely. Upon arrival, the first stop was the merchandise table. Marty always has an array of new, fun stuff! There is always the new T-shirt, new pictures, this year they added a great beach towel and rain slicker. The Fan Club booth at the fairgrounds had additional merchandise as well.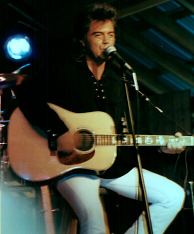 Our table was #44 near the back of the seating area. The view of the stage was still excellent. They called us to the chow line in tables of 10. We were served promptly and the food was great--by far the best we've ever had at a Fan Club Party. They gave us plenty of time to eat before Marty came out to answer questions, perform a concert, and meet with each of us.

I'll summarize some of the questions/answers:

Marty will go into the studio this winter after touring and record his next album. He's telling us it should be out next summer (that's just too long for us to wait).

Marty would love to record a gospel album with Connie Smith. He recently produced her upcoming album on Warner Brothers Records. Marty said he was sure he would be working with Travis Tritt again at some point.Marty and the band are scheduled to go to Brazil in February 1998.

The first song Marty ever wrote was called "All Aboard the Silver Eagle." Marty said he played a church in Philadelphia, MS and a buddy invited him to come out and sing, so he wrote the song.Marty then decided it was time to perform a few songs, so he and the Rock & Roll Cowboys got cranked up. Marty said he'd play the songs we wanted to hear so requests went up from the crowd. Here are some of the songs Marty performed: "Long Black Veil," "Hey Baby," "Shelter From the Storm," and "Hillbilly Rock. Marty took a break to do "quality control" of the fan club merchandise. Then he performed "Even Santa Claus Gets The Blues," "Down Home," "Tempted," "That's What Love's About," "Shake Your Hips," "Get Back To The Country," plus a new song he wrote while on an airplane.