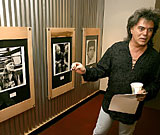 With a new CD and national tour to promote, Marty Stuart spent Tuesday morning (July 1) talking about photography.
Arriving in stores this week is Country Music, his first album with his new band, the Fabulous Superlatives. And kicking off Sunday (July 6) in Sierra Vista, Arizona, is the Electric Barnyard Festival, a tour that also features Merle Haggard & the Strangers, Rhonda Vincent, BR549, the Old Crow Medicine Show and Stuart's wife, Grand Ole Opry member Connie Smith.
In the meantime, Stuart was at CMT's offices in downtown Nashville to discuss his endeavors as a photographer as he provided a guided tour of the photos that will be displayed to the public later this summer. The 22 black and white photos include classic images of musical instruments (Woody Guthrie's fiddle, Johnny Cash's guitar) and entertainment icons (Jerry Lee Lewis, Willie Nelson).
Several of the images are from Stuart's 1999 book, Pilgrims: Sinners, Saints, Prophets, while others are more recent. Stuart is quick to acknowledge that his main strength as a photographer has been his access to icons such as Cash, Nelson and Haggard but that doesn't negate the impact of the images he has captured.
"I never claimed to be a great photographer," Stuart told CMT News. "I have a low-tech camera with one lens that I've shot everything in my life on. My subjects and my subject matter sometimes really are powerful, and so my job is to get it into focus." Jazz bassist Milt Hinton inspired Stuart to begin taking a camera with him when he toured. Hinton, a longtime member of Cab Calloway's band, began taking photos of other musicians during the 1930s and captured candid images of numerous jazz greats, including John Coltrane, Dizzy Gillespie, Billie Holiday, Lester Young and Ella Fitzgerald. Interestingly, Stuart and the late Hinton are both natives of Mississippi. Pointing to his photos, Stuart said, "I have an extended family here. Most every image on this wall in my heart is a family member. If I'm photographed, if I know the photographer and trust them, there's always a better photo. … Everybody let me in here, and that's something I really appreciate and respect about these pictures."
Stuart took the photos for himself. He's still surprised that other people are fascinated by his camera work.
"Anybody that looks at my photography, it blows my mind because it's my last hobby," he said. "For anybody that would possibly be interested in my work, it still astounds me. I'm really taken by the fact that my photographs live on somebody's wall."