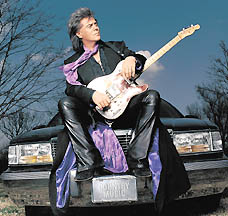 Marty started picking with bluegrass great Lester Flatt at age 12, and he hasn't stopped since. The honky-tonk bon vivant can be seen in national TV commercials extolling Nashville's virtues, or you might catch him pouring red-eye gravy on biscuits at The Loveless Cafe. In either setting, he's one of the coolest cats in town.
— Brad Schmitt, Staff Writer
Five deserted-island discs
1. At Folsom Prison, Johnny Cash. Great representation of the true spirit of country music.
2. The Best of the Staple Singers, The Staple Singers. Instant church.
3. Come Away With Me, Norah Jones. Freshest voice in a long time.
4. Exile on Main Street, Rolling Stones. Because that is rock 'n' roll, baby!
5. Hard Again, Muddy Waters. It takes me home to Mississippi.
Three favorite Nashville-area restaurants
1. Granite Falls. Check out the rattlesnake chicken.
2. Swetts. Classic, Southern meat and three.
3. The Loveless Cafe. Great breakfast.
The three sexiest people alive
1. Connie Smith. Trust me, I am married to her.
2. Michelle Pfeiffer. Just ask Batman.
3. Catherine Zeta-Jones. Just ask Zorro.