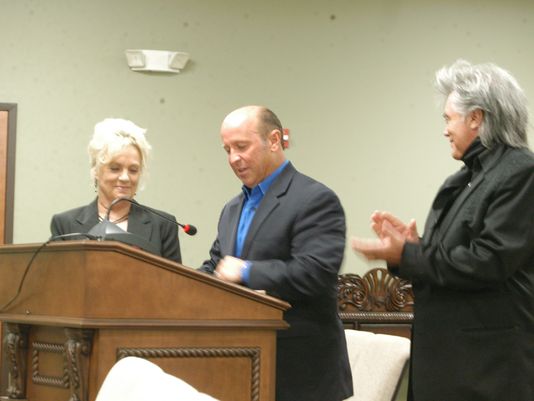 Longtime Hendersonville resident and Country Music Hall of Fame member Connie Smith accepted a proclamation from Mayor Scott Foster Tuesday recognizing Smith's contributions to country music and declaring a day in her honor.

Smith, along with her husband, Marty Stuart, brought a little glitz to the city's otherwise routine Board of Mayor and Aldermen meeting.

"I appreciate this so much," Smith said. "I'm just so thankful today we're seeing young people who want to hear the traditional country music."

The recognition came 50 years after the release of her single, "Once a Day," in the summer of 1964. "Once A Day" was the first debut single by a female country singer to hit No. 1, a position it held for eight weeks.

A member of the Grand Ole Opry since 1965, Smith became the 19th woman inducted into the Country Music Hall of Fame in 2012. She has earned 11 Grammy Award nominations, 20 Top Ten Billboard singles, and 31 charting albums — three of which have hit No. 1.

"Connie Smith has been influencing other artists for decades with her performances and her genius for phrasing, perfect diction and a vocal range which have been envied by all," Foster said. "Her joy in singing is as evident on her recordings as it is in front of audiences at the Grand Ole Opry, on RFD TV's weekly Marty Stuart Show or on the road."

Smith said her favorite country music singers were Loretta Lynn and the late George Jones. She also had high praise for Stuart, whom she married in 1997.

"This is the epitome of genius," she said of Stuart. "He's also the most giving person I've ever met." The 73-year-old singer also thanked her five children and eight grandchildren for their support over the years.

Smith said she first moved to Hendersonville in 1965 at the beginning of her career. She and Stuart share a home on Old Hickory Lake next to property once owned by Johnny and June Carter Cash.


By Tena Lee