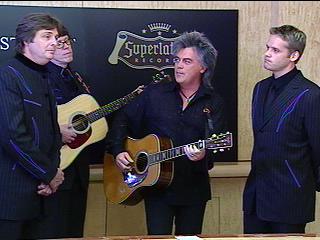 It's music that Marty Stuart calls "Mississippi Gospel"...music he and his group, the Fabulous Superlatives. can launch into at the strum of a guitar. And it's the focus of the country star's next project, called Soul's Chapel, accompanied by a collection of Stuart's photographs.
"The old saying around Nashville is, 'It all begins with a song,'" said Stuart.
This new era of songs comes after what Stuart calls an "intermission" in his career. Then he started knocking on doors up and down Music Row.
"There was one A&R guy who said, 'We're looking for the next Marty Stuart.' I said, 'What's wrong with the one you've got?'" said Stuart.
Then he hit the city's most famous label execs, Tim DuBois and Tony Brown.
"He said, 'I've got a few ideas, okay, I've got a few things," said DuBois. "In one afternoon, he told me about seven album projects, five books, and four TV shows."
Universal South signed on for three projects under Stuart's own label brand, Superlatone Records.
"If I'm the chairman and CEO of Superlatone Records, I can drop myself at anytime, right?" said Stuart.
"The second album will be ballads about the lives of Native Americans, called Badlands. The third captures the bluegrass side of Marty, live at the Ryman.
"It's an honor to help a person like Marty Stuart, who still has a passion to make a statement on his own terms, and we support that," said Brown.
Soul's Gospel is set for release in August. In addition, the director of the Tennessee State Museum is planning to put together an exhibit of the artist's photographs.