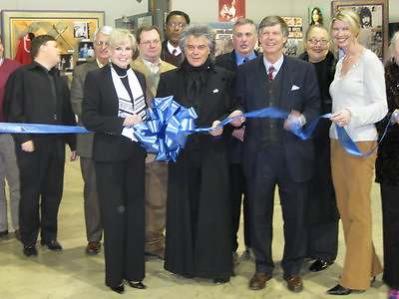 Music history is up close and personal courtesy of Country Music's Marty Stuart.
Friday night, he opened his Sparkle & Twang exhibit in the Tupelo Auto Museum, where it will stay until June.
The exhibit features tons of custumes, documents, gold and platinum records and many other pieces of vintage memorabilia Stuart and others have collected through the years.
Stuart told a large crowd, before cutting the ribbon to open the exhibit, that he's sought for years to save these music treasures when others considered it junk.
For example, he said, he found a makeup case of legend Patsy Cline in a pawn shop and bought it for $75.
In addition to Stuart's own custumes, expect to see such gems as a large Johnny Cash exhibit, guitars and flashy costumes.
Also, you'll see Carl Perkins' handwritten lyrics to "Blue Suede Shoes" and other musically historic documents.
Stuart, who grew up in Philadelphia, went to work at the Grand Ole Opry in Nashville with another legend, Earl Scruggs, when Stuart was just 13.
By Patsy R. Brumfield