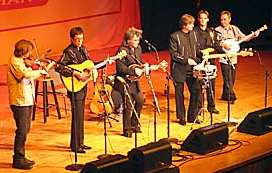 The last show of the Ryman's bluegrass series featured Marty Stuart & Friends, those friends being his new band The Fabulous Superlatives (which features drummer / singer / songwriter extraordinaire Harry Stinson - I did not know this), Nashville A-list pickers Stuart Duncan on fiddle and Charlie Cushman (again) on banjo, and the father of bluegrass dobro Uncle Josh Graves.
There's no need to go into some long, cliche-strewn review of the show... once players get to this level you just run out of ways to describe them. Marty is a freakin' performer - plain and simple. The dude's only, like, five and a half feet tall - and a good five inches of that is hair - but he is as present and comfortable on a stage as anyone I have ever seen. Maybe this is because he's been performing professionally since he started playing with Flatt & Scruggs at the age of 13, or maybe it's the fact that he is as close to a Renaissance man as country music has right now. The guy's equally at home in a bluegrass setting as he is on Johnny Cash's recent recordings, as adept at rockabilly or gospel as he is at post-Bakersfield country or Appalachian roots music. The fact of the matter is that Marty is really just a historian who also happens to perform. His direction on the establishment of the new Country Music Hall of Fame - including the small portion of his private collection that is on semi-permanent display - is evidence of his appreciation of the music's legacy and his desire to save it from the same non-commercial oblivion that claimed so many of its stars.
Of course, just talking about the history or presenting it in a modern context is never enough for him. As I've seen him do before, Marty brought the history with him last night - this time in the form of Uncle Josh Graves, the man who is almost single-handedly responsible for the existence of the Dobro in bluegrass music. As a member of Flatt & Scruggs' band The Foggy Mountain Boys, Uncle Josh introduced resonator guitar to the still-young world of bluegrass in the '50s, paving the way for mutants like Jerry Douglas and Rob Ickes. Hard times have befallen Josh - illness took both of his legs a few years back, and to be honest the missus and I both thought he had died - but his mind and chops were still sharp. For close to a half hour of the second set, the band left Josh & Marty alone on stage to pick and tell stories, and to remind the audience of the reason we were all there.