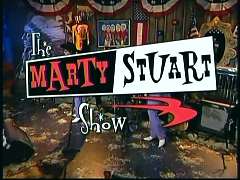 Eddie Stubbs started the show by introducing the guests. "From Nashville, Tennessee, the country music capital of the world and home of the air castle of the south, it's time for The Marty Stuart Show, featuring Marty Stuart, the Rolls Royce of country singers Miss Connie Smith, the ole Tennessee Slicker Leroy Troy, along with all the Fabulous Superlatives: Cousin Kenny Vaughan, Handsome Harry Stinson, the Apostle Paul Martin, plus Gary Carter on the steel guitar, and today's special guests, James Burton, W. S. Holland, and Kenny Lovelace. Join us now for 30 minutes of fun and great country music. I'm Eddie Stubbs. Now how 'bout a superlative welcome for our host, Mississippi's maestro of all things treble and twang. Here is Marty Stuart."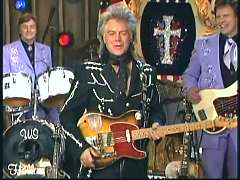 Rather than immediately go into a song, Marty said, "Thank you for joinin' us. I'm Marty Stuart. You're watchin' The Marty Stuart Show. Superlatives?" The Superlatives answered, "Yeah?" Marty continued, "It's big today. I mean really big. Three of the all-time great musicians of the world. Masters of twang. How 'bout a hand representing the Carl Perkins Band and the Johnny Cash Tennessee Three. How 'bout a hand for W. S. "Fluke" Holland. Come here, Fluke. My all-time hero. From Shreveport, Louisiana, representing the Elvis Presley band, James Burton, everybody. Come here, James." Marty bows down to James. "Sir." James said, "How are ya, buddy?" Marty said, "All right. Thank ya, James." James handed Marty a guitar pick. Marty says, "Aw, got me a James Burton pick. Representing the Jerry Lee Lewis band, the great Kenny Lovelace, everybody. Come here, Kenny. Hello brother Kenny. Marty and the guys performed "Good Lookin' Woman Like You."
Marty said, "Kenny Lovelace, James Burton and Fluke Holland. There they go. Top cats, top cats. 'Good Lookin' Woman Like You'. Speakin' of good lookin' women, here comes a beautiful woman. My baby. One of the greats of all time. How 'bout a hand for Miss Connie Smith, everybody." Connie walks on stage. Marty says, "There ya are. You're amongst cats today, Constance." Connie said, "All right." Connie performed "Blue Heartaches."
After a commercial break, Marty said, "Hey, Mr. Holland. Mr. Burton. Superlatives. Why don't we do Mr. Berry a song. 'Nadine'. Fluke, get with me now. That's it."
Marty said, "Story of Nadine, ladies and gentlemen. Make welcome Mr. Kenny Lovelace and his honky tonk fiddle. Wrote this one for you, Kenny. Cous." Marty and the guys performed "It's Only A Matter Of Time."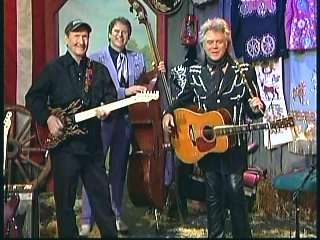 Eddie promoted Marty's book of photographs, Country Music: The Masters. After a commercial break, Marty, Paul and James Burton are onstage. Marty said, "Welcome back to The Marty Stuart Show. Apostle? We got Rock and Roll Hall of Fame, James Burton, right here. Now a mere 278 miles below the bright lights of the Tunica casinos, south of Meridian on the famous Highway 19, James, you'll find an interesting place which happens to be on the Register of National Historic Places. I'm speakin' of the Causeyville General Store and Grist Mill established in 1895. People come from all over the world to Causeyville General Store to visit with Miss Dorothy Hagwood and to get a water-cooled, green bottle, 6-1/2 ounce Coca Cola, James. Yes, sir. She's got hoop cheese, homemade bologny sandwiches, general dry goods and antiques to enjoy. If Miss Dorothy is gone, she'll leave a sign on the door and just like the sign says, she'll be right back. You won't regret the wait, so how 'bout for Miss Dorothy and Lauderdale County's legendary Causeyville General Store. A Mississippi treasure. Speakin' of treasures, I'm fixin' to make you famous all over again. Here he comes. The Sultan of Goodlettsville, the most popular man in country music, Fluke. The Tennessee Slicker, Kenny. Here he is, Leroy Troy. Come here, Leroy. Come here."
Leroy: "We're gonna send this out especially to Eddie Stubbs. One called 'That's All Right'."
Marty: "He loves Elvis."
Leroy: "Yeah."
Eddie Stubbs said, "Thank you, Leroy Troy. Well Sunday will be here before we know it, and we hope that you will make the time to attend the church of your choice. To get us inspired, here's Marty Stuart and The Fabulous Superlatives Quartet. All the fellas had a hand in writing this one here. 'Heaven'."
After a commercial break, Eddie Stubbs promoted Connie Smith's boxed set, Born To Sing, at the Superlatone Store. Eddie said, "And once again, here is Marty Stuart." Marty said, "Thank you, Eddie Stubbs. How' bout a hand for Eddie Stubbs. Good job, Eddie. This has been a special show to me today. It is an understatement to all three of you gentlemen tell you how much I love you. You mean so much to me. This man right here played on 'She Even Woke Me Up To Say Goodbye', 'What Made Milwaukee Famous', 'Whole Lotta Shakin' with Jerry. That man back there played on 'Ring Of Fire', 'A Boy Named Sue,' 'Folsom Prison Blues', 'I Walk The Line' just to name a few. That one over there played on 'Susie Q' for the first time when he was 15 years old with Dale Hawkins. He gave us 'C. C. Rider', 'Workin' Man Blues' with Merle Haggard and on and on. That just scratches the surface of what these guys have done. Truly modern, American masters. We're honored that you're here today." They performed "Who Might Your Manager Be."
Marty said, "Masters of twang. Cous. On behalf of James Burton, Kenny Lovelace, W. S. 'Fluke' Holland, The Superlatives, Connie Smith, Leroy Troy, Gary Carter, Eddie Stubbs, I'm Marty Stuart sayin' thank you for seein; us. We'll see ya again next week right here on The Marty Stuart Show." He turns to Connie and says, "Wasn't that good?"