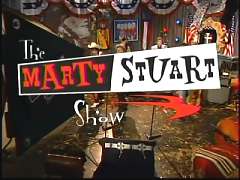 Eddie Stubbs started the show by introducing the guests. "From Nashville, Tennessee, the country music capital of the world and home of the air castle of the south, it's The Marty Stuart Show, featuring Marty Stuart, the Rolls Royce of country singers Miss Connie Smith, the ole Tennessee Slicker Leroy Troy, along with all the Fabulous Superlatives: Cousin Kenny Vaughan, Handsome Harry Stinson, the Apostle Paul Martin, plus Gary Carter on the steel guitar, and today's special guest, Mr. Buck Trent. Join us now for 30 minutes of fun and great country music. I'm your announcer Eddie Stubbs. Now how about a Superlative welcome for our host, the head Superlative himself, here is Marty Stuart." Marty and The Fabulous Superlatives performed "Too Much Month (At The End Of The Money)."
Marty said, "So glad you joined us here on The Marty Stuart Show this week. Superlatives, it's big." Handsome Harry said, "It's way big." Marty continued, "One of our all-time heroes in country music. One of the greatest of all time. We're so happy to have Mr. Buck Trent and the banjo in the house. Come here Buck. Yeah, yeah, yeah, yeah, yeah. Got a place for you right there." Buck said, "Is this for me?" Marty said, "Pick it, brother. All right. Go ahead, broth."
Eddie Stubbs said, "Great job right there. Buck Trent and "The Flint Hill Special." Eddie then promoted Country Music: The Masters. After a commercial break, Marty said, "Buck Trent, we are glad to have you in the house." Buck said, "I'm glad to be here. This is it, this is it." Marty said, "Well, big request of Connie Smith for you to play with her on this particular song. Great Dallas Frazier song, ladies and gentlemen. Here's my baby to sing 'Just For What I Am'. How about a hand for the great Connie Smith."
Marty and His Fabulous Superlatives went right into "Blue Train."
Eddie said, "Wow, that's great Marty Stuart there, The 'Blue Train'. And The Fabulous Superlatives, they are sounding so good, too, behind you." Eddie promoted Connie Smith's Born To Sing boxed set. After a commercial break, Marty said, "Yes, sir, welcome back to the The Marty Stuart Show. Glad to have you. Hey Buck. All right. Apostle, we are covered up with Hillbilly Diamonds today. You know what that is, don't you?" Paul said, "Yes sir." Marty continued, "That's a rhinestone. But there ain't nothin' fake about this man. He's the real deal. The diamond in the rough himself. The ole Tennessee Slicker, the most popular man in country music. Ladies and gentlemen, the Sultan of Goodlettsville, how about a hand for my friend, Leroy Troy. Hey Leroy. Look-a here. Look what I got. Look-a here. There's ole Buck. What's the good word from Goodlettsville, Leroy?"
Leroy: "Well, I tell ya what. Spring is springin' in Goodlettsville."
Marty: "It sure is. I love spring."
Leroy: "Me too."
Marty: "Never hear songs about spring. You got one?"
Leroy: "You doggone right."
Marty: "Come one with it. What is it entitled?"
Leroy: "Old Johnny Horton number called 'Springtime In Alaska'."
Marty: "A precious selection."
Leroy: "And I got me a Buck tonight."
Marty: "A ten-point Buck. That's him."
Eddie Stubbs said, "Wow, great job there Leroy Troy and Buck Trent. When it's springtime in Alaska, it's 40 below. I had to get my gloves on. Chilled to the bone here. I tell you what though. I'm gonna take these gloves off because it's time for us to all get our hearts warmed up as we start thinking about going to church on Sunday morning. And with our inspirational offering this week, we've got The Fabulous Superlatives Quartet to gang around the microphone. 'Somebody Saved Me'."
After a commercial break, Eddie Stubbs promoted The Marty Stuart Collection of five CDs, Live at the Ryman, Badlands, Compadres: An Anthology of Duets, Cool Country Favorites and Souls' Chapel. He introduced Marty. Marty said, "Buck, how 'bout that Eddie Stubbs?" Buck said, "How 'bout ....He's the best, ain't he?" Marty said, "He's the best. How 'bout you, too. We're so thankful you came by to see us. I love you very much." Buck said, "Thanks for inviting me." Marty continued, "You're one of my heroes. I wrote a song for ya." Buck said, "Oh yeah?" Marty said, "Yeah. It's called 'Down The Dixie Line'. I'm gonna start it and you take off. We'll go south, two, three, four."
Marty said, "Thank you, Buck. I love you, buddy. On behalf of Buck Trent, Connie Smith, The Fabulous Superlatives, Leroy Troy, and Eddie Stubbs, I'm Marty Stuart saying ...... oh yeah ........ see ya again next week. Oh yeah."