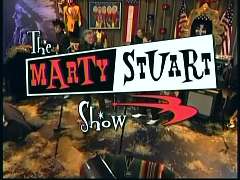 Eddie Stubbs started the show by introducing the guests. "From Nashville, Tennessee, the country music capital of the world and home of the air castle of the south, it's time for The Marty Stuart Show, featuring Marty Stuart, the Rolls Royce of country singers Miss Connie Smith, the ole Tennessee Slicker Leroy Troy, along with all the Fabulous Superlatives: Cousin Kenny Vaughan, Handsome Harry Stinson, the Apostle Paul Martin, plus Gary Carter on the steel guitar, and today's special guest, Mountain Heart. Join us now for 30 minutes of fun and great country music. I'm Eddie Stubbs. Now how 'bout a superlative welcome for our host, sister Jennifer's big brother. Here is Marty Stuart." Marty and His Fabulous Superlatives performed "Are You Sincere."
Marty said, "Glad you're watchin' The Marty Stuart Show. Thirty minutes of country music and good bluegrass music, as a matter of fact. Hey. Heard this song on the radio the other night. Made a phone call fast. One of my favorite songs by one of my favorite bands from the world of bluegrass. How 'bout a hand for the award-winnin' Mountain Heart." Mountain Heart performed "The Ride."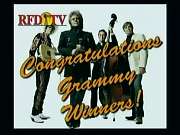 Marty said, "Yeah, I always wanted to play with Mountain Heart." Lead singer Josh Shilling said, "Thank ya folks." After a commercial break which included congratulations on the Grammy win for Marty and the Fabulous Superlatives, Marty said, "All right. Welcome back, everybody. Hey Superlatives. How 'bout a hand for Mountain Heart over there. Takin' care of business on 'The Ride'. Fine job. Speakin' of takin' care of business, I bet she'll do it. How 'bout a hand for the great Connie Smith. Come here, Constance." Connie sang "Ain't Love A Good Thing."
Marty said, "Yes it is, baby. Yes it is, baby," then he kissed Connie's hand. Marty continued, "Thank you very much, Constance. Here's my favorite Johnny Cash song. It's called the 'Walls Of A Prison'."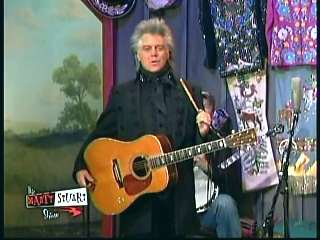 Eddie promoted Marty's book of photographs, Country Music: The Masters. After a commercial break, Marty said, "Glad to have ya back. Our show is sponsored each and every week by the state of Mississippi, the birthplace of America's music. It is indeed a state filled with music and natural beauty. Now, if you need a place to get away from it all, I might suggest you journey yourself to Meridian, Mississippi and visit beautiful Bonita Lakes. Bonita Lakes is one of the largest urban foresttry projects within the city limits in the nation. 3,300 acres feature nature trails where you can walk, run, bike, or do just like I do .... stand under a pine tree and sing your heart out. There's a waterfall and a 100-acre lake on the property that offers boatin', fishin', huntin', hikin'. You can hook up your camper. Get a room at the on-site hotel. Or just lay out in the yard Indian style to enjoy the magnolias, whippoorwills, sound of the distance train or watch shooting stars fall all over the water. Sounds pretty, don't it. You'll find all of that and more at Meridian's Bonita Lakes. How 'bout a hand for the Bonita Lakes. Sounds good, don't it? Speakin' of pretty, Mountain Heart, here he comes. Pretty much one of my favorite people in the world. The ole Tennessee Slicker, the Sultan of Goodlettsville. How 'bout a hand for Leroy Troy. Come here Troy boy. Hey, buddy boy. You know Apostle, Mountain Heart. What's on your mind Goodlettsville Sultan?"
Leroy: "Big daddy is on the loose."
Marty: "Oh yeah. Pick about it."
Leroy: "All right."
Leroy performed "Big Daddy's Alabamy Bound."
Marty said, "All together the way it is. Southern story." Eddie Stubbs said, "Wonderful job there, Leroy, and 'Big Daddy's Alabamy Bound'. Well, Sunday morning will be here before we know it and we hope that you and yours will make the time to attend the church of your choice. With that thought in mind, we'd like to declare hymn time. Here's Connie Smith now to sing a beautiful song, 'Too Much To Gain To Lose'."
After a commercial break, Eddie Stubbs promoted Cool Country Favorites at the Superlatone Store. Eddie said, "Once again, here's Marty Stuart." Marty said, "How 'bout a hand for Mountain Heart, ladies and gentlemen." They performed "Devil's Courthouse."
Marty said, "Yeah. Come here. That's Mountain Heart tearin' the house down. Burnin' the house down. Good job, brother. On behalf of Connie Smith, Mountain Heart, Leroy Troy, Gary Carter, Eddie Stubbs, the Superlatives, I'm Marty Stuart sayin', thank you for comin' to see us. Go see Mountain Heart somewhere out on the road. Come back next week and see us right here on The Marty Stuart Show. See ya John Oates."