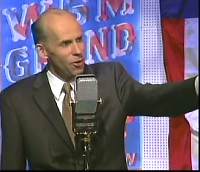 Eddie Stubbs started the show by introducing the guests. "From Nashville, Tennessee, the country music capital of the world and home of the air castle of the south, it is The Marty Stuart Show featuring Marty Stuart, the Rolls Royce of country singers Miss Connie Smith, the ole Tennessee Slicker Leroy Troy along with all the Fabulous Superlatives: Cousin Kenny Vaughan, Handsome Harry Stinson, and the Apostle Paul Martin plus Gary Carter on steel guitar and today's special guests The Old Crow Medicine Show. Join us now for 30 minutes of fun and great country music. I'm your announcer, Eddie Stubbs and now how about a Superlative welcome for our host, country music's Renaissance man, Marty Stuart." Marty and The Fabulous Superlatives performed "Red, Red Wine and Cheatin' Songs."
Marty welcomed everyone to the show. "I am Marty Stuart and we are glad to be in your home. Thanks for listening to us and watching us. If you want country music for the next 30 minutes, you've come to the right place. First a bunch of fellows, I'm so proud of. I consider my brothers, my boys. How 'bout a hand for the famous Old Crow Medicine Show." The Old Crow Medicine show performed "Next Go Round."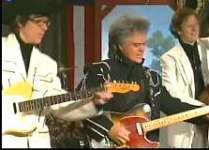 Eddie Stubbs promoted Marty's fantastic photo book Country Music: The Masters. After a quick commercial break, Marty and His Fabulous Superlatives were playing an instrumental. Marty said, "Send that to Buck Trent's mailbox in Missouri. Is everything all right so far in out there TV land? I hope so. It's getting better right now. How about a hand for the one and only Miss Connie Smith. Come on in baby. Connie sang "You and You're Sweet Love."

After kissing Connie Smith, Marty says, "Will you marry me?" Connie starts walking off stage. Marty says, "Don't leave, Constance. Connie Smith that was just exactly right. Well the Old Crow Medicine Show came in with a request and we put it off as long as we can, but it took them to get the job done. They want Cousin Kenny to sing the famous song 'Walk Like That'. Would you make Cousin Kenny feel welcome." The Old Crow Medicine Show, Connie, Marty and Paul Martin sang background vocals on the song.

Eddie Stubbs promoted the CD, Connie Smith: By Request. After a commercial break, Marty and OCMS's Ketch Secor were on stage. Marty said, "Ketch, old Kenny had that song walkin' right down that line. Well, I appreciate your requesting it. Speaking of requests. Here it is from the friends and neighbors in TV land. They keep asking and we keep bringing him back. The sultan of Goodlettsville, the most popular man in country music, ladies and gentlemen, make welcome the old Tennessee slicker, Leroy Troy.

Marty: "All right Leroy, what is the good word from Goodlettsville today?"

Leroy: "The good word is that 'The Old Grey Mare' is back where she used to be."

Marty: "That's good news."

Leroy: "Yes, sir."

Leroy performed the "The Old Grey Mare." I remember singing this song as a child and I don't recall the same lyrics that he sang.

Eddie Stubbs said, "Well, it's time to settle back right now and get serious with you if we may as we declare hymn time on the program. Right now here is the Fabulous Superlative quartet with our inspirational offering of the week 'The Uncloudy Day'."

After a commercial break,

Marty: "Ketch, Willie, Morgan, all you boys, thank you for coming by the show."

Ketch: "Thank you so much for having us, Marty."

Marty: "You will always be the first and foremost the Old Crow medicine Show. Get us home Ketch boy."

Ketch: "All right man, Let's get a little 'Fire On The Mountain' now."

Eddie Stubbs joined in playing fiddle and Leroy on banjo. Marty and Connie were dancing.

Marty: "Thank you very much Old Crow. I'm Marty Stuart. On behalf of the Old Crow Medicine Show, my baby Connie Smith, Leroy Troy, The Fabulous Superlatives, Eddie Stubbs, Gary Carter, I'm Marty Stuart. We'll see you next week. Thank you for coming."