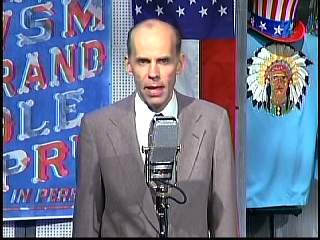 Eddie Stubbs started the show by introducing the guests. "From Nashville, Tennessee, the country music capital of the world and home of the air castle of the south, it's The Marty Stuart Show featuring Marty Stuart, the Rolls Royce of country singers Miss Connie Smith, the ole Tennessee Slicker Leroy Troy along with all the Fabulous Superlatives: Cousin Kenny Vaughan, Handsome Harry Stinson, the Apostle Paul Martin plus Gary Carter on steel guitar, and today's special guest Charlie Daniels along with his guitarist, Bruce Brown. Join us for 30 minutes of fun and great country music. I'm your announcer Eddie Stubbs. Now how about a Superlative welcome for our host, a bona fide Hillbilly cat, Marty Stuart." Marty and The Fabulous Superlatives performed "Sundown In Nashville."
Marty welcomed everyone to the show. "Thank you for tuning in The Marty Stuart Show. I am Marty Stuart and we're happy to be here serving you up some country and western and hillbilly music on the side. Do you like country music? You've come to the right place. Well I tell you what, this next gentleman, if you gotta have a neighbor, he is the neighbor to have. And he just happens to be an American music legend, too. How about a hand for the Mt. Juliet man himself, Charlie Daniels." Charlie performed "Drinkin' My Baby Goodbye" with Handsome Harry Stinson singing some killer background vocals.
Eddie Stubbs promoted Marty's photo book Country Music: The Masters. After a commercial break, Marty said, "What about that Charlie Daniels, Superlatives? I love Charlie Daniels. Yes, sir. Thank you very much. If you're just tuning in, I'm Marty Stuart and you're watching The Marty Stuart Show. and we're glad to have you with us. Charlie Daniels, you're something else over there, man. You all right and so is this next gal. Singing one her famous RCA Victor recordings for my mama, this is one of my mama's favorite songs. How about a hand for the great Connie Smith, ladies and gentlemen." Connie sang "I Love Charley Brown. "For the last line, Connie sang, "Coz I love Charlie Daniels."
Eddie Stubbs promoted Connie's boxed set Born To Sing. After a commercial break, Marty and Connie were on camera. Marty said, "Ladies and gentlemen, Constance are you ready? Connie said, "I'm ready." Marty continues, "I promised you big doin's and here it is. The Sultan of Goodlettsville, the most popular man in country music, Charlie Daniels, here he is, the ole Tennessee Slicker, Leroy Troy, ladies and gentlemen. Come on in Leroy. You know Connie, Mr. Charlie, Apostle Paul. What's the good word from Goodlettsville, Leroy?
Leroy: "Well, let's see. You know what? This past week, my wife's been on me for the past couple months, we got a big ole dead tree in the yard. And this past week, the electric company came and cut it down.
Marty: "Did it for you.:
Leroy: "Did it for me. F-O-C."
Marty: "What's F-O-C?"
Leroy: "Free of charge."
Marty: "Yeah we'll see ....."
Leroy: "Last time I had a tree cut down, it cost me $200."
Marty: "Well, you ain't got your bill yet have you?"
Leroy: "Uh uh."
Marty: You'll see. What cha got for us?.
Charlie Daniels joined Leroy Troy on "My Gal's A Corker."
Marty said, "That's where the money goes. Thank you Mr. Daniels. Fine job Leroy. I like your fiddle player, too." Eddie Stubbs said, "Ah, Leroy Troy, there's only one like him right there that's for sure. 'My gal's a corker, she's a New Yorker.' Leroy's wife is from New York. You better watch out singing that song around Kendra. She might not let you back in the house. Well, it's time we settled down and get serious with you right now. And with that thought in mind, we do hope that come Sunday morning that you and yours will attend the church of your choice. To get you in the mood, we're going to call on Marty Stuart, Connie Smith, and Handsome Harry Stinson. They're all going to get together and harmonize on this one. One of the old Loretta Lynn songs, 'Everybody Wants To Go To Heaven'.".
After a commercial break, Eddie promoted Marty's Live At The Ryman, Badlands, Compadres: An Anthology of Duets, Cool Country Favorites and Souls' Chapel. Marty said, "Charlie Daniels how much you give me for Eddie Stubbs, right now? Charlie said, "Oh a good $15." Marty said, "I'll take $30 right now. Hey, on behalf of all the Fabulous Superlatives, thank you and all the Charlie Daniels Band for so many years of great music out there. Season after season. You all are great American citizens, yes sir. We love you and respect you very much, Charlie." Charlie said, " We love you all too, man. And I'll have to throw that back at you. You're a real great American." Marty said "Thank you. Back at you, sir. Well from one long-haired country boy to another, you know what to do." They performed "Long Haired Country Boy."
Marty: "Thank you Charlie Daniels. I love you. That's Charlie Daniels, and the Fabulous Superlatives, Gary Carter, Leroy Troy, and Connie Smith. I'm Marty Stuart saying join us next week on the Marty Stuart Show. Thank you for coming everybody. Good night." Marty ended with "Eddie Stubbs, you did a fine job."