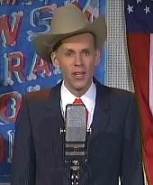 Eddie Stubbs, wearing his Stetson hat, started the show by introducing the guests. "From Nashville, Tennessee, the country music capital of the world and home of the air castle of the south, it's time for The Marty Stuart Show, featuring Marty Stuart, the Rolls Royce of country singers Miss Connie Smith, the ole Tennessee Slicker Leroy Troy, along with all the Fabulous Superlatives: Cousin Kenny Vaughan, Handsome Harry Stinson, the Apostle Paul Martin, plus Gary Carter on steel guitar, and today's special guests,The Del McCoury Band. Join us now for 30 minutes of fun and great country music. I'm your announcer Eddie Stubbs. Now how about a Superlative welcome for our host, the head Superlative. Here is Marty Stuart." Marty and The Fabulous Superlatives performed "High On A Mountain Top."
Marty said, "This first group of guys, ladies and gentlemen, that I so admire. The entire band, the Fabulous Superlatives and me love 'em very much. Modern masters in motion. Here they are, the finest. Del McCoury and the boys, the Del McCoury Band." They sang "Nashville Cats."
Eddie Stubbs promoted Marty's photo book Country Music: The Masters. After a commercial break, Marty said, "Thanks for tuning us in. Hey Superlatives, what about that Del McCoury bunch over there? Just the finest. And speaking of the finest, here she is, ladies and gentlemen. How about a hand for Miss Connie Smith." Connie sang "Tiny Blue Transistor Radio." As Connie was singing the first verse, Marty belted out, "That's right baby."
Marty said, "Thank you very much. That's a good job from Connie Smith. I love that Connie Smith. And say hello to my favorite mandolin player in the world, Ronnie McCoury." Ronnie said, "Thank you, Marty." Marty continued, "Yes, Ronnie. Come here. I'm gonna start it and you show 'em how to do it, okay." They played dueling mandolins on "Bluegrass Breakdown."
Eddie promoted Connie's boxed set Born To Sing. After a commercial break, Marty said, "Thank you very much. Thank you for listening. Thank you for watching. Glad to have you back. Well, the world is about to get better, Del. Ladies and gentlemen, here he is. The Sultan of Goodlettsville, the most popular man in country music. That's right, the ole Tennessee Slicker, how about a hand for Leroy Troy boys. Hey Leroy. Got cha a good band. Got cha a good band."
Leroy: "I know it, man. Del ... Wonderful, man."
Marty: "World class orchestra."
Leroy: "It's good to have the McCourys back me up again.
Marty: "If you can't beat 'em, join 'em. What is the good word from Goodlettsville?"
Leroy: "Hey you know what.
Marty: "What."
Leroy: "I've been looking for Wanda."
Marty: "Well, I hope you find her."
Leroy: "Let's go get her."
Marty: "All right"
Leroy sang "Wanda."
Eddie Stubbs said, "Let's get in a song of inspiration right now. We're going to take it back to the early days' style of country music right now. Marty Stuart's got the mandolin and Del McCoury's got the guitar and they're gonna team up on one that the Monroe Brothers had a big hit with years ago, 'What Would You Give In Exchange For Your Soul'."
After a commercial break, Eddie Stubbs promoted the "Superlatone Collection" of five CDs, Live at the Ryman, Badlands, Compadres: An Anthology of Duets, Cool Country Favorites and Souls' Chapel. He introduced Marty again. Marty said, "Well thank you, Eddie Stubbs. What about him, Del?" Del said "He's a prize." Marty said, "He is a prize. Del said he's a prize." Del and his band performed "40 Acres And A Fool."
Marty: "That's Del McCoury and the boys. I'm Marty Stuart. On behalf of Connie Smith, The Fabulous Superlatives, Leroy Troy, Gary Carter, and Eddie Stubbs, I'm saying thank you for coming. We'll see you next week. Come back and see us."