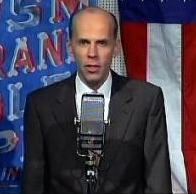 Eddie Stubbs started the show by introducing the guests. "From Nashville, Tennessee, the country music capital of the world and home of the air castle of the south, it's The Marty Stuart Show featuring Marty Stuart, the Rolls Royce of country singers Miss Connie Smith, the ole Tennessee Slicker Leroy Troy along with all the Fabulous Superlatives: Cousin Kenny Vaughan, Handsome Harry Stinson, the Apostle Paul Martin plus Gary Carter on steel guitar, and today's very special guest Charley Pride. Join us for 30 minutes of fun and great country music. I'm your announcer Eddie Stubbs. Now how about a Superlative welcome for our host, a train-riding son of the South. Here is Marty Stuart." Marty said, "Eddie Stubbs, thank you very much. Eddie Stubbs, you the main man and the best announcer in the world." Marty and The Fabulous Superlatives performed "Streamline Lover."
Marty welcomed everyone to the show. "Thank you very much. Thank you very much. I mentioned dear old Mississippi, my home state and I'd like to introduce you to one of my fellow Mississippians. One of the main men of all time ...... in the Country Music Hall of Fame. That's right Superlatives. How 'bout a hand, ladies and gentlemen for Mr. Charley Pride." Charley performed "Kiss An Angel Good Morning."
Eddie Stubbs promoted Marty's photo book Country Music: The Masters. After a commercial break, Marty said, "Thank you for watching us. Superlatives, look over there. Country music royalty sitting on a hay bale. Mr. Pride. Speaking of country music royalty, let's just keep it coming. Here she is, ladies and gentlemen, Miss Connie Smith. How about a hand for my baby, Constance." Connie sang "Ribbon of Darkness."
After a kissing Connie, Marty said, "Thank you, baby. You sold one record to Charley. I love Saturday nights. As Leroy Troy told me one time, Saturday night's the best night because it's the night of country music. And I grew up watching country music down in Mississippi. And some of my heroes, of course, were Buck Owens and the Buckaroos, Johnny Cash and the Tennessee Three, Charley Pride and the Pridesmen, George Jones and the Jones Boys. Flatt & Scruggs ..... all those boys. I wanted to grow up and do that. Back to Johnny Cash and The Tennessee Three, I loved those guys because they had a really strange-looking guitar player named .......Luther Perkins. And I loved Luther's playing. And John wrote a song for his little band that featured Luther's style of guitar playing to showcase him a little bit. And we took that song ...... left the first half alone to salute our old heroes, the Tennessee Three and kinda wrote the back half to reflect the Superlatives and Cousin Kenny Vaughan's unique style of guitar playing. So, Cous, shall we play 'Luther Played The Boogie Woogie,' ladies and gentlemen, in the strangest kind of way."
Eddie Stubbs promoted Connie's boxed set Born To Sing. After a commercial break, Marty said, "Thank you very much. I appreciate you listening to that word from our sponsor. Appreciate you watching us and I appreciate all the emails, and the cards and letters you send me every week. If you need to, write me at the Grand Ole Opry . Be happy to answer you back. And If we need to, we'll send you Leroy Troy for Christmas, whenever Christmas is in your town. Ladies and gentlemen, without further adieu, the Sultan of Goodlettsville, the most popular man in country music, the ole Tennessee Slicker, how about a hand for Leroy Troy."
Marty: "What's the good word from the state of Goodlettsville, Cous?"
Leroy: "I wanna tell you something. My sister-in-law gave me a bottle of homemade or home-grown apple cider vinegar."
Marty: "Bootleggers, huh?"
Leroy: "She give it to me. Boy you can really see the sediments in it. She said, 'You drink that, you can sing like a bird.' So I took me about a shot of it."
Marty: "How did it turn out?"
Leroy: "Well I sang a little bit of that 'Wabash Cannonball' and Kendra, that's my wife, she said, 'Didn't work did it?' "
Marty: "Go back to the jug."
Leroy: "Needless to say, I didn't drink any 'fore I came down."
Marty" "Well sing a song. Whatcha got?"
Leroy: "This one's called 'Little Pink'."
Eddie Stubbs said, "Ah Leroy Troy right there and 'Little Pink'. Leroy, she sounds like a real dreamboat. I think you need to try and find her and put her on the show with you sometime. Well, let's settle down right now and get serious. We'd like to encourage you come Sunday morning, you and yours to attend the church of your choice. And with that in mind, we'd like to declare hymn time this week. Here's Marty Stuart and the Fabulous Superlatives quartet with one of the old favorites, 'Over In The Glory Land'."
After a commercial break, Eddie Stubbs promoted the "Superlatone Collection" of five CDs, Live at the Ryman, Badlands, Compadres: An Anthology of Duets, Cool Country Favorites and Souls' Chapel. He introduced Marty again. Marty said, "Thank you Mr. Stubbs. And Mr. Pride. It is an honor to have you here, sir." Charley said, "Thank you, Mr. Stuart." Marty continued, "I appreciate everything about you, sir. You're one of my all-time heroes in country music. I'll put an extra $10 in the plate if you sing 'All I Have To Offer You Is Me'." Connie joined Marty in singing background vocals on the song.
Marty: "You're the best. That's all there is to it. On behalf of Charley Pride, Mr. Eddie Stubbs, The Fabulous. Superlatives, Connie Smith , Leroy Troy and Gary Carter, I'm Marty Stuart saying thank you for joining us. We had a good time.playing for you. Come on back and see us next week. We'll do it again. Thank you everybody."