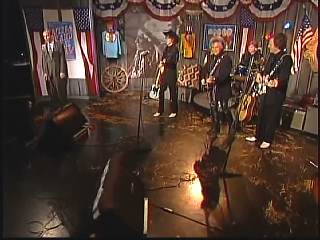 I am going to preface this recap by saying the show obviously ran long as there were clear edits with the dialogue and with Dierks' final song.
Eddie Stubbs started the show by introducing the guests. "From Nashville, Tennessee, the country music capital of the world and home of the air castle of the south, it's The Marty Stuart Show, featuring Marty Stuart, the Rolls Royce of country singers Miss Connie Smith, the ole Tennessee Slicker Leroy Troy, along with all the Fabulous Superlatives: Cousin Kenny Vaughan, Handsome Harry Stinson, the Apostle Paul Martin plus Gary Carter on steel guitar, and today's special guest Dierks Bentley with his guitarist Rod Janzen. Join us for 30 minutes of fun and great country music. I'm your announcer Eddie Stubbs. Now how about a Superlative welcome for our host, the coolest cat in the cornfield. Here is Marty Stuart." Marty said, "Thank you Eddie Stubbs. I got big business to talk to you about. Handsome Harry .... ." Marty and The Fabulous Superlatives performed "The Whiskey Ain't Workin'."
Marty said, "And that's exactly right. Somebody say 'howdy' to me and send that song to Travis Tritt. How about a hand for Mr. Dierks Bentley, ladies and gentlemen." Dierks performed "Free and Easy (Down The Road I Go)." Handsome Harry sang background vocals on the song.
Eddie Stubbs promoted Marty's photo book Country Music: The Masters. After a commercial break, Marty said, "Here she is, the legendary, the famous, the royal, where is she, Miss Connie Smith. Where are you baby? That good? Is that right?" Connie sang "I Never Once Stopped Loving You."
Marty said, "That would be country music. That would be country music right there. This is a song that comes from our buddies down in Gainesville, Florida. They live in LA now but we still call them Gainesville boys. Tom Petty and them Heartbreakers It's called 'Runnin' Down A Dream,' cous" This was a great bluegrass version of an already great song.
Marty and Kenny had been dancing during the song. Eddie Stubbs danced up to the microphone. Marty said, "Come on pretty boy." Eddie said, "I can't dance quite as good as you do. I need some work on that." Eddie promoted Connie's boxed set Born To Sing. After a commercial break, Marty and Connie were center stage. Marty said, "Is it time? Can we bring him out?" Connie said, "I think it's time." Marty continues, "It's time. The sultan of Goodlettsville, ladies and gentlemen, the most popular man in country music. How about hand for Leroy Troy, the ole Tennessee slicker . Come out Leroy."
Marty: "What's the good word from Goodlettsville today, sir?"
Leroy: "Hey."
Marty: "What?"
Leroy: "Did you know Dierks and his wife has got a brand new little bouncing baby girl?"
Marty: "Well congratulations, Dierks. Yeah. That's great."
Leroy: "He told me that little baby has sure brightened up their home."
Marty: "How's that?"
Leroy: "He said their lights stay on all night "
Marty: "What about it?"
Leroy: "All right."
Marty: "Whatcha got?"
Leroy: "Let's pick one. Let's do 'The Bottle of Wine.' G, Paul."
Marty: "G major."
Marty: "There it is, Dierks."
Dierks Bentley, sitting on a hay bale, joined in the song. Marty chatted throughout the song and Leroy twirled his banjo.
Eddie Stubbs said, "Leroy Troy right there and 'Bottle of Wine'. Leroy, I guess that makes you a honky tonk old guy. Well, it's time to get serious with you right now. You know we get a lot of mail on this show and the songs of inspiration seem to be some of the most requested. Connie Smith's got one picked out this week that we know you're going to enjoy. Hank Williams wrote this song years and years ago and Connie's been singing it on her shows for a long, long time. We're gonna get all the cast to sing on the chorus of this one. 'I'm Gonna Sing, Sing, Sing'."
After a commercial break, Eddie Stubbs promoted the "Superlatone Collection" of five CDs, Live at the Ryman, Badlands, Compadres: An Anthology of Duets, Cool Country Favorites and Souls' Chapel. He introduced Marty again. Marty said, "Dierks, thank you for coming by." Dierks said "Thanks buddy. "Marty continued, " I love what you're doing out there. You're making some great songs and some great records. Making a lot of people happy." Dierks said, "This is fun to be here. This is a highlight for us." Marty says, "You still 'Got A Lot Of Leavin' Left To Do'. That's the one I wanna hear. How about a hand for Dierks?" Handsome Harry and Marty sang background vocals on the song.
Marty: "Love you boy. Thanks for coming. On behalf of Dierks Bentley, The Fabulous Superlatives, Connie Smith, Leroy Troy, Gary Carter, and Eddie Stubbs and ole Rod over there I'm Marty Stuart saying thank you for coming. We'll see you again next week."