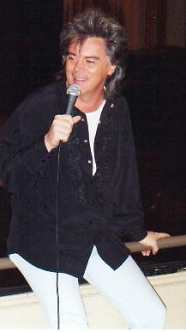 We started out at the Ryman around 5:00 p.m. according to my watch. Although I still haven't figured out how my watch lost an hour (since I'm on EST). I looked at it and it was on CST. A girl behind me said it must be an expensive watch when I mentioned only my cell phone changes time like that. I told her actually it was a Wal-mart watch. I'll never figure it out, but I had to change it back when I came home. Go figure.
The line was out to the road when I got there and I didn't recognize many faces that far back. Although Marty's fans are easy to talk to whether you know them or not. I felt a hand on my arm and turned to see the photographer (Larry Hill) from CMT and he asked to take a picture of the back of my shirt. It was an older shirt that had "THE MARTY PARTY" on back. I'd glittered up a bit. I said "sure." He asked where he had seen me before. I said, "Well, this is my 12th year coming over to a Marty Party." He said, "That must be it." I also got some help from a couple in line getting my yellow bracelet on to be recognized as a Marty Partier.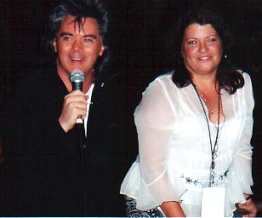 Rachel Stocki (Jodee's daughter) handed out the tickets along the line with her brother which speeded up the process of getting in and getting our food and seats. The food was on the 2nd floor as you go in the doors to the balcony of the Ryman. The food was excellent and I don't know who catered but it was as good as the barbecue and chicken we used to have at Smiley Hollow, and of course sweet tea and pink lemonade. (Sherry's note: Mary, did you forget the dessert?)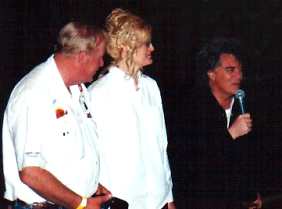 While we were still eating, Marty came in and said his "howdy and how are yous". He introduced his new managers, Rendy Lovelady and Tracy McGlocklin, (hope those names are right) and called Jimmy George up to talk a minute about the wedding they were planning at midnight at the Jam (they became engaged at the first Jam).

Right away someone asked about pictures and he said, "Let me and momma get something to eat" (he said he'd cooked all night) "and then we'll start." So he got his momma and headed up the stairs. She greeted and shook hands with a lot of folks as they came up the stairs. I said "hi" and shook her hand as she went by.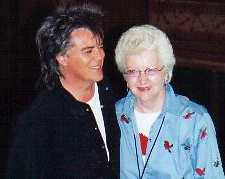 I started looking around for familiar faces. I'd sat down behind Darlene, Mike and Evelyn and finished up my plate. I'd seen Beverly and Laura, and asked about LaDonna. She pointed her out and said Brenda is sitting next to her. I looked and said "Brenda who?" I still didn't recognize anyone and LaDonna motioned me down there. Well, it was Brenda Metz! She probably won't mind my saying she had lost 140 lbs. and she looks greattttt! You could tell she felt great and was getting around like a teenager again!

I wasn't there long and they announced the line to get pictures. We were at the bottom of the balcony and the line was already all the way around the back to the entrance. LaDonna and friends, Brenda and I decided to wait for the end of the line to get to us but, at 6:30, they announced Marty had to be over at Gaylord Entertainment at 6:50 p.m. LaDonna suggested we get in line and wait at least, even if we didn't get all the way through. We wanted Marty to see Brenda, since he hadn't seen her since her since she lost weight. Brenda said she was going to give Marty the shirt she wore in the pictures he put in his book of her and her daughter. By the time we got there, they were speeding us through as it was already 6:55 by that time. Marty greeted me with a hug and "How are you." LaDonna and I had already planned to hide Brenda behind us and have her go up. It didn't work that way since we had to hurry. After my picture I asked Marty if he knew the lady beside LaDonna. I'd planned to get a picture of his reaction. I didn't get my camera in time and there were a few standing there so I hope LaDonna got it on her digital.



Everyone was headed to the Gaylord Entertainment Center for the CMT taping of 100 Greatest Songs. All the legalities were explained and then it started. We were way up in the high seats so my pictures (no flash) were only of the screens at the top of the building. We will hope for the best on those. Brad Smith introduced Brad Paisley and LeAnn Rimes who hosted the show. By the time I noted Kenny Chesney doing "Amarillo by Morning," Vince Gill's "Blue Moon of Kentucky" and Deana Carter/Sara Evans' "Mama Don't Let Your Babies Grow Up To Be Cowboys," I decided it was too dark and I couldn't read my writing so everyone will have to watch CMT on Sunday June 9 at 3:00 CST/4:00 EST for the show. Tapings are always fun, since you may get to hear the same song a couple of times when equipment or someone messes up. Vince messed up first, it surprised us all since he probably sings "Blue Moon of Kentucky" in his sleep. Marty did a great job on "Ring of Fire," so appropriate for him to do that song. Can't wait to see the show on Sunday.

After the taping we all walked back to the Ryman for the Jam!

The Old Crow Medicine Show opened it up, then along came Marty and the Famous Superlatives right away, and it sounded kinda like this:
"Back to the Country" (appropriate for his new album coming out)
"Too Much Month at the End of the Money"
"The Whiskey Ain't Workin'"
"Here I Am"
"Tempted"
"If There Ain't, There Oughta Be"
Kenny sang "Country Music's Gotta Hold On Me"
Then it was Keith Urban's turn to come out and Marty stayed out there with him. Keith sang "Folsom Prison Blues" and "Mama Tried" with Marty. Keith also sang his hit "When It's Rainin' on Sunday."

Cledus T. Judd and Marty had a Question and Answer session for "Cledus questions" on the steps from the stage. One lady asked Cledus if he remembered giving her a permanent in 1982. He said, "Well, no, but it sure held up good." Another asked if he remembered being with Rick Trevino in Greeneville. He said he didn't remember dating Rick Trevino, then stated "it was on the Wal-mart tour, wasn't it?" He stated he has been certified "plywood" on his last album. Someone asked what the "T" stood for, and he said he "didn't know.....Trouble maybe?" Someone asked if Keith Urban was single......he said wait just a minute....walked through the pulled curtains and came out and said "yes." Said he's been wondering about Toby and Natalie, thinks they're secretly talking at night, and they'll come out with a big single together and be bigger than Tim and Faith. Said he's been on the Atkins diet, "you get eggs for breakfast, eggs for lunch, eggs for dinner, and your arteries get plugged up like the Tennessee Titans' toilets."

By this time, the Kentucky Headhunters were all set up and ready to go with....
"We All Need A Little Love Sometime"
"Walk Softly On This Heart of Mine"
"Rock Me All Night Long"
"That's Alright" from their new album
Drum solo with no shirt and coonskin hat
"Spirit in the Sky"
"Let's All Go, Down to Dumas Walker's" (with everyone singing along)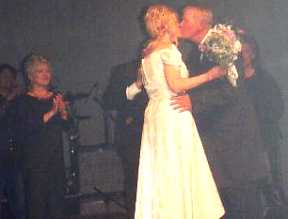 By this time, the midnight bell was tolling and it was time for the wedding of Jimmy and Leslie. Leamon Flatt was the minister and best man Marty Stuart and best woman Connie Smith stood for the couple. Kentucky Headhunters played the nuptial music as they came down the center aisle of the Ryman. After the nuptials and prayer, Jeff Bates serenaded them with "Circle of Love". They were pronounced husband and wife and left happily ever after.

Marty came out and sat on the steps with the Superlatives in acoustic style. He announced that none other than "Waffle House" was sponsoring their new tour, then they had Cledus come out for an acoustic song Marty had written just for him called "I Met My Wife At The Waffle House." The four of them also did a kicky tune from the new album acoustically called "By George".

It was time for a gospel set with the Martins and they were really great! Their voices blended so well, and they ended with an a cappella song.

Marty announced that Wynonna was coming up, then he and Connie sat on the steps together and he played acoustic guitar while she sang a song they had written together a couple of years ago..."If I Were To Lose Your Love."

Wynonna came on with:
"Tell Me Why"
"If I Could Change The World"
"What The World Needs Now Is Love"
A beautiful a cappella of "How Great Thou Art"
"No One Else On Earth"
She mentioned her momma was at Fan Fair "Prissing around in her short skirt" and laughed, and talked about how her momma had overcome and been healed of her illness. She was very philosophical that night.
The TN Mafia Jug Band with Leroy Troy were their usual great selves and entertained with their whiskey jug, Leroy's contraption of a wash board equipped with bells and horns and such. They are always a hoot.
Marty and the Fabulous Superlatives finished out the night with a song I wasn't very familiar with "Maybe You Don't Know My Mind Today," I hope someone else has heard or knows this song as that may not be the title. Brian sang his special "Everybody In Town Knows I'm Crazy Bout You" and Harry (who sings so well as a drummer), "Stop Doggin Me Around." Of course the show shut down with the infamous "Hillbilly Rock" (I now call it the fan's heartbreak song, cause we know it's over). At that time of morning there weren't any curtain calls, The lights came on and we knew once again, it was over. Luckily I'll get to see them again at Dollywood this month!
Review and photos by Mary Runyan, Dayton TN