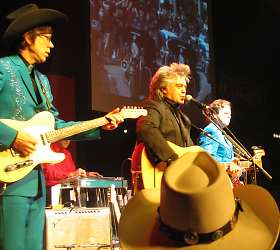 When I first found out that Marty and the Fabulous Superlatives were going to come and play in Switzerland I got very excited. The first time that I was going to see them in Europe. But I was also a bit skeptical of what the shows would be like there, because unfortunately country music doesn`t have a big market over here in Europe. I had no doubt that Marty and the guys would be as good as ever. My concern was more how the whole atmosphere would be compared to what I experienced in the U.S. before, because people over here in norther Europe are usually not as outgoing as the Americans. I got tickets for both shows at the Albisguetli in Zurich Switzerland on January 30 and January 31.
I had ordered the tickets the minute they went on sale, so I was hoping for some really good seats and the first disappointment I had, when I got the the place and found out that my seats were pretty much way back where you couldn`t see too well. The audience was a very mixed crowd. Some of them were dressed up as if they were going to a masked ball or ready to play cowboys and Indians with fake holsters, so that was kind of funny for me.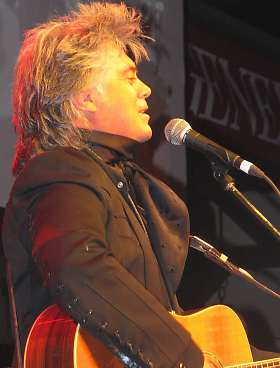 Then the support band came on, I don`t even remember their name and I was fearing the worst. Nobody in the audience seemed to really care about the music. There were some line dancers, but the rest was just sitting at their tables drinking, eating and chatting. After a little break where they set up the stage for Marty, it was finally time to get "serious." But the minute Marty and his band entered the stage, the whole atmosphere changed and it wasn`t long until Marty had the audience in the palm of his hand.
Luckily you were allowed to get up and go to the front of the stage, which I did then. When Marty and the guys entered the stage, it didn`t take long and I was greeted by nods and smiles from them, which made me feel very special and added more excitement to this evening. So I was just standing inches away of Marty, Kenny, Harry and Paul. They started off with "Sundown in Nashville," followed by "Country Boy Rock and Roll," "The Whiskey Ain`t Workin'," "La Tingo Tango," and "Rock Island Line." After that Marty introduced Connie. Connie had two of her band members along, Gary Carter on steel guitar and Rick Wright, now the 3rd man on Telecaster. Connie sang "If I Talked To Him," "Run Away Little Tears,", then "I`ll Come Running." Afterwards Marty and Connie did "Tender Loving Care." The whole cast then did a rocking performance of "Buckaroo" before Connie came back on and sang " Once A Day." The first set ended with "Hillbilly Rock" and the crowd was ecstatic.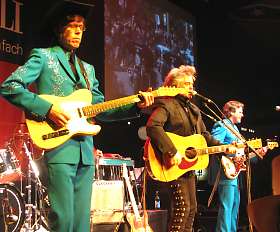 After a little break the show continued. Luckily I was able to get back right in front of the stage. This time Connie started the show. The set list of the second part included "If It Ain`t Love," "Key's In The Mailbox," "Luther Plays The Boogie Woogie," then Marty moved on to some slower songs doing "Long Black Veil" and "Dark Bird." Then Paul took the mike and sang "Bluegrass Express." Next was Connie again with "You`ve Got Me Right Where You Want Me." Then Marty changed from guitar to mandolin, starting with his breathtaking "Mandolin Rip," followed by Harry singing "Working On A Building." To my great pleasure they also included one of my favourite songs -- their version of Tom Petty`s "Running Down A Dream". Marty got Connie back to the stage then doing the beautiful "How Great Thou Art."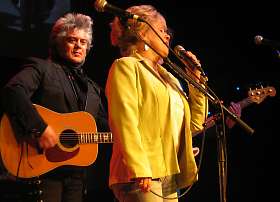 The crowd went wild again when Marty was doing "Tempted." Then it was Connie`s turn again with "Singing The Blues" and the last song was "Now That`s Country." Of course the crowd didn`t want to let them go, so Marty talked Connie into doing "Farmer`s Blues." They had a little discussion on stage, because Connie didn`t want to do the song. She had never sung it on stage before. And then came another first. Marty did "Reasons," which I had never heard them do live before. Before the show ended they did another encore "Little things." The evening ended much too fast for me. After the show Marty and Connie signed autographs for everyone.
The next night my seats where only slightly better than the ones I had the night before, but then I didn`t bother too much about it, because I knew I would be able to get close to the stage once the show started. The place was even more packed that night with a similar audience. Strangely there were also people who have never heard of Marty before, as were the people who were sitting at our table. The evening started again with a support band. One that was fairly good this time. After they finished, I realised that people were already crowding around the stage while they were still setting up the gear for Marty and the band. So I also went up to the front to take my place. The set list was pretty much the same as the day before with only some slight changes.
Instead of "Dark Bird" Kenny sang "Country Music's Got a Hold On Me" that night and the encore was "Hey Baby." Most of the time Marty and Kenny came over to where I was standing almost as if they were playing just for me. That was a real special treat. It seemed to me that everyone on stage was having as much fun as the audience and both shows will stay as an unforgettable memory in my mind. Of course after the show Marty, Connie and the band signed autographs again. Time passed by much too fast and I was really sad when I had to go back home after this weekend. I hope that Marty and the Fabulous Superlatives will come back over here real soon.
I read some reviews in some Swiss newspapers and everyone said that Marty and his band are outstanding musicians and that the shows consisted of two nights of great country and hillbilly music and that they really rocked the house! Of course they also had to comment on Marty`s hair and the clothes they were wearing...maybe a bit too flashy for the average European taste, but for me the best dressed musicians ever and I hope they won`t ever change their style!
Review and photos by Chris, Frankfurt, Germany