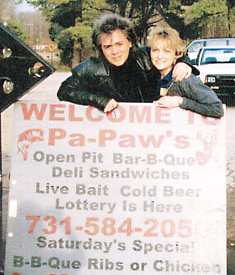 If you were out and about in Benton County on Monday, January 10, you may have passed right by Grand Ole Opry Star Marty Stuart. That's right Stuart was here in Benton County, along with W. S. Holland, Johnny Cash's former drummer, and LeRoy Troy, former banjo player on Hee Haw, and with friend and business partner Scott Mills.
Stuart had lunch at Pa-Paw's Sportsman Quick Stop Market and Deli on Eva Road. Word got around town fast, because Pa-Paw's Market owner Jackie Kenniston said the place filled up when he was there. Stuart told Kenniston a friend had told him about Pa-Paw's Bar-B-Q and he had to try it. Stuart also told Kenniston he had traveled to Benton County to visit the Patsy Cline Memorial. Kenniston said Stuart was very nice and she got his autograph and had her picture taken with him.
Scotty Hollowell of Hollowell Wrecker Service also spotted Stuart taking pictures at Hill Top Grocery. Hollowell said he stopped and got his autograph.
According to Mills, the group of musicians and friends also traveled to a few Benton County residents' homes. Doug and Peggy King not only had a visit from the group but was also honored to have them play a "jam session" at their kitchen table. According to Mrs. King, the group had visited their home to discuss their items from Patsy Cline's plane. She said Stuart told Troy to sing for them, "Smoke on the Water." In turn, Troy told Stuart to play a little something for them. Mrs. King's grandson, Cody Troutt, had his guitar at their house and she got it for Stuart to play one. After playing, Stuart signed the guitar for Troutt. The Kings made a video of the session. The group also visited the home of Roy and Leslie Sensing, and Roy and Judy Sharpe, to visit and talk about country music legends.
Stuart is a singer, songwriter, poet, musician, photographer, movie score composer, historian, collector, actor, and comic book hero. Stuart is "Country Music's Renaissance Man," He may be as progressive as any artist out there but his country roots run deep and wide. He first went on the road with gospel act. The Sullivans, playing the mandolin, and then went on traveling with Lester Flatt's band when he made his first appearance on the Opry as a 13-year-old mandolin-playing teenager.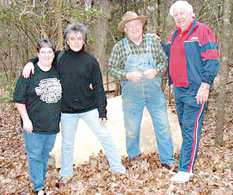 After Flatt died in 1979, Stuart branched out on his own playing a kind of bluegrass fusion with fiddle player Vassar Clements and also worked with guitarist Doc Watson. He produced his first solo album in 1982, "Busy Bee Cafe", with an independent label, Sugar Hill. In 1989 he signed with MCA Records, breaking the top 10 for the first time in 1990 with the album Hillbilly Rock, which went gold. His second album Tempted, went gold with four hits: "Tempted," "Little Things," "Till I Found You" and "Burn Me Down." More albums include: 1978 - Marty Stuart: With a Little Help From My Friends; 1986 - Marty Stuart; 1992 - Marty Stuart: The Slim Richey Sessions; 1992 - This One's Gonna Hurt You; 1994 - Love and Luck; 1995 - The Marty Party Hit Pack; 1996 - Honky Tonkin's What I Do Best; and 1999 - The Pilgrim. The more recent albums are the soundtrack to All The Pretty Horses, Best of Marty Stuart - Millennium Collection, and the 2003 release of Country Music.
Awards include: 1992 - CMA Vocal Event of the Year and Grammy Best Country Collaboration With Vocals; 1993 - TNN/Music City News Vocal Collaboration of the Year; and 1998 - Grammy Best Country Collaboration With Vocals.
Stuart photographs the people, the places, and the performers with the same soul he gives his songs. He has photos published in Country Music Magazine, People, Southern Living and a Cheekwood Gallery (Nashville) showing.
Another project Stuart is a part of, and the reason he was visiting Benton County, is a book he and Mills are putting together about Patsy Cline.
The book will be called Country Legends. It is going to be full of pictures Stuart and Mills have obtained of wreckage and personal artifacts of the Cline accident. Mills owns 30-40% of the aircraft, and is only one of two people in the country that can authenticate items from that plane. After receiving all the documentation on the plane, original crash reports, wreckage released to Mills, registration, serial number log book, and many other things from Piper airplanes, the warehouse where everything was stored burned.
Mills can authenticate any piece of that plane and without it being authenticated, it is worthless other than sentimental value to its owner. Mills and Stuart are looking for more authentic items from the plane, whether it be plane wreckage parts, or personal items of the members on board. They can not use any of the personal belongings unless Mills can tie it 100% to the crash or person.
Country Legends asks anyone who has any of these items to please contact Mills at (731) 422-6947 or (731) 293-9768. He will then come to Benton County, verify the item, and call Stuart. After the item has been authenticated, Mills and Stuart will return to Benton County together and see the items first hand.
Because of Stuart's love of photography, and the photos he took here in town, you never know where you might see a snapshot of your little 'ole Benton County.
By Emily Hatcher