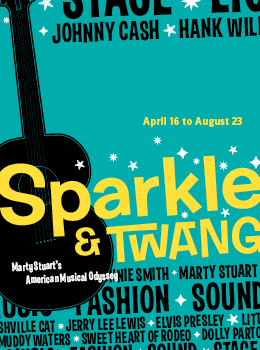 The Autry National Center of the American West takes you on a tour through the life and times of American Music with Sparkle and Twang: Marty Stuart's American Musical Odyssey. The exhibition tells the story of country music icon Marty Stuart's personal experiences with some of the most famous stars of American music, highlighting several of the greatest performers on the country, bluegrass, rockabilly, and Southern gospel scenes. Visitors are invited to join the journey of Stuart's life and witness the road traveled by the beloved musicians encountered along the way. Discover what life on the road really meant, and learn about the struggles and triumphs these performers experienced in order to succeed.
This uniquely American collection underscores the importance of style and sound with performance costumes, handwritten lyrics, personal letters, musical instruments, and unpublished photographs of such legends as Patsy Cline, Hank Williams, Porter Wagoner, Johnny Cash, and Bob Dylan. The fashion-rich collection includes such items as Elvis Presley's sweater, Jerry Lee Lewis's black boots, Johnny Cash's white tuxedo, a Bob Dylan outfit, and a Patsy Cline dress. The exhibition would not be complete without a life-size dressing room and interactive performance stage. Plus, listening stations, ambient audio, and video documentaries can be found throughout.
"I made it my mission to save the historic relics of country music, not just because they were things I loved, but to preserve them as cultural artifacts," says Marty Stuart.
This exhibition was developed by and originally exhibited at the Tennessee State Museum, Nashville, Tennessee.