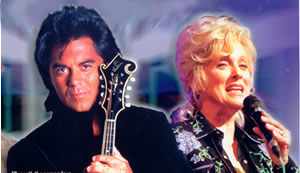 Friday, November 14 at 6:30 PM and 8:45 PM
Connie Smith is the graciously modest, "Queen of the Opry" whose voice is one of the most precious gems in the genre. Marty Stuart is the tenacious, modern-day "Hillbilly Rocker" with an acre wide streak of musical genius beneath his famous mane. Together they are one of the most beloved, respected couples in country music.
Wearing a bright yellow T-shirt so she'd notice him, Marty first saw Connie Smith sing in 1970 at a hometown fair in Philadelphia, Mississippi. He always dreamed big and told his mom afterwards he would marry her one day. Marty and Connie were married 27 years later in July 1997.
CONNIE SMITH was recently named #9 on CMT's Fourty Greatest Women in Country Music, a glowing tribute to her almost four-decades-and-still-vibrant career. From the time she released "Once A Day" in 1964 and became a virtual resident at the top of the charts, the petite blond embodied everything good about country music - a powerful commitment to home, family and living life a big part of it. Connie isn't one to do things halfway, and raising her five children meant more to her than the spotlight. But a real legend's pilot light is never extinguished; the kids are grown; and she's back recording, touring and a weekly fixture at The Opry where she deservedly belongs.
Connie Smith's smoldering voice and no-nonsense style always finds a way to make less say more. Over the years, it's grown richer and ripened into a wondrous instrument. She hasn't a peer in the industry who doesn't agree when Grand Ole Opry announcer Eddie Stubbs says, "Connie Smith is the Rolls Royce of country music."
MARTY STUART's blue chip pedigree is deeply rooted in golden-age country, bluegrass and first-generation rock. His every expression of it is unbridled passion, because he worshiped the titans of country music since he was a boy.
Bill Monroe gave him his first pick at age 3. He hit the road by age 12 playing mandolin with the Sullivans; and at 14 toured with Lester Flatt's band long enough to be recognized a virtuoso by his late teens. His youthful downtime included touring with Vassar Clements, Doc and Merle Watson and Bob Dylan; and as a session musician with the likes of Willie Nelson, Waylon Jennings, Emmylou Harris, Neil Young and Billy Joel. Settling down for Marty became a six-year stint with the great, late Johnny Cash.
By the late 1980s, the multi-Grammy winning Stuart was full-speed into a hugely successful solo career. After four gold albums and countless hit singles, he became a country music titan himself. Marty has created a science of balancing country music's past and present on a razer's edge. Together with his "Fabulous Superlatives" - guitartist Kennyh Vaughn, druumer Harry Stinson and bassist Brian Glenn - he keeps sharpening the blade. They just broke all the rules in the concert business with their Electric Barnyard Tour with Merle Haggard this past summer, and the brand new, critically acclaimed "Country Music" CD hurled out of the gate like a bucking bronco.
Connie Smith and Marty Stuart come from virtually opposite extremes of the country music spectrum, and only on the rarest occasions perform together. Boldly but with the deepest respect, The Ritz invited them to give one of their rare performances together on our stage. To our astonishment, they accepted. This will be a legendary, once-in-a-lifetime concert for East Alabama audiences.