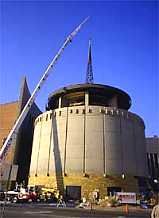 WSM-AM, home of the Grand Ole Opry, played Alan Jackson's recording of "Pop a Top" Thursday morning (Sept. 21), during a live broadcast from the construction site of the new Country Music Hall of Fame and Museum.
The song played while a 75-ton crane lifted a 70-foot steeple to the top of the museum's rotunda to give the building its final shape. The steeple replicates the top half of WSM's iconic diamond-shaped radio tower, built in 1932 and located south of Nashville in Brentwood. The already-installed bottom half of the museum tower pierces the 5,300 square-foot interior space of the rotunda, where bronze likenesses of Hall of Fame members will be enshrined as equals in an unbroken circle.
"This marks another milestone in the completion of the museum," Hall of Fame Director Kyle Young said during the installation. "We now have topped the building off. We're paying homage to WSM and the Opry, which is what we should be doing. We wouldn't be here without them. Probably more than anyone else, WSM and the Opry popularized country music."
Designed by Tuck Hinton Architects, the steeple becomes a new landmark for Music City. The vertical reach from the ground to the tip of the tower is 165 feet.
"As you drive down Broadway toward downtown, there is a series of steeples and towers, such as the ones for Union Station Hotel, First Baptist Church and Gaylord Entertainment Center," Young says. "Now we have a tower that fits in with the Nashville skyline."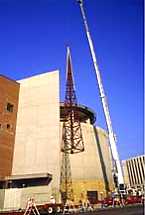 MCA Records chief Bruce Hinton and country star Marty Stuart, chairman and president, respectively, of the Hall of Fame's Board of Trustees, Hall of Fame member E.W. "Bud" Wendell (chair of the capital campaign for the new museum), and construction project manager John Madole were on hand to see the building topped off.
"We're one step further to being in this building," Stuart enthused. "Country music is a timeless art form, and this building really represents the past, present and future of country music. The minute the door swings open on this building, it marks the fact that we are here for the 21st Century and for the duration. It's set in stone."
The Hall of Fame broke ground for the new building in May 1999. Madole estimates construction to be 80 percent complete. The contractor expects to turn the building over in late December. Exhibit installation should be completed in time for grand opening ceremonies in May 2001.
Written by Michael Gray