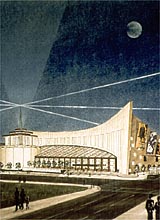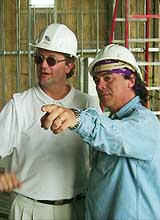 Construction continues to progress rapidly on the new, $37 million Country Music Hall of Fame in downtown Nashville. Hall of Fame Director Kyle Young recently gave Marty Stuart, president of the Board of Trustees, a full-scale tour of the facility.
Sporting hardhats, Young and Stuart worked their way up from the ground floor, where visitors will buy tickets, visit the Museum store or have a snack in the restaurant, to the top, where some Country Music Foundation staffers will have offices.
In between, Young explained to Stuart how visitors progress from floor to floor. Making their way through exhibits that tell the history of country music, they pass special attractions such as a re-creation of producer Owen Bradley's office, Elvis Presley's solid gold Cadillac and special alcoves where the Hall of Fame's extensive collections will be displayed for the public to see.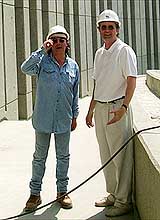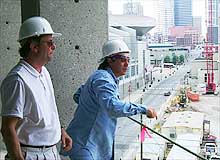 Presley's car and a coin-covered Pontiac that belonged to Webb Pierce will be moved in first, so that the structure can be finished around them. American Constructors, builders of the Hall of Fame, will turn the new facility over to Young and his troops in January, and they will install exhibits and move in during the first quarter of next year. The existing Hall of Fame, on Music Square East, will close the last day of February. The new building will open in May.
Stuart, whose extensive collection of country music memorabilia will have its own display area, was impressed by what he saw on the tour. "It's like a dream that's half-finished," he said later.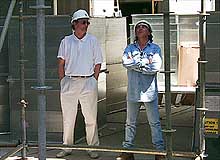 "When I was standing in what's going to be the board room, overlooking the city, I kinda had the same sentiment about the Hall of Fame as I do about where country music stands right now, " he explained. "There's an incredible foundation under that building, but there are new floors to be built.
"It reflects where the industry is, too. It's kinda in shambles, but there's hope for the future. It's pretty symbolic in the state that it's in right now, but I look forward to it coming to life."
Written by Jay Orr