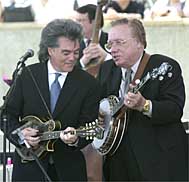 There were speeches, there was a ribbon cutting, but the most moving part of the grand opening celebration of the new Country Music Hall of Fame and Museum on May 17 was the music.
Several thousand people gathered in a park across the street to witness the dedication of the $37 million facility. Speakers compared the event to a "tent revival" and described the new museum as "a true cabinet of delights," "a giant present," "a spectacular home" and "our treasure chest."
Vince Gill likened the story of the new building to a country song by Hall of Fame member Harlan Howard. "It has a little bit about heartache, has some setbacks, talks about money issues -- Harlan had a great song called 'Busted' -- but in the end, this is a happy story."
In addition to the many music industry staffers, artists and political dignitaries on hand, country fans turned out for the event. Among them were Nicholas Inman, 19, from Marshfield, Mo., and his grandmother, Joyce Inman, 65, from Ford Landen, Mo., who arrived at 6 a.m. to secure a prime seat. Nicholas Inman hosts a monthly live country music show in Rogersville, Mo. "We have a deep love of country music and feel we should pay the proper respect to it," he said of the Inmans' decision to make the trip to Nashville.
Along with other country fans, the Inmans crowded against a restraining barrier to watch parades of stars arrive from the Grand Ole Opry House, the Ryman Auditorium and the old Country Music Hall of Fame on Music Row. An antique WSM table microphone from Roy Acuff's personal collection arrived first, followed by Porter Wagoner, Charlie Louvin, Stonewall Jackson and a long procession of Opry stars. Wilma Lee Cooper, recovering from a "stroke-like episode," arrived in a wheelchair and the Melvin Sloan Dancers came in a city trolley. Other Grand Ole Opry members attending were Del Reeves, Hank Locklin, Bill Anderson, Billy Walker, Jim Ed Brown, Ernie Ashworth, Charlie Walker, Jack Greene, Stu Phillips, members of Diamond Rio, Riders In The Sky, Pam Tillis, Brad Paisley, Martina McBride, Trisha Yearwood, John Conlee, Connie Smith, The Whites, Ricky Skaggs, Joe Diffie, Hal Ketchum, and Mel McDaniel.
Othar Turner, 92 years old, and his family fife-and-drum troupe led a motorcade of Hall of Fame members making its way with police escort down Demonbreun Street from the old Hall of Fame. On the red carpet, Danny Jones, Maybelle Carter's grandson, came first, followed by Hall of Fame members Eddy Arnold, Kitty Wells, Roy Horton, Jimmy Dickens, Earl Scruggs, George Jones, Jo Walker-Meador, Harlan Howard, Brenda Lee, E. W. "Bud" Wendell and Charley Pride. Robyn Young, son of Faron Young, and Gladys Flatt, wife of the late Lester Flatt, also attended. Immediately prior to the start of the official proceedings, Mother Maybelle Carter's famous Gibson L-5 guitar arrived, the last artifact to be installed in the new museum.
Playing the guitar later in the ceremony, Marty Stuart said, "This is the country music guitar. Country music lives right inside this hole right here."
Early in the sun-baked ceremony, which started just after 10 a.m. CT, Jones joined gospel great Vestal Goodman in a performance of "Amazing Grace," backed by the Grand Ole Opry staff band. When his turn came to solo, Jones used all his trademark vocal dips and bends on the verse that begins, "Through many dangers, toils and snares/I have already come," and the gathering broke into applause.
Banjo great Scruggs played his instrumental bluegrass classic, "Foggy Mountain Breakdown," with an all-star band that included his son Gary Scruggs, Stuart, Vassar Clements, Jerry Douglas, Jon Randall Stewart, Brad Davis and Harry Stinson.
Gill, with acoustic guitar, performed "The Key to Life," a song inspired by his father's memory, and the same song he played at the Hall of Fame groundbreaking in June 1999. "It's really remarkable to look around here," he said, "and see the people that my father loved as a kid."
MCA Nashville President Tony Brown compared the day to an old-fashioned tent revival, and many of the speakers testified to country music's power to bridge generations, races, culture groups and public and private institutions.
Bill Ivey, who left his post as director of the Country Music Hall of Fame to become chairman of the National Endowment for the Arts, said the new Hall of Fame "enshrines those great stories of excellence and achievement that define what is best in this great American music. It combines wonderful architecture, a deep commitment to community service, a deep commitment to enlighten and entertain."
Emmylou Harris recalled that after having her first hit in 1975 with a Louvin Brothers tune, "If I Could Only Win Your Love," she visited Nashville, met Ivey and "got introduced to the … Country Music Hall of Fame." Ivey gave Harris the full Louvin Brothers catalog, on recordings, "to encourage my love of traditional music," she recalled. Harris dedicated her performance of "If I Could Only Win Your Love," with Sam Bush and Jon Randall Stewart, to the late Joe Talbot, a longtime Country Music Foundation board member and a passionate fan of traditional country music.
Nashville Mayor Bill Purcell said, "This is the place where this building and we all belong." Tennessee Gov. Don Sundquist and Wendell praised the public-private alliance that made the project work.
Kathy Mattea, who worked at the old Hall of Fame as a tour guide, performed a slow, jazzy version of Hank Williams Sr.'s "House of Gold." "I grew up at the Hall of Fame," she said.
Stuart, whose personal collection of boots, "Nudie" suits and instruments gets special treatment in the new museum, closed the ceremony by performing "Will the Circle Be Unbroken," a Carter Family song, using Maybelle Carter's guitar. Goodman sang one verse without benefit of a microphone, but she could be heard by those well back in the crowd.
The Carter Family, Jimmie Rodgers and other early country greats, Stuart said, "were just singing songs out of their heart, songs of true life. Those songs sustain today. They will sustain a thousand years from now, a million years from now should this world stand, as will country music, as long as we stay close to the heart and soul of the matter."
Pride, Wells and Lee helped cut the large red ribbon opening the new Hall of Fame and Museum. Visitors were granted free admission through the balance of the day, and live music programming continues through the weekend.
"This building is our treasure chest," Stuart said. "It's where we keep our wonderful things, but more than anything, it's our living room."
By Jay Orr with contributions from Michael Gray