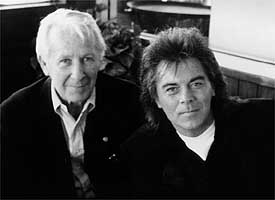 As Marty Stuart was writing songs for what would become The Pilgrim, his critically acclaimed 1999 release, he also had a vision for what the CD ought to look like. That vision has led to a major exhibit of Thomas B. Allen's work opening today (May 17) and continuing through Oct. 27 at the Ryman Auditorium in Nashville, and to a concert, staged tonight at the Ryman, featuring Stuart and banjo great Earl Scruggs.
Growing up in Mississippi, Stuart admired the 17 album covers done by Thomas B. Allen for bluegrass pioneers Flatt & Scruggs. Stuart learned about Allen first when he became the proud owner of Flatt & Scruggs' Greatest Hits. In Allen's painting for the cover, guitarist and singer Lester Flatt and his partner, Scruggs, sport white suits, with trademark Stetson hats and red, Kentucky Colonel-style ties.
Now head of the Department of Illustration at Ringling School of Art and Design in Sarasota, Fla., Allen began doing Flatt & Scruggs album covers after contributing illustrations for a story titled "Country Music Goes to Town" in the October 1959 issue of Esquire magazine.
"I remembered and loved his work from all those earlier years," Stuart recalled recently. "When I was writing the album, The Pilgrim, I had in my mind that throughout the story booklet that accompanied the CD, it needed to be illustrated. Who better than the guy I grew up loving, if he still existed and I could find him?"
With help from Louise Scruggs -- Earl's wife and manager and the person responsible for enlisting Allen in the first place to do the Flatt & Scruggs covers -- Stuart found Allen and went to Florida to visit him. The two sat around playing the banjo and telling stories, striking up both a friendship and a working relationship. Stuart commissioned Allen to do a new painting of Flatt & Scruggs and a portrait of the late Country Music Hall of Fame member Grandpa Jones, based on a snapshot Allen had taken at a Brooklyn concert.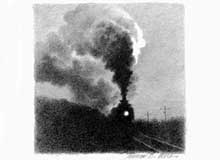 Allen also ended up doing illustrations for The Pilgrim. "Ten minutes after I'd walked into his house," Stuart recalls, "it was like we'd known each other our whole lives. It was just like plugging into an old friend."
Tonight's concert, to mark the opening of Allen's exhibit at the Ryman, is titled "The Great American Folk Boom." Allen's works for Flatt & Scruggs represent an intersection of American academic and folk art traditions. Louise Scruggs understood that the bluegrass music played by Flatt & Scruggs, with its roots in mountain stringband music, blues and Anglo-American balladry, deserved the same respect afforded jazz, gospel and classical music. Indeed, New York Times music critic Robert Shelton once compared Earl Scruggs to renowned classical violinist and composer Paganini.
As part of the folksong revival that took place in the late '50s and early '60s, Scruggs appeared without Flatt at the first Newport Folk Festival . "They booked him to come up to play and they kinda viewed him as an icon hip enough to hang out with kids but still smart enough to be himself," Stuart recalls. "That opened up a whole new audience to [Flatt & Scruggs]."
The group recorded live albums at colleges and at staid Carnegie Hall, a haven for performances of European classical music.
Stuart has programmed tonight's concert at the Ryman to reflect the broad view of American traditional culture represented by Allen's paintings, by Scruggs' approach to music and by the many different musical strains of the "folk boom."
Scruggs will perform with a band including Stuart, Glen Duncan, Jerry Douglas, Brad Davis and his son, Gary Scruggs. Joe and Janette Carter, son and daughter of A.P. and Sara Carter, will do three songs inherited from the Carter Family tradition of early country music. LeRoy Troy, champion of banjo traditions handed down by early Grand Ole Opry star Uncle Dave Macon, will appear with the "Tennessee Mafia Jug Band." Current Opry star Connie Smith -- Stuart's wife -- will join Scruggs, Carter and others for the Carter Family classic "Storms Are on the Ocean." Allen's daughter, Hillary Allen, will open the show, and Minister Evelyn Hubbard, from Robinsonville, Miss., will represent the black gospel tradition with a song.
"It's basically an excuse to open this exhibit of Tom Allen's, to give it a downbeat," Stuart explains. "There is quite an arts community in Nashville, but it's not a unified community. Tom is somebody who really understands art and music as walking hand in hand. Music Row and art seldom get together. This is an excuse to get together fine art and honest-to-God American music."
Written by Jay Orr