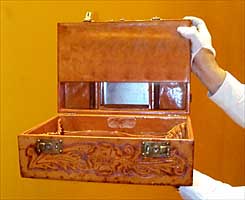 When the new Country Music Hall of Fame and Museum celebrates its grand opening Thursday (May 17) the world will be privy to priceless artifacts, interactive experiences and films in the new $37 million facility. Among the offerings will be a world-class exhibit that features part of the vast personal collection of country artist Marty Stuart.
Stuart -- who is also president of the Country Music Hall of Fame and Museum's Board of Officers and Trustees -- previewed several of the artifacts during a recent press conference at the museum. Among the items on display on tables were Hank Williams' fringed purple shirt (shown below); Williams' handwritten lyrics for "I Saw the Light"; Jerry Lee Lewis' black patent-leather boots; Patsy Cline's travel case (shown right); legendary designer Nudie Cohn's own rhinestone-spangled suit; and Lamar Sorrento's portrait of Bill Monroe (shown below). These were just a few of the items that will be on long-term exhibit at the new museum.
During the press conference, Stuart spoke movingly about his desire to help preserve the legacy of the music and his involvement with the Country Music Hall of Fame and Museum.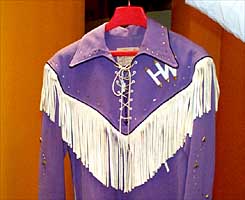 "Every detail about these boots, these suits, these lyrics, it came from somebody's soul," Stuart said. "This building, to me, doesn't have a square inch in it that doesn't have soul. To me it's a perfect setting ... It's the perfect vantage point for country music. It's also our treasure chest."
Stuart explained how he originally began to collect and preserve some of country's richest artifacts that now make up his collection. "It started out as a real innocent hobby when I got my job with Lester [Flatt] when I was 13," he said.
The young Stuart -- who, as a musician, found himself in the company of many country greats -- continued to preserve the things he saw around him. "It was as innocent as when Johnny Cash would write out a set list when I was in his band," he continued. When the Man in Black would toss the list into a wastebasket, the young Stuart would retrieve the paper for safekeeping.
As his collection grew over the years, expanding to include country costumes, instruments and memorabilia, Stuart became even more dedicated to preserving country music's legacy. "It became a mission and a crusade to save our heritage and to save our treasures, to help preserve it," he said.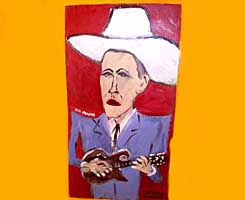 When asked what the most valuable thing in his collection was, Stuart laughed. "Connie Smith," he said with a smile, referring to his wife, the country singer.
Introducing Stuart at the press conference were Kyle Young, Director of the Hall of Fame and Museum, and Library Director Lauren Bufferd. Bufferd noted that Stuart, a longtime collector, has preserved not just country memorabilia but artifacts that capture the extraordinary range of American culture.
"I've heard Marty joke about 'hillbilly couture,' " Bufferd said. "But these are art forms that -- like the native American beadwork and the Chimayo blankets that Marty collects -- he feels strongly about. In seeking out these craftspeople and continuing to commission work from them, Marty is keeping a significant American tradition alive. That he's willing to exhibit some of it in our museum is an honor for all of us."
"Obviously," Young said, "this is a great day for us."
By Chris Dickinson