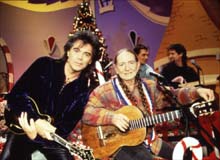 Imagine this: Country star Marty Stuart and his band, The Rock 'n Roll Cowboys, are traveling to a concert in their customary rocket ship and crash-land at the North Pole. Santa looks and sounds exactly like Willie Nelson, and his elves bear a striking resemblance to the hip alternative country band, BR5-49.
Helped by holiday magic, it happened in Marty's Christmas Party, a holiday special that was telecast on TNN.
Stuart has never been a conventional entertainer, and his five previous TNN specials have reflected his offbeat personality. In his Christmas special, Stuart and his production team merged fantasy with humor to create a backdrop for solid country music and Christmas carols with a message.
When Stuart's band is skeptical about their arrival at the North Pole, Stuart sings a musical reminder that "Christmas Time Is Coming." When the entourage arrives at Santa's house, Ole Saint Nick (or Willie Claus, if you prefer) has the perfect occasion to sing Nelson's classic country hit, "Stay All Night (Stay A Little Longer)." More holiday songs, including "Pretty Paper" from Nelson's Christmas album, also fit conveniently into the story line.
As the Christmas visit with "Willie Claus" continues, Joe Diffie drops by with Christmas cookies and a song. BR5-49 -- an alternative country band named after the phone number in a Junior Samples' used-car salesman skit from the Hee Haw television series -- is right at home, cast as singing elves.
Christmas wouldn't be Christmas without angels and Connie Smith, as the Christmas angel, contributed her angelic voice. Little Jimmy Dickens, as Santa's chief helper, showed everybody around.
Exploring the world of fantasy to create a Christmas special is a project which Stuart relishes. "I've always loved the season and the wonderful stories that come with it," Stuart said. "The spirit of Christmas lives within all of us if we take a moment to feel it."