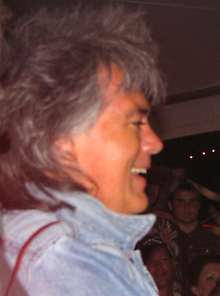 Marty Stuart holds our attention year after year. We eagerly wait for his next release, wondering what he'll come up with next to dazzle us or make us think.
Solid fans know of his early days as a teen prodigy mandolin player for Flatt and Scruggs. Those of us who joined "The Marty Party" a little later remember his invention of Hillbilly Rock, his infamous tours with Travis Tritt, and the "Cash Years" when Stuart shared time and talent with the legendary Johnny Cash.
Through all of that, I enjoyed Marty's music. Like many in their early working life, disposable income wasn't in my vocabulary, so concerts were out of the question. "Little Things" like an occasional CD had to do.
In the last few years though, as Marty's career grew to include efforts like Tribute to Tradition, The Pilgrim, and producing music for movies and other artists, concert tickets have eeked into my budget. The list of folks I've been dying to see gets a new check mark or two every year.
Not Marty, though. He eludes me. Seems every time I had an opportunity to see Marty, I was, as they say, a day late and a dollar short. Hence began my "Marty Curse."
There was the time he was playing a casino in Minnesota... and I was going to be just a few miles from the venue. Except due to my job, I had to return home two days before the concert.
But being one of those "Western Girls," I was determined not to give up.
He was doubled billed not 30 miles from my home with, gulp, MERLE HAGGARD! "Farmers Blues" live! I HAD to get to that show! Nonetheless, family commitments (loaded with a healthy dose of guilt) blocked me from that show, too.
But "This One's Gonna Hurt You (for a long, long time)" was my song last January. My boss was sending me to Memphis for two weeks. I had the weekend in the middle free…and GUESS who was playing at the Ryman... yep, you guessed it, Marty Stuart! And BONUS, he was playing with Del McCoury and The Del McCoury Band. "Now That's Country!"
I just KNEW the Marty curse was finally broken and I was in for one hell of a show. I had my camera, money for extras and a "Satisfied Mind..."
... right up 'til the point my boss cancelled the trip.
I was "Tempted" to pay last minute rates for a flight just to make it to the show, but I just couldn't make it work out. Reality has to set in at some point.
"Just Between You and Me," I had my doubts about whether I'd ever get to lay eyes and ears on Marty at a live show.
And then came ROMP, the River of Music Party [in Owensboro, Kentucky], now an annual event for Ram Radio. I already had my plane tickets and was just waiting for the roster of artists to pop up on the IBMM webpage.
Then the news arrived – headliners for the closing night: Marty Stuart AND Del McCoury. "Burn Me Down!" I was gonna see 'em both! But, gulp, if "The Marty Curse" continued its set path, it meant I was cursing all my Ram buddies to join me in being eluded once again. "The Weight" was heavy.
Nonetheless, we Ram Radio folk trekked from NY, PA, VA, GA, TN, TX, and AZ to be together for a weekend pumped full of amazing musical moments.
Right on schedule, though, a few short hours before Del and Marty were due to respectively take the stage, thunder and lightening arrived, engulfing the outdoor venue in a downpour. We were all sent to our cars like so many kids ordered to their rooms, awaiting the final word of our punishment. Show, or no show?
As the clock ticked, more fans gave up and drove back to town for the comfort of their dry homes or hotels. But we stuck it out, determined that if anything DID happen that night, we were NOT going to miss it.
When the 1000+ crowd had dwindled down to less than 200, we got word. Del and his band wanted to give us diehards an acoustic set in the staff tent up the hill. YES! We donned our dollar rain ponchos and trampled up that hill as fast as the mud would let us.
Del and his band were amazing. That alone should have been enough reward for "Doing' Time" in the rain, but a few songs into this amazing show, Marty squeezed into the tiny crowd and joined the McCourys in what proved to be the show of a lifetime... a real bluegrass jam session including the likes of Marty Stuart and Del McCoury!
Standing the rain, grinning from ear to ear, I knew the curse had finally been broken. "Kiss Me, I'm Gone!"
By Cindy Dong
Additional comments by Rawson Gordon:
At that point, I was sure that the event's organizers were just buying time, that Marty Stuart or Del McCoury had flown the coop, not wanting to play under such conditions. I was ready to go back to the hotel. Now, a week later, I am still kicking myself for being so negative. I realize, if it were not for my friends, I would have missed what was coming.
Nancy and I went back to her car to warm up and dry out a bit, and we watched at least a few dozen cars crawl toward the exit while doing so. I cannot recall exactly what made us get back out of her car but, when we did, it was apparent that something was afoot – people were headed to the artist's tent on the top of the hill behind the stage.
Nancy and I approached. There was music coming from under the tent, but whoever was making it was completely encircled by the crowd. I found Cindy, who was listening from a chair in the corner. Mike, next to her, was using a chair to improvise a stand to which he could connect some lighting. I stood on another chair, and my six-foot-two-ness allowed me to see what was going on: Marty, Del, and their respective bands were jamming together, unplugged and unfiltered, for a crowd of a mere 150 people!
Instantly, I realized something m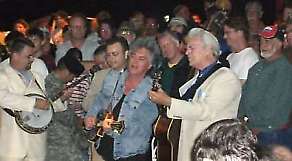 omentous was going on. I didn't know where the rest of my buds were, but, knowing how much Cindy had been looking forward to seeing Marty Stuart, I circled the crowd, trying to find a place where we could see better.
We found one, and settled in to enjoy this once-in-a-lifetime experience. Marty and Del took turns, supporting each other as one played material primarily his. Sometimes, though, the two acts blended together seamlessly, like on "Nashville Cats": "Nashville cats play clean as country waterrrrrrrrrr, Nashville Cats play wild as mountain dewwwwww..." This was pure bliss.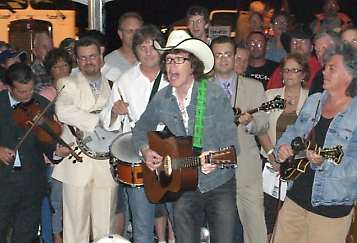 As the set progressed, my view got better and better; eventually, I was able to enjoy a fairly unobstructed view about fifteen feet from the action. Another set highlight for me was watching Kenny Vaughan – I became acquainted with this guy through his live work with Lucinda Williams. The dude can absolutely wail on guitar, but he kept it simple on this night, taking the lead for the callback number "Walk Like That."
Sam and the gang helped me with the set list the next day – we heard songs like "Blackjack County Chains," "Cold Rain and Snow," "Working on a Building," and a fantastic a cappella "Rocking my Baby to Sleep." Another thing that made the event so special was how good of a time the musicians were having. Those wide smiles on Marty and Del's faces were no paste-ons. At one point, Marty, obviously thrilled to be rocking with one of his musical heroes, even said out loud, "I'm so glad it rained!" as were probably everyone else.
The ROMP organizers should be commended for taking the day's lemons and making one of the best pitchers of lemonade ever concocted.