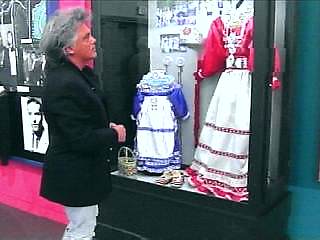 Marty Stuart was in Meridian Thursday to sign copies of his book, Country Music: The Masters, as well as for the private opening of his collection of country music memorabilia, The Sparkle & Twang Exhibit: Marty Stuart's American Musical Odyssey. The exhibit opens to the public Saturday.
Stuart's star on the Mississippi Arts and Entertainment Center's Walk of Fame was also unveiled.
Stuart said he is glad to share a culture that means so much to him.
"It was a culture that I love. Country music, these kinds of treasures. And it was slipping away," said Stuart. "No one wanted to see the rhinestone clothes any more, with the times and the looks that have changed. But to me it was a part of American culture, a segment of American culture."
Believe it or not, Stuart found many of the pieces of American culture displayed in Sparkle & Twang at pawn shops and thrift stores. He's happy to share his treasures.
Sparkle & Twang will be open to the public Saturday and continue through September 18 at the MSU Riley Center, Tuesdays through Saturdays.
Tickets are $10.00 for adults and $5.00 for students, with group discounts available.
By Rachel Alig