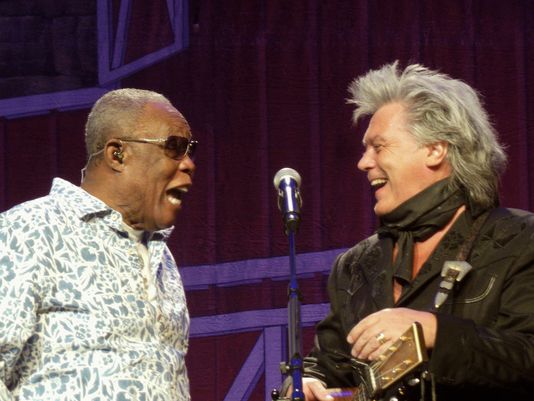 "Country music sounds better here than anywhere else in the world," Marty Stuart said Wednesday night at the Ryman Auditorium. The one-time home of the Grand Ole Opry is known as The Mother Church of Country Music, and Stuart, hosting his annual Late Night Jam, presided over what amounted to a revival of traditional country music but stretched into other styles.

Even R&B great Sam Moore sang a George Jones hit, a version of "She Thinks I Still Care" he worked up with Stuart Wednesday afternoon, before launching into his Sam & Dave hits "I Thank You" and "Soul Man."

The Jam began shortly after the end of the CMT Music Awards, which took place a block away, and lasted into the early hours of Thursday morning.

Stuart said he created the Jam, now in its 13th year, because he wanted a show that sounded "like nothing else you would hear this week." He certainly got that, mixing young talent with legacy acts and familiar stars with relative unknowns.

Emily Sunshine Hamilton, a 9-year-old from Madisonville, Tennessee, yodeled a Jimmie Rodgers tune, then sang one she wrote called "John and June and Jesus." Gospel quartet The Chuck Wagon Gang gathered around a single microphone. Jerry Lee Lewis sideman Kenny Lovelace played, backed by Stuart's Fabulous Superlatives.

Jim Glaser of the Glaser Brothers performed a handful of songs, including "Woman, Woman," the hit he wrote for Gary Puckett & the Union Gap.

LeAnn Rimes sat on a center-stage stool and sang acoustic renditions of "I Need You" and the Bonnie Raitt hit "I Can't Make You Love Me."

Backed by her band the Sundowners, Stuart's wife, Connie Smith, sang "Cry, Cry, Cry"; "That Makes Two of Us," a song co-written by Patty Loveless; and, at her husband's request, her 1967 hit "Cincinnati, Ohio." Stuart joined her for her last song, a dramatic version of the hymn "How Great Thou Art."

Stuart's Late Night Jam is one of the unofficial opening events for the CMA Music Festival, which begins today. The Late Night Jam benefits MusiCares, a trust fund to help people in the music industry who have fallen on hard times.


By Brian Mansfield