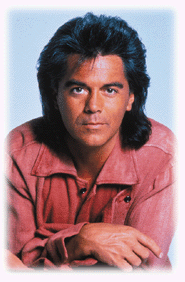 Whether he's writing and producing albums, energetically performing on stage, helping to guide a dramatically evolving industry, or chronicling its history with photographs, Marty Stuart stays true to the spirit and tradition of country music.
From the time he stepped onto Nashville's Grand Ole Opry stage at age 13 until today, the 42-year-old artist has found many outlets to showcase his talents, earning four gold albums and three Grammy Awards. With every pursuit, he has demonstrated an abiding love for the music that poignantly and passionately captures the struggles and dreams of the working class.
"It was the words, the honesty, the stories, the accessibility. It was true life blues set to music," describes Stuart, who is currently serving a fifth term as president of the Country Music Foundation.
"I liked The Beatles when I was a kid, but there was something about the sound of Johnny Cash's voice telling me stories about trains, Indians, cowboys or miners that touched a common chord with me, or about people who worked in cotton fields. That was the kind of people I came from, dirt farmers. Bluegrass picking, the way Lester Flatt and Earl Scruggs did it, was exciting and athletic, and there was something really precise about the virtuosity of that kind of musicianship.
"Country music somehow found its way to my heart and stayed there."
It reached him at an early age, in Philadelphia, Mississippi, where he began a journey of discovery.
"My mom played piano at church, and my dad was a big fan of country and bluegrass music," he recalled. "We were big listeners who appreciated music. There are pictures of me when I was 2 years old, with a Mickey Mouse windup guitar in my hand. The first memory I have is being in my mother's arms, and hearing something that made me cry. I found out later that it was the church bells across town that the air was carrying. It's just the sound of music that touched my heart."
Cash became a major influence for the youngster, who began dreaming of a music career at age 5. Four years later, Stuart formed his first band to play at local meetings of the Woodmen of the World, Rotary Club, Lions Club and Cub Scouts.
"What was strange about it is that while the rest of the world was grooving to whatever the pop songs were, we'd play 'Folsom Prison Blues' and Buck Owens' tunes," he says with a laugh. "It was out of style, and they didn't know quite what to do with us."
The Rise To The Top
A self-taught guitarist, Stuart moved to Nashville at age 13, where he found a job at the Opry and began his education in earnest.
"What I had access to was the wit and wisdom of some of the masters of this kind of music," he recalls. "It wasn't that they sat down and showed me, note for note, how to do things, but it was kind of a watch-and-learn program."
Learning well from these legendary musicians, Stuart eventually landed a job in Cash's band and then pursued a recording career. In 1978, he released his first album, With A Little Help From My Friends.
In 1990, his debut album for MCA Records, Hillbilly Rock, went gold, producing a hit single with the title track. The follow-up gold album, Tempted produced four hits: the title cut, "Little Things," "Till I Found You" and "Burn Me Down."
In 1992, Stuart fulfilled a lifelong dream by becoming a member of the Grand Ole Opry, twenty years after he first appeared on stage.
The same year, he won his first Grammy Award, along with a Country Music Association Award, with his duet with Travis Tritt, "The Whiskey Ain't Workin.' "
In 1994, Stuart won his second Grammy for his performance on "Red Wing," on Asleep At The Wheel's Tribute to the Music of Bob Wills. Last year, Stuart picked up his third Grammy for a song he wrote and produced, "Same Old Train." Joining him on the song, featured in the collection, Tribute to Tradition, were Merle Haggard, Emmylou Harris, Dwight Yoakam, Joe Diffie, Pam Tillis, Tritt and many other artists.
Stuart's collaborated with Tritt on a hit single, "This One's Gonna Hurt You," which served as the title cut for a gold-selling album. Music critics praised his well-crafted albums: 1994's Love and Luck, 1995's gold-selling The Marty Party Hit Pack and 1996's Honky Tonkin's What I Do Best.
He spent three years on his next project, an ambitious concept album, The Pilgrim, which was released in 1999. Preceded by theme-driven albums such as Willie Nelson's Red Headed Stranger and Cash's tribute to the American Indian, Bitter Tears, the recording explored the rich themes of love and redemption.
"I see three levels of this record – a journey through the sounds of country music's past, present and future," Stuart explains. "It's also a mirrored look into the last quarter century of my life, a pause in the middle of a three-chord trip of dreams that's led me around the world and brought me face to face with some of the greatest singers, writers and musicians of our time."
His photo essay book, Pilgrims: Saints, Sinners and Prophets, which was published in conjunction with the album release, and presented stunning images of music legends, such as Cash and Hank Williams, Jr.
Stuart considers the track "Hobo's Prayer" one of his favorites from the album, which concludes with Cash's stirring reading of a passage from Alfred Lord Tennyson's poem, "Sir Galahad."
"I bought a piece of stained glass in Austin, Texas," recalled Stuart. "When I got home and cleaned up the glass, these words were on it. I was beating my brains out trying to figure out a climax for The Pilgrim. One night, I was in my basement just walking in circles, and I read those words, and I said, 'There it is, and I know who I need to call to do it.' "
A dazzling instrumental duet, "Mr. John Henry, Steel Driving Man," featuring Stuart on mandolin and Scruggs on banjo, closes the masterpiece.
The project contained elements of scoring a movie, which Stuart has recently done for actor Billy Bob Thornton's film Daddy and Them. Consideration has been given to turning The Pilgrim into a feature film.
Among his many roles, he has been in demand as a guest vocalist, musician and songwriter on other artists' projects. He collaborated with Clint Black and Matraca Berg to compose Black's chart-topping hit, "Still Holding On," and he has written songs for stars Linda Ronstadt, George Strait and Wynonna. He has recorded duets with B.B. King, Willie Nelson and George Jones, and he has served as producer for bluegrass gospel albums.
His songwriting gift he credits to divine inspiration, noting, "I like what Hank Williams said: 'Hoss, I don't write 'em. God writes 'em, I just hang on to the pen.' " What inspired David to write the book of Psalms? That's where I find the best songwriting comes from."
His creative efforts include publishing essays in The Oxford American and essays and photographs in Southern Living.
"I really don't know where I fit in the music business," he says. "I just love to work. There are so many things I enjoy doing. The bottom line for me is to make good music and be the best that I can. I don't worry about where my place is. Actually, for most of my life, I've not fit in, and that's fine by me."
Martin Guitars honored Stuart with a limited edition signature series metallic-blue, pearl-inlaid Fender Telecaster, which would make a fine addition to his extensive collection of country music memorabilia.
"I started collecting 25 years ago, and let's just put it this way: If the Country Music Hall of Fame lost everything they had tonight, I could restock it."
Among his treasures are original Hank Williams manuscripts of classic songs, such as "Cold, Cold Heart," "I Saw The Light," and "Your Cheatin' Heart," Patsy Cline's boots and costumes, and Jimmie Rodgers' lantern.
Honoring his accomplishments, his home state, Mississippi, presented him the Governor's Award for Excellence in the Arts, which recognizes artists who have reached the world in an exceptionally artistic way. It was a special moment for Stuart.
"It just dawned on me, in the past couple of years, what an incredible heritage I step out of, from my state," he says. "It's a state where the 'Father of Country Music,' Jimmie Rodgers, is from, the 'King of Rock and Roll,' Elvis Presley, is from, and the kings of the blues, Muddy Waters, and B.B. King and Robert Johnson, are from, and Pop Staples, the greatest gospel singers, Tammy Wynette, and on and on and on. That's the heritage and the culture that I come from down there, and just to be on a list with people who come from that place is a honor within itself. To be recognized really meant a lot to me."
He contributed to the careers of performers on The Nashville Network in 1994 by hosting the critically acclaimed and highly popular "Marty Party" series of specials, which also inspired a Marvel Comics special edition comic book, "The Marty Party in Space."
For his contributions to the country music industry, the city of Nashville, reinstituted the Mayor's Metronome Award, presenting it for the first time in 12 years.
"Marty Stuart embodies the spirit and character of Nashville," said Mayor Phil Bredesen. "He takes us with him everywhere he goes."
Staying In Tune
This year, Stuart celebrated the third anniversary of his marriage to country singing legend Connie Smith, to whom he dedicated The Pilgrim.
"We have very separate careers, but we're dead glued at the middle," he says. "I'm her biggest fan. Connie has one of those voices that is an orchestra unto itself. She is the most inspiring person I know. She has a heart the size of this world, and she sees things through purely spiritual eyes. She's an angel."
Mindful of the need to stay at their peak to perform, the couple believes in chiropractic care for maintaining a healthy lifestyle.
To keep himself "in tune," Stuart seeks the services of Dr. Beth Barnett, a Nashville chiropractor who provides expert care for several country music stars and musicians. She began providing care after receiving a referral, and usually adjusts the artist once a month.
"Generally, before he hits the road, he gets adjusted, and then when he gets back," she notes. "He's been on the road since he was 13, and especially if you're traveling on buses, that's a pretty difficult life. You play at night, get on the bus and drive to the next gig. You may not have good food anywhere, or a good bed.
"He puts a lot of energy into his work," she continues. "He's not one of those people who gets up there and strums. He flies all over the stage; he's a ball of fire because he's got a lot of energy. It's a hard life, but he loves it, too. It's in his blood, and he's been doing it for a long time."
Stuart has observed the recent shift in attitudes toward health.
"For years and years, the general population didn't think much about health; we were all young, careless and nuts," he says. "I can't say that I go and work out every day, but I try to walk a lot, and I'm more conscious these days of what I eat. My wife, in particular, lives and breathes by the principles of chiropractors. I've found that the chiropractor, in a natural, kind of way, keeps things in balance in my body. I find that, after bus rides or plane rides, or in especially a lot of stressful, creative situations, that one way to free yourself to get ready for them, or to get rid of them, is a trip to the chiropractor."
He had already been under care before going to Barnett, who became his chiropractor five years ago, and he admires chiropractors' skills.
"The thing I find about chiropractors is that they're no different than musicians or artists or lawyers or doctors," he says. "The true ones have a calling in their lives. I find that Dr. Barnett has these magic hands and you can just feel God's all in her hands. I think that's what you look for. I know a lot of people that practice are smart enough to have adapted and become chiropractors. But, in her case, I think she had no choice. It was a calling."
The stress of performing can harm the body, and Stuart sees the adjustments as a vital link to restoring health.
"It can either get you over a trip or get you ready for a trip," he says. "A lot of times, when I'm in the middle of scoring a movie, which involves a lot of mental work, and I'm about three miles from my chiropractor, I find myself going over there a couple of times to just get realigned.
"To put it in hypothetical terms, if you own a Stradivarius violin and the strings are dead, it really doesn't perform to its full capability or its full voice," he continues. "It's the same thing if you have the greatest guitar in the world, but if the strings are dead, or if there's a tube out in your amplifier, you're getting the job done, but just barely. I find that it's the same way with the body, or if the wheels on your car are out of alignment, the car still drives down the road, but it wears them out. I find that when my body is in line, everything usually performs at a better level."
Using Diversified technique, Barnett also performs soft tissue work and gives Stuart advice on posture, sleeping positions, exercise and nutrition.
"When he came in, his neck was really stiff," she says. "That's one of his major complaints. He plays guitar, and certain instruments tend to present certain problems. Guitarists have their shoulder up high to hold the guitar strap, and they hold their head to the side to look at their fingers, and I think they tend to have a lot of neck problems because of that. Some of the guitars are pretty heavy.
"With Marty, it's routine adjusting, and he always responds really well to care," he says. "Over the years, when he came in he had a hypolordosis in his cervical spine, a little bit of scoliosis, and at one time he had a little bit of sciatica. One time, he actually fell off the stage into the crowd, and hyperflexed his wrist. Basically, he's responded really well to anything I did. I've worked on the ribs and sinus problems. The main thing for the straight neck and a little bit of hypolorodosis in the lower back is to just work on those things, and try to keep them as balanced as possible, so that when he goes from plane to plane, he doesn't hurt too much.
"When I adjust him, he always feels better," emphasizes Barnett, who also provides care for several of Stuart's band members.
"He had a bout with bronchitis, and I worked with him on that," she says. "I just basically work mostly on his neck, and his back gets tight in the low back. He uses a cervical pillow. I think most of what brings Marty in comes from being on the road. When he's feeling like he's tight, he comes in. He's pretty good about taking care of himself. I really enjoy taking care of Marty, he's like a ball of energy. He's a lot of fun, a very creative guy. I always look forward to his visits."
The multitalented artist, whose website www.martyparty.com tracks his progress, is currently co-directing a documentary to accompany an IMAX film Twang, about country music and is getting ready to start working on another album.
He is a guardian for the country music industry, which is often embroiled these days in debates about its "pure" sound being diluted by pop influences, and he is optimistic about its future.
"Country music, to me, is about evolution," he says. "If you go back to the beginning, with The Carter Family and Jimmie Rodgers, I'm sure 10 years later, when Bill Monroe came along, people thought that country music was going to hell. Or, in the 1960s, when Merle Haggard came along, they probably thought that since it didn't sound like Webb Pierce anymore, that it was going to hell then, too.
"I think the main difference now is that I'm not so sure that the thing that always worked about that kind of music was that there was a lot of heart and soul about it, and it twanged, and it had a unique 'country' quality. It didn't try to cover up anything that it wasn't. I'm not so sure now that a lot of country music is pop music in disguise, or pretends to be pop music.
"But then again, you find an act like the Dixie Chicks, who are probably the hottest act out there right now, with fiddles, banjos, dobros and mandolins on stage – that's about as country as you can get. They are a roots band, in essence, playing to teenyboppers and grandmas, as well. And that's what country music is all about – just taking whatever today's message is and performing it well, and touching people's hearts and entertaining them.
"I think country music, as a whole, is in fine shape, because I really know what goes on behind the scenes, what's in the wings, and the amount of talent that we have at our command and at our disposal," he adds. "The facade of country music would tend to paint us as pretending to be pop stars for the most part right now, but I think it's a trend that will wash away, and I believe you will absolutely see the heart and soul of country music come back."
Whatever role he plays in the industry, Stuart remains committed to the work ethic and mindset of the legendary performers before him.
"Lester Flatt had a great piece of advice for me," he recalls. "He said the trick is not moving to Nashville or California or New York, and taking all the money and awards in two years' time, then being forgotten. The trick is to show up every January 1 and still be counted credible.
"I suppose if there is an ambition, the older I get and the deeper I get in my journey, it is just to remember that integrity comes first, and to be fearless creatively, and to just find myself still in work every January 1."
By James B. Panter