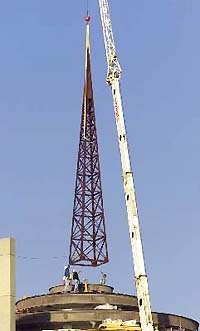 On a cool, clear morning very much like the building's ground-breaking 15 months ago, a crew of workmen yesterday hoisted a 70-foot metal tower to the top of the new Country Music Hall of Fame and Museum.
The tower represents the final significant piece of the building's exterior.
"This is topping out the structure," said John Madole, senior project manager for American Constructors Inc., chief contractor for the $37 million building at the corner of Demonbreun and Fourth Avenue South downtown.
The tower was designed to resemble the 878-foot radio tower used by WSM-AM since 1932 to broadcast its 50,000-watt signal. That tower, still in use near Franklin, was the tallest in the nation when it was built.
It broadcast WSM's signal to half of the United States during the years that the Grand Ole Opry and other programming made WSM a national leader in broadcasting and Nashville the capital of country music.
E.W. "Bud" Wendell, former CEO of WSM and its parent company, Gaylord Entertainment Co., said it was appropriate that the new Hall of Fame should lean so heavily on the symbolism of WSM, recently named Country Radio Station of the Century by a leading trade paper.
"It would be difficult to showcase the history and heritage of country music without recognizing the contributions of WSM," Wendell said.
As a huge crane lifted the tower into place about 8:10 a.m., country singer and Country Music Foundation Board President Marty Stuart, speaking live over WSM, called it a "beacon for Music City USA." Also on hand for the event were Country Music Foundation Director Kyle Young and MCA/Nashville Chairman Bruce Hinton, who serves on the foundation's board.
Only the top half of the tower is visible above the museum's rotunda roof, while the bottom half hangs down inside the Hall of Fame itself, where it will act as a chandelier.
By Craig Havighurst