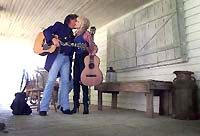 The prospect of appearing on a movie screen seven stories tall is enough to daunt even Dolly Parton.
"I'm already larger than life, but in this movie I'm gonna be bigger than a cow," a smiling Parton said last week at a cabin in the hills during a break between filming sessions for a new IMAX movie about country music. "Lord, I'm scared to see it, but I'm proud to be part of it."
Parton and several other singers -- including Kathy Mattea, Guy Clark, Kim Richey, Radney Foster, Leigh Nash of Sixpence None the Richer and Roger McGuinn of The Byrds -- were spending the day performing Pete Seeger's Turn! Turn! Turn! for a scene in the 45-minute film by Nashville video director Steven Goldmann.
The as-yet-untitled large-format movie, a project of Gaylord Entertainment Co. and Goldmann, uses a fictional story line about a young Irish boy time-traveling through the history of country music. The movie -- scheduled to premiere in June in conjunction with Fan Fair -- showcases various subgenres, including mountain, bluegrass, gospel, honky-tonk, rockabilly, cowboy, Western swing, "countrypolitan" and contemporary country music.
The movie's gigantic 70mm frame will be filled with a cast that executive producer Clare Bisceglia calls "a Who's Who of country music," including The Dixie Chicks, Martina McBride, Alan Jackson, Vince Gill, Loretta Lynn, Lyle Lovett, Asleep at the Wheel, LeAnn Rimes, Tim McGraw, Dwight Yoakam, Marty Stuart, Earl Scruggs, Alison Krauss and many others.
"The opportunity the film allows me is to create larger-than-life images, and when you've got artists of this caliber, that's not hard," said Goldmann, best known for innovative videos featuring Faith Hill (This Kiss) and Jackson (I'll Go On Loving You). "It's going to be, as they say, very IMAX-worthy."
Shooting began in Ireland last month and is scheduled to be completed in November, with locations in Detroit, a small church in the North Carolina mountains, a dance hall in Texas, a New York City street corner, a Utah desert, Gene Autry's Melody Ranch in Southern California and Nashville's Ryman Auditorium.
Bisceglia said the project's budget is "a little past" the average of $5 million spent on large-format films. "We're pushing the envelope a bit, but it's well worth it."
The film, distributed by the Canada-based Imax Corp., will open next June at the Opry Mills IMAX Theatre and settle in there as a "destination" film for Nashville tourism, she said. And sometime next fall, it will open at 45 to 60 large-format theaters, known for their giant screens and state-of-the-art sound. Eventually the film will be seen at up to 130 such theaters worldwide.
"We think it will perform particularly well in cities where country music has a strong base, but it could have an even wider draw," said Andy Gellis, a senior vice president at Imax. "The new IMAX theaters that have been built in the last five years are mainly looking for entertainment product like this film, and we anticipate lots of strong cross-promotion off of radio and print. The theaters will definitely play it."
Imax and Gaylord are also counting on the increasing popularity of country music in Europe, Japan, Australia and South America to give the film "great international appeal," Bisceglia said. "The film is meant to really celebrate the genre of country and to bring it to the world with its heritage intact, and to do that in a very entertaining way."
Marty Stuart, who appears in the film and as host of a companion video to be used as as part of a study guide for students, called the movie "a big ol' calling card for country music to the world." He added: "I mean, putting country music together with 21st-century technology that's already so much bigger than life, it can't help be anything but fun. And it's got to be a plus for the country music industry."
Goldmann's scenario centers on an unhappy Irish boy, played by 12-year-old actor Austin Stout, whose musician father is forced to immigrate to the United States because of the potato famine of the 1840s.
"I'm trying to make sure that the audience comes in with one set of expectations and gets thrown a loop," Goldmann said. "I think once they see the list of celebrities in the film, they're thinking, 'It's 'That's Entertainment, Part V.' This is a country music film, but here we are in Ireland. Where's the country music?' And then it happens."
Magically, the boy is whisked through time and space to, of all places, Tootsie's Orchid Lounge in Nashville in the mid-1940s, where Alan Jackson is performing the Hank Williams honky-tonk classic Hey Good Lookin'.
From there, the boy gets a tour of the various periods and branches of country music, with stops including McBride singing Patsy Cline's Walking After Midnight, Gill singing How Great Thou Art in a small country church, a leather-clad McGraw on a motorcycle running from the cops in a tribute to the country-music outlaws of the 1970s, Rimes singing Tammy Wynette's Stand By Your Man and Riders in the Sky in a silent-movie tribute to the yodeling movie cowboys.
"We're looking at scenarios, not just stages, as a way to tell a story," Goldmann said. "And every one of these stars is reflecting their history and their influences. There really hasn't been a movie like this before."
Near the end, the boy arrives at the Ryman, where a group of more than 25 country singers -- including Trisha Yearwood, Sara Evans, Joe Diffie, Pam Tillis, Ricky Skaggs, Gary Allan, SHeDAISY, the Wilkinsons, Billy Gilman and Jessica Andrews -- will sing Will the Circle Be Unbroken.
Finally the boy drops in on a Dixie Chicks concert in modern-day Detroit, where their Celtic-flavored hit Ready to Run assures him that country music's Irish roots are still flourishing.
Those roots were in evidence at the cabin near Cookeville, with Parton, Mattea and others taking unique approaches to verses of Turn! Turn! Turn! (made famous by McGuinn and The Byrds) as a way of reflecting the different strands of country.
"I didn't think of it as a country song, even though I recorded it myself several years ago, but it makes sense," Parton said. "It's about how country music has changed and keeps changing, and how for everything there is a season."
But that image of herself on such a huge movie screen was still haunting her.
"When they called me to do it, I said, 'Can I look like my gaudy self?' " she said. "They said 'No, you'll have to calm yourself down.' So I just put some braids in my hair, and put on some eyelashes that were only 2 inches long, as opposed to 3. But it's country music and it's IMAX, and there's lot of kids who haven't thought much about country music, but they'll go to an IMAX film. So I'm sold."
By Kevin Nance