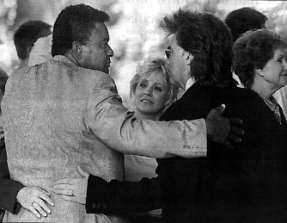 On the day Johnny Russell would have celebrated his 16th anniversary as a member of the Grand Ole Opry, his family, friends and fans gathered at the Opry House to remember his unique life and music.
Russell, who died Tuesday at age 61 of diabetes-related complications, was recalled yesterday morning as a man whose voracious appetites extended far beyond his well-chronicled love of food, and whose humor and concern for others served as a unifying force backstage at the Opry.
''By now, he's propositioned Dottie West, and he's probably pitched Chet (Atkins) a song,'' speculated friend and fellow Opry member Jeannie Seely about Russell's afterlife. ''At least that's what I think, and what I hope.''
Many in attendance had already attended one service in what has been a calamitous week for country music. Atkins was buried on Tuesday, and his funeral service at the Ryman began only 30 minutes after Russell passed away at Baptist Hospital. Guitarist Roy Nichols (Merle Haggard, Johnny Cash) also died Tuesday.
''I'm making plans to be lonesome / 'Cause you're making plans to leave,'' sang Vince Gill, performing one of Russell's best-known songs on a stage laden with floral arrangements.
In fact, Russell had made some of his own plans for the service, specifying both a chosen venue and a general pattern of behavior: ''I want a lot of people singing,'' he requested. ''And when they've finished singing, I want a lot of clapping. And when someone tells a joke, I want a lot of laughter. I want it to be a celebration.''
The singers included some of Russell's favorites. Sharon and Cheryl White opened the service, singing harmonies with Ricky Skaggs on the gospel song "He Took Your Place." Gill followed "Making Plans" with his own "Go Rest High on That Mountain." Later, Steve Wariner performed "Catfish John" (one of Russell's solo hits) and then played a song he'd recently written with Marcus Hummon, "When Our Time Runs Out."
Connie Smith offered the final musical selection, singing "How Great Thou Art."
Each singer and each of Russell's pallbearers — Bill Anderson, Garth Brooks, Jim Ed Brown, Jack Greene, Jimmy C. Newman, Brad Paisley, Porter Wagoner and Billy Walker — is a member of the Grand Ole Opry. The program listed honorary pallbearers as ''members of the Grand Ole Opry, Dickey Lee, Sam Lovullo and Little David Wilkins.''
In addition to Seely and Russell's pastor, Terry Clapp, Opry member Stu Phillips, Jordanaires bass singer Ray Walker and former Opry General Manager Bob Whittaker spoke. Most of the comments centered on Russell's wit and performing abilities.
''He had so much to share,'' Phillips said. ''He just couldn't contain it all in that big frame of his.''
Seely announced that she'd been tapped to host today's 11:30 p.m. Opry show, the slot Russell often commandeered, and that this week would be ''A Salute to Johnny Russell.'' Never a by-the-clock kind of guy, Russell would often allow the show to go over its allotted time, pushing back the start of the Midnite Jamboree at the nearby Ernest Tubb Record Shop on Music Valley Drive.
Reporting that she'd already called Jamboree officials, Seely promised she'd carry on past midnight, extending the Opry ''one more time'' for Russell.
A private ceremony was held at the Woodlawn East Mausoleum in Hendersonville after the Opry House ceremony.
By Peter Cooper
Photo by Delores Delvin