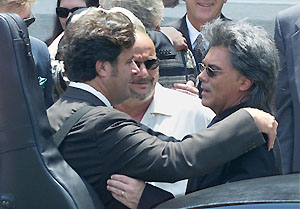 Chet Atkins' casket rested yesterday morning on the floor of the Ryman Auditorium, near wooden pews where country music fans sat 55 years ago and heard Atkins' Grand Ole Opry debut.
The man now known as ''Mr. Guitar'' played as a member of Red Foley's band that night in 1946. He would soon make his own mark, eventually taking his place as one of the 20th century's most important musical visionaries. Atkins' friends and family members gathered in the Ryman's lower-level pews yesterday to mourn and remember, and several generations of fans crowded the Confederate Balcony to pay respects and hear a little Atkins-inspired pickin'.
''We won't ever see the like, the talent, in one man,'' said Eddy Arnold in tribute to his longtime friend, who died Saturday at age 77. ''If you ever heard of any man — anywhere — who had it all, it was this man.''
Intended more as a celebration than a funeral, the 50-minute ceremony underscored Atkins' talents, as well as the contributions he made with those talents. His musical presence was strong enough to divert attention from the casket to the gleaming orange Gibson electric guitar at center stage, next to Atkins' trademark hat.
''Although he pretended not to think so himself, he was a great giant,'' eulogized Prairie Home Companion host Garrison Keillor, who came to know Atkins through radio and concert appearances and through a series of sometimes revelatory letters, portions of which he read aloud at the service.
''I'm 70 and still don't know anything about life,'' Atkins wrote to Keillor in one such letter. It was a particularly humanizing admission, especially given the reverential air surrounding a man who seemed all-knowledgeable in his chosen trade of music.
He knew enough, certainly, to collect a bevy of accomplished friends who cared for him deeply. Atkins' service began with a song from Connie Smith, included the eulogy from Keillor and featured more music from Vince Gill, Steve Wariner, Paul Yandell, Marty Stuart and others.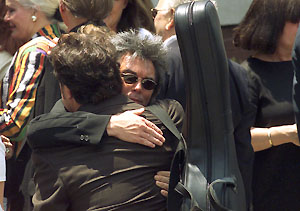 Charley Pride, Harold Bradley, Waylon Jennings, Duane Eddy, Bill Ivey, James Burton, Porter Wagoner, Lamar Alexander, Charlie Louvin, Jimmy Dickens, Bobby Bare and Bill Carlisle were but a few in attendance. Gary Atkins, Ray Stevens, Gill, David Conrad, Wariner, Jonathan Russell, Dr. Will Russell, Chad Sawyer, Paul Yandell and Harry Warner served as pallbearers at the Ryman and for the interment, which followed in Harpeth Hills Memory Gardens on Highway 100.
While those in the balcony were most concerned with Atkins' musical life, the service made evident his personal triumphs, as well. Arnold called attention to his marriage to wife Leona, a union launched before Atkins ever set foot on the Opry stage. And Keillor spoke of Atkins' love for friends and enthusiasm for the works of others, saying, ''He had a natural reserve to him, but he overcame it so he could tell people he admired them. If Chet Atkins was a fan of yours, you really didn't need another one.''
After Smith sang "Farther Along" (with help from Stuart, guitarist Mark Castevens, bassist David Hungate and fiddler Stuart Duncan) and Arnold shared his thoughts, Yandell, Gill and Wariner offered a medley of four songs, each of which featured Atkins' signature picking style. A version of The Carter Family's "Wildwood Flower" was particularly poignant, given Atkins' connection to the Carters. He toured with them near the beginning of his career.
"Wildwood Flower" started with Gill's emulation of Mother Maybelle Carter's simple, yet influential guitar work, then offered a lesson in how Atkins was able to build on previously established styles. By song's end, Wariner and Yandell had added intricate, jazzy, melodic turns, taking "Wildwood Flower" some place new, in the same way Atkins and fellow ''Nashville Sound'' creator Owen Bradley took country recordings uptown in the 1960s.
That same formula was repeated in the final musical tribute, an instrumental take on Skeeter Davis' 1963 crossover smash, "The End of the World," a record produced by Atkins that remains a prime example of the Nashville Sound. Stuart's mandolin took the melody, providing a grounding, unmistakably country element, even when augmented with a string quartet.
Atkins' friend Kevin King closed the service by reading Atkins' own words, from a new book titled Just Me and My Guitars: ''The players come and go, but the music lives on, and eternity will take care of the rest.''
By Peter Cooper
Photos of Marty and Vince Gill by Delores Delvin