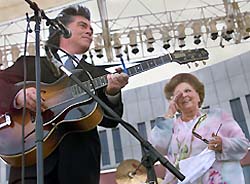 With speeches and songs, free tours and fanfare, Nashville yesterday reaffirmed its historic ties to country music with the long-anticipated opening of the Country Music Hall of Fame and Museum's new $37 million home.
Country Hall of Famers, including most recent living inductee Charley Pride, and almost two dozen members of the Grand Ole Opry were on hand for a processional and ceremony that lasted two hours on a hot, sunny morning. Music executives, politicians and Hall officials took pride in a project delivered ''on time and on budget.''
''Country music is the face that Nashville turns to the rest of the nation and the world,'' said Bill Ivey, chairman of the National Endowment for the Arts, who launched the new Hall project while director of the Country Music Foundation.
''As a society, Americans have not really made an appropriate investment of public dollars in honoring or preserving country music, jazz, blues and other distinctive American genres. But Nashville has truly come through.''
A procession of Opry stars began at 9:45 a.m.. The performers brought with them an early microphone from WSM, the station that launched the Opry and whose influence can be seen throughout the museum. Porter Wagoner, in an uncharacteristically subdued suit, was first on the red carpet, followed by Stonewall Jackson, Charlie Louvin and Jimmy C. Newman.
West Virginia native and Opry veteran Wilma Lee Cooper, who recently suffered a stroke onstage, arrived smiling in a wheelchair. Recent Opry inductee Brad Paisley stopped to converse with tailor Manuel, who was dressed in a gold jacket of a reptilian pattern with gold brocade. The Melvin Sloan Dancers arrived in a Nashville trolley, outfitted in red-checked clogging costumes.
Soon thereafter, the Hall of Famers arrived in limousines. They were led by Othar ''Otha'' Turner's Fife and Drum Band from Mississippi. Among the guests of honor: Eddy Arnold, Kitty Wells, Earl Scruggs and Little Jimmy Dickens.
While many of the featured speakers' comments were both eloquent and appropriate, the ceremony's most stirring moments came within live performances from Vestal Goodman, George Jones, Scruggs, Vince Gill, Emmylou Harris, Kathy Mattea and Marty Stuart.
Gospel singer Goodman and Jones performed a duet of Amazing Grace. Banjo innovator Scruggs' clattering ride through "Foggy Mountain Breakdown" nodded to bluegrass roots, and Mattea presented Hank Williams' "A House of Gold" as a jazzy, acoustic number.
Gill sang his self-penned "The Key to Life," a song written about his father that mentions classic records by Patsy Cline, Bob Wills and Ferlin Husky.
Harris' soaring rendition of "If I Could Only Win Your Love" recalled both the Louvin Brothers' original version and her own 1975 reprise.
Picking up Mother Maybelle Carter's sunburst Gibson guitar, Stuart demonstrated the influential ''Carter scratch'' picking style before shifting to "Will the Circle Be Unbroken." (That song's melody is replicated by giant musical notes affixed to the outside of the rotunda of the new Hall.)
The opening of the Hall marks the second event in this year's downtown cultural hat trick, which began in April with the opening of the new Frist Center for the Visual Arts and which will end in June with the opening of the new public library. The Hall of Fame is projected to be one of the most visited landmarks in Tennessee, attracting 550,000-750,000 visitors a year and adding $25 million-$30 million each year to the local economy, according to estimates by researchers at Vanderbilt University and the Hall itself.
The Hall, designed by Nashville's Tuck Hinton Architects and outfitted by nationally acclaimed exhibit designers Ralph Appelbaum Associates, includes a sun-lit rotunda for Hall of Fame plaques, a 214-seat theater, 40,000 square feet of exhibit space, a comprehensive country record archive, educational facilities, a large record store and studios for a new satellite radio service.
Harris said the new Hall was needed because the barn-roofed Music Row location, open since 1967, had grown ''claustrophobic.''
''The balance of all aspects of country music is really well done,'' radio promoter Jon Grimson said. ''Photography from Butch Hancock and (an exhibit featuring country-punk band) Jason and the Scorchers are in there, right alongside Gene Autry and Garth Brooks. I'm very impressed. Everybody has their space.''
Numerous accolades poured from the stage, but perhaps the men most frequently cited as responsible for making good on the seven-year project were former Mayor Phil Bredesen, who initially proposed a downtown site, and former Gaylord Entertainment Co. CEO E.W. ''Bud'' Wendell. Wendell steered the financing of the Hall, developing partnerships chiefly with Ford Motor Co., Gaylord, The Frist Foundation, Dollar General and many others.
The building arrives at a time of difficulty and some confusion over country music. Sales and radio audience have been in decline for more than five years, forcing the closure of a dozen or more Nashville record labels. Moreover, the continuing debate over the definition of country music and its exclusion of traditional styles in the mainstream has simmered more intensely.
Gov. Don Sundquist alluded to that debate in his remarks. ''I'm here among all this talent, and I am in awe. I'm a huge fan of country music, and I'm a huge fan of traditional country music, and if I could make a wish, it would be for more air time for those performers.'' He drew applause from the crowd of about 2,000.
By Craig Havighurst and Peter Cooper