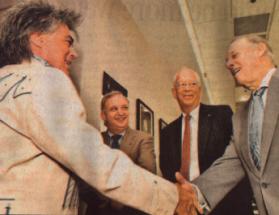 As travelers arrive at Nashville International Airport for CMA Music Festival this week, they'll have no doubt they've landed in Music City USA.
Travelers now wait for flights among such famous faces as Johnny Cash, Dolly Parton and Porter Wagoner.
On Monday, country singer-songwriter Marty Stuart and his wife, country singer Connie Smith, gathered at the airport's C Concourse, not far from the Baja Burrito Express, for the debut of Marty Stuart's American Odyssey, a photography installment featuring about 40 of Stuart's photos of country and rockabilly singers and songwriters as well as members of the Lakota Tribe of North Dakota.
"The fact that people can come to Nashville, get off the plane … and say hello to some of our wonderful friends is a wonderful feeling," said Stuart, a country music archivist and researcher whose work has been published in books.
Stuart said country stars are still what a lot of people come to Nashville to see. "The true treasures of Nashville, Tennessee, are the people, and that is what you see when you first walk up and look at some of these photographs."
This is the first collaboration between the Metro Nashville Airport Authority's Arts at the Airport program and the Tennessee State Museum. The photo exhibit, which runs through June 2009, is part of Sparkle & Twang, Stuart's showcase of music memorabilia and photography that was on display last year at the Tennessee State Museum in downtown Nashville.
That exhibit, which is now on display in Little Rock, Arkansas, is just a small part of his collection of more than 20,000 country music artifacts that he's been gathering since the early 1980s.
The Mississippi native joined bluegrass legend Lester Flatts' band at age 13 in 1972, and soon Stuart asked his mother (who attended Monday's event) to buy him a camera so that he could document his journey.
For 40 years, he's had a camera handy as he's crossed paths with legends such as Roy Acuff, Bill Monroe and Ernest Tubb.
'70 photo was prophetic
Even before he hit the road with country stars, he had an eye for talent.
"The first picture I ever took was in 1970 of Connie Smith when she came to my hometown to play," said Stuart, who that night told his mother that he would marry Smith. When he began working with Smith decades later, he showed her that photo, "but I didn't know that story for a while," she said. "I found that out later — after I was hooked!"
Gov. Phil Bredesen on Monday thanked Stuart for sharing his photos. "Nobody comes here to see glass buildings or standard airports. They want to see what is special about Tennessee, and Marty has done a great job of it."
The photos are an amazing archive of an important time in our state's history, the governor said.
"We are fortunate that you were behind the camera to catch these special moments," he told Stuart. "Thank you for what you are doing to preserve the heritage that we have here in our state."
Bredesen added that Stuart "has lived a life surrounded by many of the greats of country music, some of the greatest country music musicians who have ever lived. Lucky for us he had the foresight from a very early age to become a keeper of the archive."
Stuart is a museum director's dream come true, said Lois Riggins-Ezell, the Tennessee State Museum's executive director. "If he thinks it has meaning … he picks it up, cleans it up and saves it."
Not like his wife, who has few mementos from her impressive country career. "I didn't save anything until I got with Marty," Smith said. "I didn't have all my records, so he's been trying to do that. I was too busy raising kids.
"Coming from the country, usually if we weren't wearing something, we'd give it to somebody else. So I have no idea where all that stuff is."
By Beverly Keel