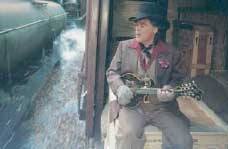 IMAX films about Mount Everest, the ocean and space will transport audiences to extraordinary vistas they will never see. The question facing Our Country, opening today at Opry Mills, is whether the huge-format medium can be used to tell a story more about art and culture than landscape.
First, you have to answer these questions: What good does it do to get Earl Scruggs, father of bluegrass banjo, to be in an elaborate music video if you never introduce him? When would dancers in a Texas dance hall moving to Bob Wills music be choreographed like a Branson stage show? And what does pop country diva Jo Dee Messina singing a rocked-up version of a Merle Haggard song in the Utah canyon lands have to do with country's iconic ''outlaws'' of the 1970s?
Little. They wouldn't. And nothing.
But judgment calls like these turn this film — a documentary married to a musical revue — into more of a tourist orientation spectacle than an inspiration to deeper awareness of country music.
Our Country does transport us scenically (and beautifully) to some of the places country music came from (the shores of Ireland, the hills of Virginia) but it layers artifice over almost every aspect of a story that doesn't need sweetening. And while it features a huge cast of today's best artists performing lip-sync style, we're not told who they are or given a context in which to put them, since the past 20 years of country are told in one sentence.
Hal Holbrook's narration and historic footage stitch together elaborate set-pieces with stars singing classics that exemplify key moments or movements in country music history. A Hank-attired Alan Jackson sings "Hey Good Lookin' " in Tootsie's Orchid Lounge. Loretta Lynn and her clan sing a Carter Family staple in an antique car on the way to a symbolic early recording session. Alabama sings Merle Travis's "Sixteen Tons" in a truck factory in one of the film's more inspired moments.
A middle segment on the Grand Ole Opry looks like it was done by a different director, providing some thrilling performance and backstage snippets (Sonya Isaacs, Jessi Alexander, Connie Smith) but breaking the film's continuity.
A 38-minute film can't help but skim, but country's history gets skinned. Only five actual pioneers (The Carter Family, Jimmie Rodgers, Roy Acuff, Hank Williams and Patsy Cline) and two styles (rockabilly and Western swing) are discussed. Gospel gets a disconnected nod. The blues are scarcely mentioned. Honky-tonk is never uttered. Bluegrass gets a song, but Bill Monroe is absent.
Most disturbing, with all that wondrous camera power, where's Nashville? A money shot helicopter ride down the Cumberland River, across the skyline and up to Music Row would have been an obvious nod to the city that made country music viable. The properties of Gaylord, which financed the film, like the Opry, Ryman Auditorium and the General Jackson riverboat, get plenty of screen time. But Music City? You'd never know it was there.
Our Country
THE BASICS: The story of country music comes to the very big screen in this performance-heavy documentary. Narrated by Hal Holbrook, and featuring Dolly Parton, Marty Stuart, Vince Gill and many more.
RATED: No MPAA rating
STAR RATING: 2½
By Craig Havighurst