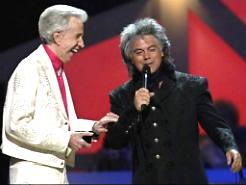 Country Music Hall of Famer Porter Wagoner, the storied "Thin Man From West Plains," celebrated a half-century on the Grand Ole Opry Saturday night at the Grand Ole Opry House.
The Opry's 7-8 p.m. hour was devoted to Wagoner, and for the first part of that hour he sat in the audience and watched as friends, including Marty Stuart and Patty Loveless, performed in his honor. Then he and his resplendent white sparkle-suit headed to the stage.
He performed two songs from his forthcoming album, the much-buzzed-about, Stuart-produced Wagonmaster, which is due out June 5. The room erupted, of course, when Porter's former duet partner Dolly Parton came out and, for a song at least, became Porter's current duet partner. They sang "Just Someone I Used To Know," with harmony help from Loveless.
Also onstage was Buck Trent and his idiosyncratic electric banjo, which sounds a little like a steel guitar and was featured on Wagoner's syndicated TV show. That sound took Dolly back. "I got emotional," she said.
Porter himself got emotional during Parton's time on the grand stage. Though their 1970s professional parting involved plenty of hurt feelings, he introduced her as "one of my best friends today." And Dolly sang "I Will Always Love You" — the song she wrote for him — while facing Porter.
Porter's first appearance on the Opry came in 1957. He'd spent his childhood in rural poverty in Missouri and wasn't sure he'd make it in show business.
"I thought I'd never get off that farm," he said.
Fifty years later, Porter accepted the applause and respect reserved for legends. He also accepted a pocket watch from Opry management, in acknowledgment of time past and in anticipation of fine times to come.
"There's been a lot of highlights," Porter said before taking the stage. "Of course, this is the top. This is the best party I've ever had in my life."
By Peter Cooper