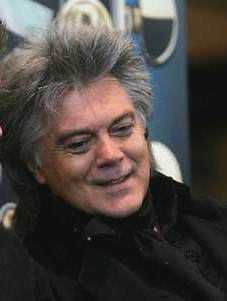 Forced inside the Sommet Center's tower by weather that was lousy for all but the flowers, the latest crew of Music City Walk of Fame inductees nonetheless found joyful congregation on this afternoon.
The disparate group of honorees, the latest to get stars on the downtown stretch of sidewalk, includes African-American church music preservationist Dr. R.H. Boyd, jovial visionary Cowboy Jack Clement, music business titan Mike Curb, gospel star CeCe Winans, contemporary country hit-maker Josh Turner and Grand Ole Opry star Marty Stuart.
Boyd died in 1922, but his legacy continues to have a strong impact in churches and in gospel music publishing. The other inductees gathered under Sommet shelter to laugh, to fellowship and to accept the well wishes of peers, fans and Nashville business leaders who celebrated their lives in music.
This was the sixth class of Walk of Fame members: The collaborative effort between Gibson Guitars, the Nashville Convention & Visitors Bureau, the city of Nashville and Metro Parks seeks to honor achievement and to provide another destination for tourists.
The first stars were placed in Hall of Fame Park in November 2006, and the new group brings the total of Music City Stars to 37. In between the downtown Hilton and the Country Music Hall of Fame and Museum, there are stars for Emmylou Harris, Jimi Hendrix, John Hiatt, the Nitty Gritty Dirt Band, the Fisk Jubilee Singers and others who have aided Nashville's development as a music center.
"I would like all of you to come down and walk on me," said Clement, who made his mark as a singer, songwriter, producer, publisher and raconteur. "But don't do it barefoot. That tickles."
Stuart came straight to the Sommet from a tour date in Osceola, Iowa, thrilled to be in a class that included the whimsical Clement, a man Stuart credits with being integral to the development of rock 'n' roll, country and Americana music.
"He is a big part of the creative freedom that exists in this town," Stuart said. "He was our Moses when it came to that."
Boyd was a major force in ensuring that African-American hymns were documented and preserved. A former slave, Boyd founded the National Baptist Publishing Board in Nashville, in 1896. His great-grandson, T.B. Boyd III, still heads what is now known as R.H. Boyd Publishing, and he was at the Sommet to accept the star in his ancestor's honor: He noted the importance of receiving an award in Nashville, "a city he decided to make a publishing capital."
The inductees' accomplishments reverberate far from Nashville. Country Music Hall of Fame and Museum Director Kyle Young spoke of Clement's ties with artists including Elvis Presley, Jerry Lee Lewis and Louis Armstrong, while former Nashville Vice Mayor Howard Gentry mentioned Curb's contributions to careers including two of America's most famous juniors: Hank Williams Jr. and Sammy Davis, Jr.
A songwriter, producer and record mogul, Curb established the Mike Curb College of Entertainment and Music Business at Belmont University. Today, he seemed pleased to be in the presence of the man he called that school's "most famous graduate," Grand Ole Opry member Turner. With fewer than 10 years in the business, Turner was humbled, pleased and taken aback by the Walk of Fame star coming to him so soon.
"I don't feel like I deserve it," Turner said. "But I'm going to work many years to get to where I do deserve it."
WSM and GAC air personality Bill Cody presided over the ceremony, offering enthusiastic commentary inside the tower while tourists peered through the glass and took (presumably unsuccessful) flash photos from outside.
Winans, who calls Nashville her home after nearly two decades here, received some of the afternoon's most enthusiastic applause. She took time to speak of her father, gospel pioneer David "Pop" Winans, the patriarch of the musical Winans family who died earlier this month.
"I have thought, 'What do you want to be famous for?'" she said. "I thought about my father, who was famous because he loved God and loved his family. He lived that in front of me."
Each inductee spoke lovingly of Nashville itself, and the ceremony became as much about a city that had done right by the musicians as it was about the musicians who had done right by the city.
"I came here as fast as I could," said Stuart, who was a teenager when he first appeared on the Grand Ole Opry. "And Nashville welcomed me with open arms. I love it here."
By Peter Cooper