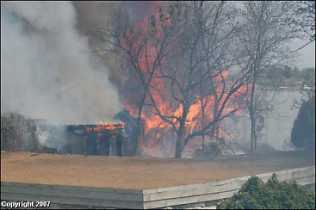 Fumes from a wood preservative ignited by a spark are the likely cause of a mid-afternoon fire at the home of the late Johnny and June Carter Cash, according to Hendersonville Fire Chief Jamie Steele.
"We've got a pretty good idea what happened," said Steele, who said he would offer more on the fire Wednesday.
Steele said the home's unique multi-leveled design made it difficult for firefighters. "For a firefighter, when you hear unique it's going to be hard. All the things that made it a unique and attractive home made it harder to fight the fire," the chief noted.
The house, purchased in January 2006 by singer, songwriter Barry Gibb was undergoing extensive renovations when the fire occurred. Steele said contractors were thought to have been using wood preservatives on the interior and exterior of the house and could have acted as an accelerant.
One firefighter was treated for smoke inhalation on the scene, but Steele said he was fine.
Firefighters were called to the home on Caudill Drive in Hendersonville at about 1:40 p.m. today.
According to Mike Elmore, the general contractor for Cardinal Construction Services, the company doing the renovation, none of his workers who were at the house when the fire started were injured.
"I don't think I or anyone in the house could tell you how it started. Someone could have been using a torch and even though we specifically don't allow smoking in the houses we're renovating, someone could have lit a cigarette," Elmore said.
He added contractors were concerned about the house being a potential fire hazard when they accepted the job because it is a 40 year old home made primarily of wood.
"There is very little drywall and all of the floors and veneers are wood. It is kind of a tinderbox on the inside. It certainly went out of control pretty quick," Elmore said.
Steele said this is not the first time firefighters have been called to the all-wood structure. Two fires broke out at the residence in the late 80s while the Cashes were still living there.
Among those standing by helplessly watching this piece of history burn was Johnny Cash's sister, Joanne Cash.
She remembered her brother's home as a place where she had been part of many family gatherings and mourned "such beautiful memories" destroyed.
However, she said she and her brother Tommy took comfort in knowing that their brother won't have dwelled on the loss for long.
"If Johnny were here he would say, 'Ok, let's go on. It's time to move on,'" she said.
By Jeremy Johnson and Jennifer Brooks